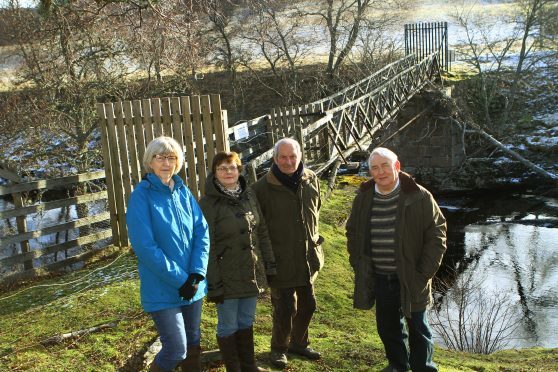 Sir, – It was with no surprise that I read in The Courier ("Troubled bridge over Angus waters may finally be repaired", January 23) that Millden Estate, Glen Esk, had not repaired the Buskhead Footbridge over the River Esk near Tarfside.
Given the many thousands of pounds the estate receives annually in taxpayer subsidies, one might think a sense of communal responsibility for those who either live in or frequent the glen might have prevailed.
Agricultural grants to landowners rightly come with conditions in order to protect the public interest. The finances of Millden Estate run to the erection of many miles of large fences, sometimes electrified, with the odd large gate interspersed to allow walkers and estate vehicles through.
Tracks have also been bulldozed through the moorland, with even built-up roads through bogs appearing. No planning permission is required.
These environmentally destructive innovations seem to be designed simply to grant their hunting clients easy access to their quarry.
Muddy boots and sweat have the unfortunate consequence of spoiling the aim of the hunter… or so it might appear.
However, when it comes to repairing a bridge, which is traditionally a vital link in a lot of long distance and circular walking routes enjoyed by many, they seem unwilling to part with even a penny of the subsidy monies to help fix it. Of course, a consequence of this would be that it leaves their hunting grounds devoid of people most of the time.
This seems to be a case of public money helping wealthy clients to reach their nominated grouse butt with ease, while at the same time refusing to make it easy for the average person to enjoy large parts of our countryside.
A sign of the times? I certainly hope not.
George Murdoch.
4 Auchcairnie Cottages,
Laurencekirk.
Wildlife habitats destroyed
Sir, – Over the past week, developers have engaged in the wholesale removal of wildlife habitats at the old curling pond in Monikie.
The site supported red squirrels, newts, frogs, toads and bats.
Many trees have been removed, including a 100-year-old Scots pine, as far as I am aware, without authorisation.
To paraphrase the Weekend Magazine article on conservationists ("All sett to help", January 27)I would be delighted to meet the conservationists at the site of this vandalism to help in the struggle to save our wildlife.
Tom Gray.
4 Elmgrove Park,
Monikie.
We're lucky to live in Scotland
Sir, – I wish to respond to the letter by Mr Alistair W McLean ("Focus on NHS improvements", January 24).
I read it with a degree of bemusement, and I am of the opinion that the writer was at best being rather naive and at worst being mischievous.
An examination of its content raises a number of questions.
Firstly, the use of the word "disgrace". On what grounds can such a term be used of the NHS?
My experience of the NHS is one of great admiration for the dedicated services it provides.
Regarding his suggestion the devolved Scottish Government NHS has "destroyed a once proud profession", I am sure our professional doctors and nurses would take exception to such a generalisation. Their professionalism and commitment shines through every day.
"Hard decisions" have already been made as a consequence of the Tory Government's complete complacency towards Scotland and its Budget.
He urges Government to stop "all financial aid to other countries" when the matter of overseas development and support is a reserved issue for Westminster and nothing to do with the Scottish Government.
Ditto his urging to "stop bringing in refugees who have paid nothing" and "holiday medical seekers".
In both cases these areas are reserved to Westminster. As a matter of fact, it is crucial for the Scottish Government to get control of immigration. Our country needs and depends on effective migration for its economy and its public services. We have always welcomed refugees, and recognise the contribution our migrants make to our nation.
Mr McLean's assertion regarding "wholesale hospital closures", is another exaggeration. Hospital closures are the exception rather than the rule.
His sentiment regarding the "separation agenda" says it all. The Scottish Government does not have "a private agenda", they have a very public agenda. They do not want separation, they want independence, in the same way the Tories want to retain the Union. Each is a legitimate position to take.
The suggestion somehow independence is not legitimate is nonsense.
Perhaps the content of Mr McLean's letter is more a condemnation of what is happening in the rest of the UK under the present right wing, austerity driven, intransigent Government.
Can I suggest we should count our blessings and be thankful we are living and working in Scotland, a land of tolerance, openness and understanding?
Dan Wood.
1 Charles Melvin Gardens,
Kirriemuir.
Funding sites taking profits
Sir, – I was planning on donating to a worthy cause reported in The Courier.
I was stopped by noticing the funding site charged a fee, variously 20p per donation plus 2.5 per cent of the donation.
I was prepared to accept this, until I reached the details page and was confronted by a box to be ticked: "tip 15%".
I did a quick mental check – if £5,000 is raised, 17.5% will be clawed in by the site, that is some £875, never mind the 20p per donation.
May I suggest publishing bank details of people or causes instead, or have them open a building society account, into either of which donations can be paid free of charge?
David McMillan.
5 Milton Farm Cottages,
Balmullo.
Is it really all about religion?
Sir, – Is Professor Colin Kidd right to say that until recently the main thing that has divided Scotland was religion ("The two kingdoms", January 27)?
Yes, strong religious belief has affected outlooks north of the border far more than down south.
It took much longer for laws on homosexual behaviour and divorce to be changed here, for example, than it did in England and Wales, mainly because of a conservative outlook largely derived from Presbyterian beliefs dating back almost 400 years.
Yet I still think Scots have been divided by much more than religion, in the last century in particular.
Matters such as whether we should go to war and how war should be prosecuted have been just as crucial. So too have some of the bitter industrial disputes like the pre-First World War unrest, the general strike, and the miners' strikes of the 1970s and 1980s.
The current controversy over membership of the European Union is proving very divisive, even among those who have never claimed any religious affiliation.
All this goes some way to explain why Scots are more sympathetic to independence, although it is not the whole story.
I doubt whether many have turned towards the case for autonomy simply because it is a substitute for the steady decline in church-going.
Bob Taylor.
24 Shiel Court,
Glenrothes.