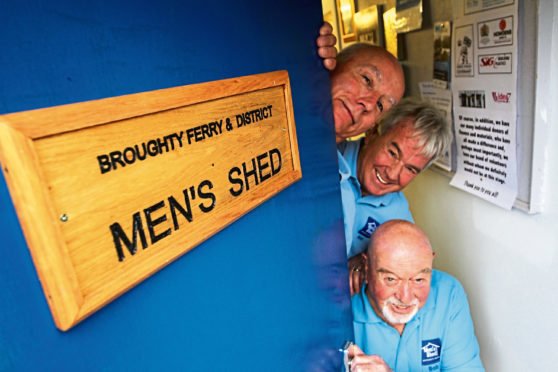 Sir, – Some years ago in Australia, in order for the organisers to get a bit of peace and quiet no doubt, the concept of "Men's Sheds" was brought into being.
These were places where members of the male gender could congregate amid tools and materials, such as wood and metal, to use their spare time as they chose and in the company of other men who were similarly minded.
Not only did the system work exceedingly well but the basic idea was brought into the UK and backed up by the long-standing Rotary movement.
From the start it was an obvious success and so the Rotary Club of Glenrothes is currently pushing ahead with the formation of just such a group in the Fife town.
I now note that an "open meeting" is being held in Kirkcaldy regarding the possibility of such a Men's Shed being formed there.
Perhaps it is either through ignorance or perhaps the stupidity of political correctness, but I also note that female persons are being invited to take part in the proceedings.
This, to my mind, negates the whole point of having a Men's Shed in the first place.
If someone wants to go ahead and open a "Women's Shed" or a "People's Shed" then let them have the decency to call their building just that – and not a Men's Shed.
Archibald A Lawrie.
Church Wynd,
Kingskettle.
Make recycling work for all
Sir, – Having read the article in the Courier regarding flytipping (Flytippers target "easy touch" Fife, June 15) I am left wondering if common sense has vanished completely.
It surely cannot have come as a surprise that if the opening hours of the recycling centres are reduced, flytipping increases.
Similarly, if charges to dispose of waste are imposed on small businesses, who, don't forget, are already paying rates and taxes, this becomes an additional burden that the business may not be able to carry.
This again increases the chances of flytipping.
According to the report in the newspaper, Fife Council alone is spending £2 million pounds annually in clearing up after flytippers. However, there is an obvious, simple, solution.
Open the recycling centres early, say from 7am, and keep them open later in the evening, say until 7pm. Also, do away with the closure at lunchtime.
These hours would allow tradesmen and the general public access to the centres before starting their working day and after completing it, and would prevent anyone turning up in the middle of the day to find it closed. From personal experience I can say that latter occurrence is very frustrating.
Also, scrap the charges imposed on businesses. That would remove the incentive for businesses to flytip and encourage responsible disposal of waste.
The savings made by not having to clear up after flytippers would go a long way to fund these changes and the countryside would benefit by not being treated as a dumping ground.
George Thomson.
Viewforth Place,
Pittenweem.
Stracathro is an NHS success
Sir, – I read with interest the letter from George Sangster (June 15) regarding the latest threat to Stracathro hospital.
Speaking from personal experience I can confirm everything he said is correct.
I have always had first-class treatment as a patient and in my follow-up care .
The staff are very efficient and always professional in the way they go about their duties.
And I never have to worry about finding a parking space either.
It would be a shame if Stracathro had to close as it embodies every thing that is good in the NHS.
Lily Collins.
Grangehill Drive,
Monifieth.
Airport roads not fit for job
Sir, – Edinburgh international airport is supposed to be the gateway to Scotland but the road system in the area cannot cope with the traffic.
I spent as much time last Thursday trying to get out on to the main road as I did driving to Kirkcaldy.
On my way in I picked up an old gentleman who had abandoned his taxi because it was stuck in traffic. He thought he could make better time walking but his age and the distance had caught up with him .
He said he could not believe this was the main entrance. I hope he managed to catch his flight on time.
Is it not time that our MPs did something to make the road network fit for purpose?
The trams were a waste of money – money that would have been better spent on new elevated roads and electric buses.
John G Phimister.
St Clair St,
Kirkcaldy.
Flawed case for renewables
Sir, – Storm Hector brought an end to 14 days of extremely low wind conditions across the whole of the UK.
A website called elexonportal gives data at 30-minute intervals for the output of all metered UK windfarms.
The maximum combined theoretical capacity is 11,836 MW (megawatts).
This data reveals the colossal failure of the "renewables" part of our energy system during the night of June 2.
At 9pm when solar energy dwindled, the total output of all metered windfarms was a lowly 382 MW. Overnight this crashed to an astonishing 48 MW by 10.30 am next day.
Bear in mind that wind turbines which are not generating consume electricity from the grid in order to keep their systems operating. The total being consumed probably exceeded this 48 MW.
The consequences of these events in a 100% renewable energy system wouldn't just be that people couldn't heat their homes or recharge their electric cars.
Companies need energy to function so jobs would be threatened.
Geoff Moore.
Braeface Park,
Alness.
Putting the mug into mug shots
Sir, – One of the most memorable posters in US political history was that containing a photograph of Richard Nixon above the question: "Would you buy a second-hand car from this man?"
Our equivalent should feature the mug shots of Johnson, Davis and Fox above the question: "Would you choose these three clowns to negotiate the most complex deal in UK history?"
Rev Dr John Cameron.
Howard Place,
St Andrews.
Helping hand for hedgehogs
Sir, – We were saddened but not surprised to read that hedgehog populations are plummeting (British mammals face extinction, June 13) and they have been added to the Red list as "vulnerable'".
We have been reporting similar declines in our State of Britain's Hedgehogs reports published with People's Trust for Endangered Species (PTES) for some years, most recently January 2018.
However, that report does offer a glimmer of hope in that urban population decline appears to be slowing. This could be attributed to simple actions, taken by gardeners and home owners, across the country having been made aware of the problems hedgehogs are facing through campaigns such as Hedgehog Street, our partnership project with PTES.
Like many of the species in decline, a major problem hedgehogs face is loss of habitat and fragmentation of habitat.
There are pockets of land that are wonderful for hedgehogs but if they don't join up with other pockets it may be a population there is not sustainable. Connectivity is key.
Hedgehog Street has been asking people to create hedgehog highways across the country, a CD case sized gap at the bottom of boundary walls and fences could join up valuable habitat. You can log your hedgehog highway or sightings at www.bighedgehogmap.org.
For more details about the society, helping hedgehogs and even plans for a hedgehog home please see www.britishhedgehogs.org.uk.
Let's build on that glimmer of hope and pull hedgehogs back from the brink.
Fay Vass.
Chief executive,
British Hedgehog Preservation Society,
Ludlow.