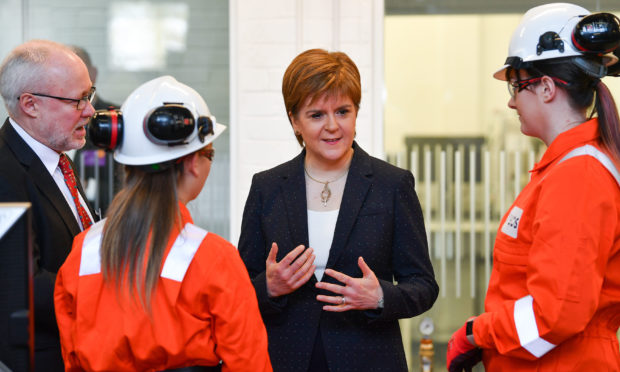 Madam, – This week marks Scottish Apprenticeship Week, a fantastic opportunity to draw attention to and recognise the important role Modern Apprentices play in businesses and other organisations in which they work.
As an alliance campaigning on this issue, we were delighted to note recent figures highlighting there are 745 more disabled people starting a Modern Apprenticeship compared with the same point last year, as well as an increase in those who are care experienced.
The rewards of getting these young people, many of whom boast excellent skills, into work are well worth it, often demonstrating higher loyalty and retention rates. They bring passion, skills, dedication and drive to the workplace.
Recruiting a Modern Apprentice enables employers to fill the skills gaps that exist within their current workforce, as apprentices begin to learn sector specific skills from day one, developing specialist knowledge that will positively affect the bottom line.
However, as always we can do more and the support of businesses and other employers is key.
They in turn need to be made more aware of the support available from the Scottish Government and other sources to employ a young person with an additional need.
As we mark Scottish Apprenticeship Week, we would urge Scotland's employers to look beyond the label and take on a Modern Apprentice who may have an additional need, taking advantage of the excellent skills offered by many of these young people.
The Scottish Children's Services Coalition,
4 Queen Street,
Edinburgh.
Crematorium in bad condition
Madam, – I visited Perth Crematorium this weekend and I was absolutely disgusted at the state of the summer garden.
It was an absolute tip. There was leaves and debris everywhere, about three inches deep.
I filled a bag to the top with rubbish.
The council has the cheek to tell St Johnstone to take down the GS Brown sign as it was upsetting people visiting the crematorium (Council claiming Saints own-goal over massive sign on stand, Courier, March 1).
The sign didn't bother me one little bit but the mess did.
They have taken all the trees down and never replaced them with anything else, so there is nothing to stop all the rubbish from blowing over. They need to get their own house in order before they throw blame elsewhere.
Norma Crawford,
Kinross,
Tayside.
Smacking thesis fatally flawed
Madam, – I found it odd that the leader of The Family Party, Richard Lucas, is in favour of allowing physical chastisement – also known as hitting – of children (Punishment must stay, Courier, March 4) and is a fan of Abertay University's Dr Stuart Waiton in that regard.
Dr Waiton's recent testimony to the Scottish Parliament opposes a ban on smacking .
He advocates a tap on the wrist, but does not tell us how to follow this up if the reprimand is ignored by the child
In other words, as a thesis it offers no method of regulation or control and is fatally flawed.
Mind you, Dr Waiton's last big publicity campaign was to oppose any strictures on offensive and sectarian behaviour at football matches.
I wonder how that went?
David Roche,
6 Conachar Court,
Isla Road,
Perth.
Killing the goose that lays
Madam, – Gordon Dilworth (Economists may not agree, Courier, March 4) does not accept Dr Lindsay's argument that high taxes slow growth.
Does Mr Dilworth support the tourist tax?
Scotland's hoteliers are up in arms because it will reduce visitor numbers, profitability and employment.
The chief executive of Crieff Hydro group has said it "will kill the goose that lays the golden egg".
And it is possible that VAT will be charged on the tourist tax itself.
It would seem that the SNP's mission is to make Scotland the highest taxed country in Europe.
William Loneskie,
Amulree,
9 Justice Park, Oxton,
Lauder.
Praise for city charity
Madam, – What a fantastic initiative former Dundee City Council chief David Dorward has set up with Dundee Bairns (Charity's boss aims to become redundant, Courier, March 5).
A charity which addresses "holiday hunger", it has organised volunteers to deliver 110,000 meals to children involved in holiday activities in Dundee over two years.
It costs £85,000 per annum, with half the funding from sponsors and half from Dundee Council.
What a contrast to the council over the water!
In this year's budget, Fife's SNP and Labour administration committed £400k for a number of pilot projects, where Fife Council opens up schools as food stations for Fife youngsters during the holidays.
Fife Conservatives set out an alternative budget which would use partnerships with the private and third sectors to make savings while also extending services.
We were pilloried for suggesting "outsourcing", but as Dundee shows, in a time of shrinking budgets, it's the only way to make sure the council gets the maximum bang for our buck.
Linda Holt,
Scottish Conservative Councillor for East Neuk & Landward.
Walking a dangerous path
Madam, – Anti-semitism was the evil driving force of German national socialism imposed upon the good people of Germany.
Given recent anti-Jewish events in the socialist Labour Party are we now seeing more good people being taken down a similar road?
Andrew Lawson,
9 MacLaren Gardens,
Dundee.
Billions 'wasted' on going green
Madam, – The public and industry should be made aware that £8.6 billion a year in green taxes is being wasted on futile attempts for Scotland (0.13 per cent of global emissions) and the UK (1.3%) to singlehandedly save the planet.
The climate change lobby and those of a nervous disposition might want to look away now….Some "Inconvenient Truths".
Drax received £789 million in subsidies in 2018, up from £729 million in 2017.
Fossil fuels provide 91 per cent of India's energy consumption.
China (30% of global emissions) is planning to access its massive shale gas reserves in Sichan.
Do the green zealots actually believe other countries will listen to their strident demands to leave fossil fuel in the ground and rely on expensive, unreliable, unpredictable wind?
Clark Cross,
138 Springfield Road,
Linlithgow.
Insitutional Darwinism?
Madam, – Scotland has the Scottish Investment Bank, the Scottish Growth Scheme and the Scottish-European Growth Co-Investment Programme.
But still growth in the Scottish economy remains sluggish, including in comparison with the rest of the UK. What to do next? Spend £2 billion on establishing a new Scottish National Investment Bank.
This used to be known as 'institutional Darwinism'.
Jill Stephenson,
Glenlockhart Valley,
Edinburgh.