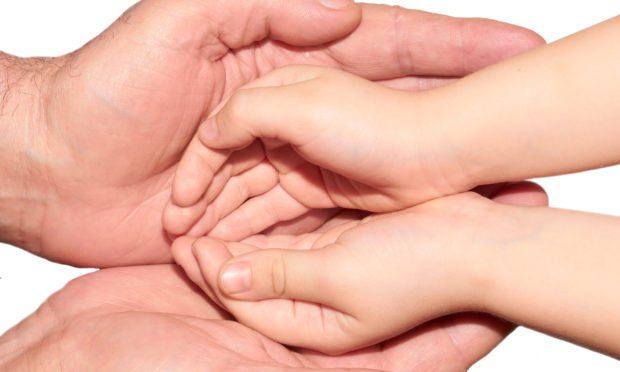 Madam, – The failure to distinguish between a child and an adult is the worst form of child abuse.
The Children (Equal Protection from Assault) (Scotland) Bill needs proper safeguards for parents who use loving restraint on their children.
Last week I received the following message from a Professor of Educational Ethics in the Czech Republic, which clearly points out it is not an assault to physically restrain a child.
"When your child starts to crawl sooner or later it approaches something which is dangerous to him or her, it may pull something heavy off the shelf, or put its finger into a socket etc.
A good (and normal) parent at that moment grabs the child's leg and says the magic word "no". The child usually doesn't like it and cries.
But if the parent persists for some time, the child will understand that there are certain things which are not allowed. Boundaries are set.
And because children are smart they learn that in the space where they live there are several other similar things which are not allowed.
They will relatively quickly assimilate these things and gradually become independent, not needing constant control.
The initial "no" that protects them physically later becomes "should not" that protects them morally.
Now, what happens if you do not apply the "no" or "should not" practice – usually in the name of some kind of liberal ideology which claims that setting boundaries cuts down the development of a child as a free or autonomous being.
The child becomes dangerous to itself and to others. The lack of boundaries produces troublesome beings – first physically and later morally.
And thus the parent or educator must follow it everywhere and control it all the time. Briefly, in the name of freedom you get a constant supervision which is the exact opposite of the liberalist creed.
These words have sadly come true as we face the rising tide of anti-social behaviour.
Parents need every support and encouragement from government, not to be criminalised for their vital role in rearing law abiding citizens.
David Scott.
27 Westfield Road,
Broughty Ferry.
Adversarial approach wrong
Madam, – The Scottish Goverment has introduced a new Children (Scotland) Bill to Holyrood along with a Family Justice Modernisation Strategy.
They represent an opportunity to bring family law into line with family life as it is lived in 21st Century Scotland.
Our focus at FNF (Families Need Fathers) Scotland is on the provisions for settling the arrangements for children when their parents do not live together.
We believe the present adversarial approach in court and in lawyers' correspondence is bad for children. It is too slow, too expensive and lacks incentives for parents to put their children before their personal differences.
It lacks emotional intelligence.
Research around the world shows children do better when they have the support of both parents.
But our monthly group meetings across Scotland hear from fathers, mothers, grandparents and new partners about how shocked they are at how crude the present adversarial system is.
Scotland prides itself as world leading in many progressive areas.
We encourage your readers to press their MSPs to help Scotland move towards shared parenting.
Ian Maxwell.
National Development Manager,
FNF Scotland.
Not a champion of the people
Madam, – I was amused by Iain Richmond's assertion (Power of prayer needed to deliver Brexit, Courier, September 26) that Alexander Boris de Pfeffel Johnson, of Eton, Oxford and the Bullingdon Club, The Times and The Telegraph, "may indeed be the only politician who can successfully champion the people against the Establishment".
If Mr Johnson is champion of anything it is not of the people, for whom he has shown nothing but contempt throughout his political career.
If he is a champion it is for those who have a vested interest in ruining the country for their own selfish ends.
Mr Johnson's own sister, Rachel Johnson, has suggested his determination to leave the EU by October 31 could well be prompted by the prospect of his wealthy backers standing to make a lot of money if the UK leaves on that date.
I have seen £8 billion-plus quoted as their potential win.
It is a staggering sum, which, if it doesn't transpire, would be likely to make Mr Johnson very unpopular in certain quarters.
"Dead in a ditch", as he said himself.
Les Mackay.
5 Carmichael Gardens,
Dundee.
Numbers don't add up for FM
Madam, – First Minister Nicola Sturgeon's ambition to install Jeremy Corbyn as a caretaker prime minister showcases either poor numeracy skills or huge optimism.
Since Ms Sturgeon was educated before the SNP came to power, we must assume she can calculate that Labour's 246 MPs plus her 35 adds up to 281 – nowhere nearly adequate to depose Boris Johnson, even with a few from the very minor parties joining her.
So the nationalist leader must be optimistic of further MPs siding with her?
Lib Dem leader Jo Swinson regards Mr Corbyn as too divisive and so won't support Ms Sturgeon.
Few who have recently just left Labour will want to back Mr Corbyn – plus it's questionable whether many who've been ousted from or voluntarily left the Tories will want to give a far-left Labour leader the keys to Downing Street.
Time perhaps for the politician who assures us her priority is education to refocus on her official role of managing our public services.
Martin Redfern.
Woodcroft Road,
Edinburgh.
Convincing EU poll result
Madam, – Regrettably your correspondent Derek Farmer in his latest contribution (Government's ability to govern, Courier, September 30), follows a similar line to previous submissions regarding the EU referendum.
Apart from anything else, Mr Farmer fails to realise it was advisory and not binding, stating: "The European Union Referendum Act 2015 (c. 36) is an Act of the Parliament of the United Kingdom that made legal provision for a non-binding referendum to be held in the United Kingdom of Great Britain and Northern Ireland and Gibraltar, on whether it should remain a member state of the European Union or leave it."
It seems to have been overlooked in a few quarters that the UK comprises four countries.
It is totally wrong to adjudge the result on a numerical basis.
The English voting population is far greater than the other three, causing a non acceptable imbalance to any result.
As a Scot I have no doubt of the outcome, 62% to Remain as opposed to a mere 38% wishing to leave.
All 32 council areas in this country voted Remain.
That's more than a little convincing me thinks.
Colin Mayall.
1 Almond Place,
Comrie.