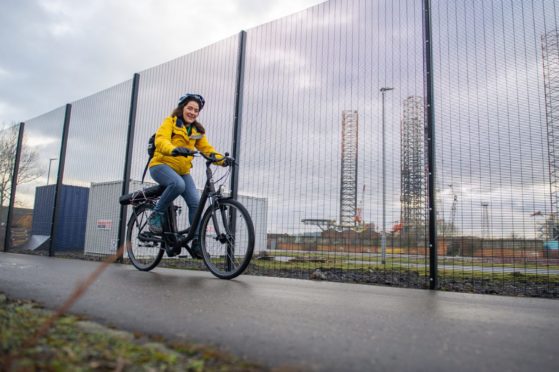 Sir, – Transport charity Sustrans supports the concept of housing that is sufficiently close to shops and schools for residents to be able to walk or cycle there, or indeed to their work within 20 minutes.
The present lockdown has shown that, with very limited car use, this aim is already being achieved to some extent, and is appreciated by many people.
How can it be fully achieved?
Cycle lanes are part of the solution, but the complete and longer term answer is to ensure that houses are built much closer to existing schools, places of work, and other facilities such as doctors' surgeries and shops.
Since last year Dundee Civic Trust has urged the Scottish Government and the local authority to give strong encouragement to new housing development in existing urban areas, brownfield sites which have had other, often industrial, uses in the past.
Existing infrastructure, such as roads and utilities may already be close by, and the need for car travel in particular will be much reduced. This approach saves the countryside and farmland from being turned into urban sprawl.
There are still too many new planning applications being lodged, and often granted, for large estates on the edge of the city.
We hope that this practice has had its day, as it results in additional strain on roads, schools and surgeries, longer commutes in the rush hours, traffic congestion, and, of course, much greater environmental pollution.
It certainly does little to help the first minister's declared aim of reducing the causes of climate change.
We have had a hint of cleaner air, quieter neighbourhoods, less travel and louder bird song in the recent months.
By sensible development as I have described, we can make this initial improvement a permanent one.
Donald Gordon.
Chairman,
Dundee Civic Trust.
PM conspicuous by his absence
Sir, – Martin Redfern, (Drop those lofty ambitions, Courier, June 5) is pushing Hans Christian Anderson for the title of the world's leading story teller.
His right to criticise Nicola Sturgeon is his to exercise, but it would have had more impact if he dealt in facts rather than his fanciful view of the first minister's leadership performance during the current trying situation.
Compared to the Westminster waffler Matt Hancock she is doing a wonderful job at passing on the advice given to her by her medical advisers.
By contrast, our caring prime minister is conspicuous by his absence and content to leave Mr Hancock to waffle on.
Mr Redfern concludes his diatribe by stating that coronavirus rates in Scotland are among the worst in the world but carefully leaves out the details.
Up to date information on the international impact of the virus is not easily obtained, but what we do know is that the UK as a whole has the worst death rate in Europe.
Westminster's awaited leadership on this issue was deferred until after the Cheltenham horse racing festival had taken place, and you can't blame the first minister for that.
Allan A. MacDougall.
37 Forth Park,
Bridge of Allan.
Time to tackle a habit most foul
Sir, – Today I had the first opportunity in a long time to spend some time with my grandchildren.
We met at Monifeith and took a walk along the paths around the Dighty Burn.
The council have spent time and money creating a number of very pleasant walks around the area, but unfortunately there is large amounts of dog fouling in all areas.
It seems that, despite the provision of bins for the disposal of droppings, there are a large number of dog owners who are unwilling to clean up after their animals.
It is an offence to behave in this way, and I would strongly suggest that members of the public should report offenders whenever they see them.
Nowadays almost all of us carry mobile phones and almost all of them have cameras which can be used to identify those who do this, and we should use them.
No doubt there will be many dog owners who are responsible and do not behave this way; but on the evidence there is also a large number who feel that they do not have to be responsible for their animals, and this problem obviously needs to be dealt with.
John Craig.
West Cottage,
Guthrie.
Challenging racist slurs
Sir, – America 1955, Pete Seeger wrote the song Where have all the Flowers gone, and it soon became an anti-war song for the Vietnam War.
The flowers were picked by young girls, who also picked husbands, who then went to war. War is a human tragedy, where the least resilient are affected the most.
Today, the USA is engaged in another human tragedy, a pandemic, taking more lives away from friends and family than 'that old crazy Asian war', to quote the late Kenny Rodgers.
It is ironic the same age group of mostly men who took part in the Vietnam war are now most affected by Covid-19.
Again now, the BAME communities are most affected by Covid-19. Add to this the aggressive and brutal police treatment of BAME people daily in the USA and you can see why there are protests.
In Scotland, we should focus on our collective 'White Silence', the people that say I am not a racist, but remain silent when one of their friends or family vent little jibes against the black and Asian and immigrant communities.
It used to be the Irish, gays and lesbians, but not so much now as change has taken place.
We Scots can also change for the better for BAME and immigrants.
Confession time. When I was young, many years ago, I made and told racist jokes.
It was the done thing then, at the time it was fun, people laughed.
How I regret this now, knowing and seeing the harm it has caused.
We are fortunate that Police Scotland are not trained to arrest every suspect as though they are terrorists, as it seems the case in America.
Police Scotland are not 'perfect' and can always improve, but remember neither are we the general public.
Let's not waste this difference, let's capitalise on it. Use our common sense, so if racial abuse is taking place, don't remain silent, speak out.
It's the 'little' stuff, the jibes and jokes in the office or workshop that are the starter.
It is hard to intervene in the street with 'unknowns'.
As a start, intervene with your friends and work colleagues.
It will make a difference, it will make them and you think.
Alistair Ballantyne.
Birkhill,
Angus.
A postcard from Kirkcaldy
Sir, – Murray Chalmers(Food for thought, The Weekend, Courier, June 6)) asked for "answers on a postcard please" so here we go.
Please Murray, use your undoubted wordsmanship to comment on your gastronomic pleasures instead of attempting to lay your political leanings on unsuspecting readers,most of whom are expecting culinary comments and not a socialist diatribe in a food review.
There we go. I feel better for sending that postcard!
Michael Diack.
14 Biggin Wa's,
Kirkcaldy.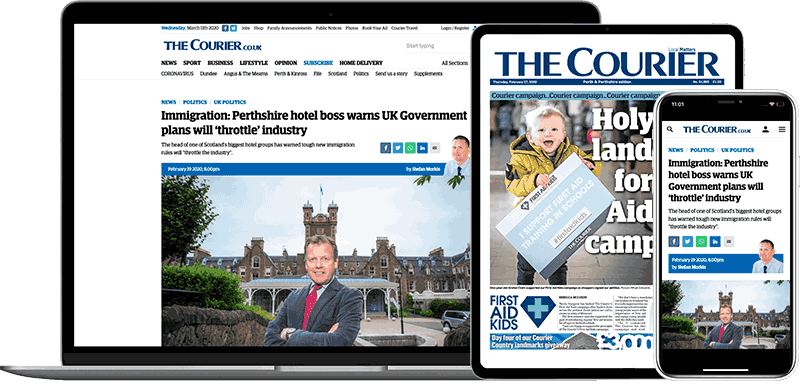 Help support quality local journalism … become a digital subscriber to The Courier
For as little as £5.99 a month you can access all of our content, including Premium articles.
Subscribe