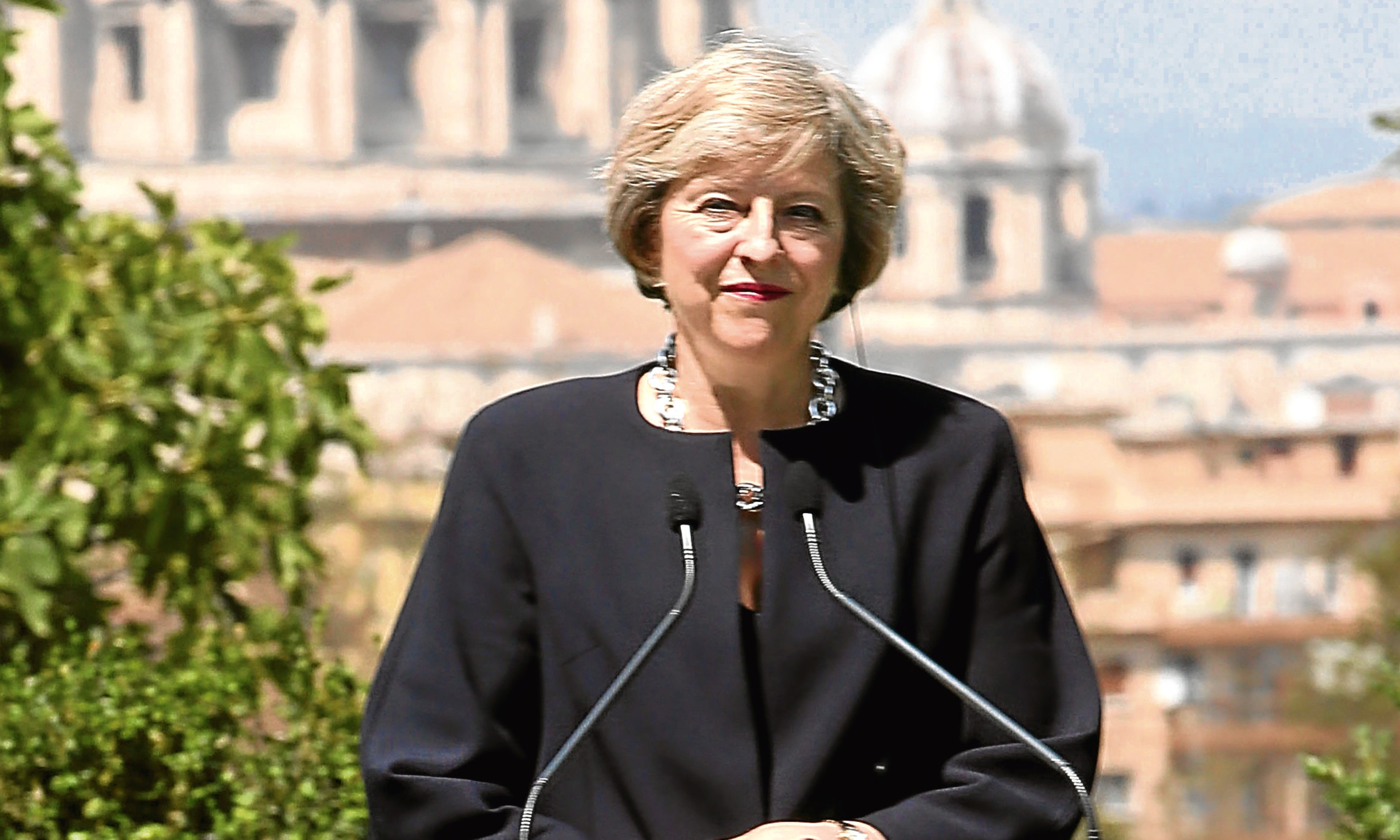 Sir, – Nicola Sturgeon will be disappointed by Theresa May's speech in Italy in which she expressed her wish, expectation and intention to guarantee the rights of EU citizens in the UK after Brexit.
Until now, Ms Sturgeon has regularly used EU citizens as pawns in her relentless game of them and us with the UK Government, paradoxically maintaining they were being regarded as "bargaining chips".
With immigration law entirely reserved to Westminster, Ms Sturgeon's protestations that immigrants could remain in Scotland is irresponsible and misleading for those involved.
That said, not even Nigel Farage nor Boris Johnson has ever suggested EU citizens should leave.
So is the nationalist leader simply grandstanding?
Ms May has the responsibility of both securing the welfare of UK citizens abroad and EU citizens here.
It would seem Ms Sturgeon is more concerned with divisive rhetoric.
Martin Redfern.
4 Royal Circus,
Edinburgh.
Confidence vote in Brexit Britain
Sir, The news of the GlaxoSmithKline expansion investment of £275 million in Montrose and elsewhere in the UK surely makes the Nicola Sturgeon doom- mongering forecasts look rather silly.
EDF of France still proposes a £25 billion investment in UK nuclear energy and international banks are increasing their uptake of office space in London.
These are hardly the dire consequences being predicted from Bute House.
UK unemployment rates continue to fall and the pound is at a level that is a positive encouragement to investment, and provides competitive benefit to our exporters.
What's not to like about that?
Interestingly, the GSK rationale for its expansion decision is reportedly UK skills levels and attractive tax rates.
That translates into Government behaviour in the realms of education and sensible fiscal policy, things that the SNP has proved to be not particularly interested in, so fixated are members on separatist ambitions.
How refreshing it would be to see a change of direction from the SNP and a resolution to work more constructively in the overall governance of the UK, with a smidgen of decorum and gravitas in place of the juvenile antics recently witnessed and the seriously flawed economic forecasting.
Derek Farmer.
Knightsward Farm,
Anstruther.
Get tough on immigration
Sir, – No current Western leader has a clue how to stop the Daesh terror attacks except Donald Trump and he is lambasted for even suggesting new regulations and restrictions on those trying to enter the US from failed Islamic states.
France, with its post-empire hangover of six million Muslims, many of whom are unemployable, resentful young men is under particular assault but Germany, after Angela Merkel's irresponsible open-door policy, is catching up.
Unlike the Anglo-Americans, these nations have competing regional and/or federal police and intelligence services as well as legislation preventing eavesdropping on proto-terrorists in a manner that has kept us relatively safe.
Human rights legislation has become a menace. We need to find out who has arrived here, initiate a mandatory immigrant resettlement programme and those who make no effort to integrate sent back to where they came from.
Rev Dr John Cameron.
10 Howard Place,
St Andrews.
Westminster ignores Scots
Sir, – Martin Redfern (July 26) has once again chosen to attack our democratically-elected Scottish Government.
It is sad for Mr Redfern that his chosen political party is toxic in Scotland.
He must lament indeed the fact that the policies of the Conservative Party, redistribution of wealth from poor, sick and disabled to the mega rich, spending £50 billion on new weapons of mass destruction to be dumped in Scotland and ongoing cuts to the NHS and welfare state, repeatedly fail to win much support here.
He must be very sad that the SNP policies of free personal care, free prescriptions and free tuition fees are so popular.
Indeed, they are so popular that Nicola Sturgeon gets in with 50% of the vote here, a proportion that has not been achieved by a Tory UK leader, ever.
Our Scottish Government has a clear duty to fight for Scotland.
The views of Scotland are almost on a two-to-one basis that we should remain in the EU.
The fact that our views are repeatedly trampled on by the Westminster Government is a major concern.
K Heath.
Cortachy,
Kirriemuir.
Rail future can be bright
Sir, – I am afraid your correspondent D.W. Fenwick is one of those naysayers who is holding our country back.
Firstly he states "yet again we hear from… Railfuture". This is wrong. Until now we have left the running on re-opening the Glenfarg line to Transform Scotland, an entirely different organisation but with similar aims.
He then claims that the cost of re-opening the line would be extortionate and asks if we realise the line has been built over, not least by the M90.
Of course we know that the former line has been blocked at several locations but there are, equally, some sections that are still available.
The blockages can be bypassed. We realise it would not be cheap but we are talking about some 25 miles of railway to restore the link.
Compare this with the 33 miles of the recently re-opened Borders Rail line which also had to be realigned to avoid blockages.
These 25 miles would reduce the train journey time from Perth or Inverness to Edinburgh by between 20 and 30 minutes, encouraging a shift from the car to the benefit of the economy and the environment.
He then claims the Perth to Comrie line closed pre-Beeching. Passenger services ceased in 1964 as a result of the Beeching report but the line remained open for freight until 1967.
It should be noted that currently there are more than 2,000 commuters from Comrie and Crieff, 88.5% of whom travel by car mainly to destinations served by rail.
Roderick McDougall.
Vice Chair,
Railfuture (Scotland).
Democracy is a sham
Sir, – Scottish actor Alan Cumming has drawn flak from the politically correct brigade for insulting the intelligence of people south of the border. No doubt his choice of adjective could have been different but to refer to them as other than English would have been stupid because that is what they are.
He was merely expressing frustration at England's domination of national UK votes by virtue of population size.
Scotland returned one Conservative MP yet this party frustrates the political aims of our nation.
Tory supporters cite the need to observe democratic decisions which, of course, suits them. But as far as the smaller nations of the union are concerned, that will only work for them if their choice is endorsed by their dominant neighbour.
Alan Cumming is not alone in his frustration at Scotland's inability to achieve any of its important political aims in this unequal union of nations. You can't win against a stacked deck.
And we call this democracy.
Allan MacDougall.
37 Forth Park,
Bridge of Allan.
Flytippers are a disgrace
Sir, – I support the call by Mr Crowe of Montrose to report flytippers.
It must take a great effort to load old boxes and white goods into a vehicle, drive them into the countryside and throw them into a ditch.
In most cases, recycling centres would be nearer. Do flytippers take some pleasure in littering and causing misery to others?
Bob Ferguson.
North Muirton,
Perth.