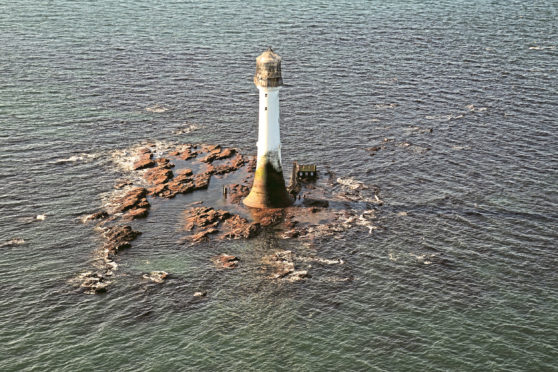 Sir, – The Bell Rock Lighthouse off Arbroath is the world's oldest working sea-washed lighthouse, listed as one of the Seven Wonders Of The Industrial World and a Category A-listed historic building.
I'm fully in favour of wind and solar energy but I'm also fully in favour of protecting our national heritage and natural beauty.
It strikes me that developing a nautical industrial estate of 72 wind turbines which, at 290 metres high to turbine blade tips will dwarf the nearby 35m lighthouse, is not protecting the environment of the Bell in a way that it would have been had it been on land.
I believe each turbine in the Inchcape Wind Farm will be powered by a diesel engine to get the turbines moving from stationary.
This will presumably involve occasional ship -to-turbine transfer of diesel fuel with the attendant possibility of spillage if something goes wrong.
The effect of the turbines on wildlife both above and below the surface, the visual pollution of the turbines and their navigational lights, and the fact they will reach closer to the Angus shore than the Bell itself should all be taken into account.
The figure of 1,900 jobs being created with the development of the wind farm might be plausible, but it would be interesting to hear what the job benefit to Angus itself will be.
I understand the electricity generated will be conducted to Cockenzie in the Firth of Forth.
It's possible some Angus jobs might be generated but they would be in Dundee, at best, should the port be lucky enough to accommodate any contracts.
At the end of the day, it seems that although the Bell and its home county of Angus with its magnificent unspoiled cliffs and coastline will be the wind farm's closest neighbours, the direct benefit to both is basically zero.
Unless you like looking at wind farms.
Ian Lamb,
Inchcape Road,
Arbroath.
High ideals for modern city
Sir, – I hugely welcome the proposal for a 39-storey skyscraper in Dundee, as it opens up a discussion on what kind of city we want to live in.
Europe's once tallest construction still stands in the city. The Cox Stack is a beautiful celebratory monument to industrialisation, once attached to the largest factory in the world. The working conditions endured within it were appalling. The wealth invested in the Stack contrasts brutally with the poverty of the people.
Two centuries later – cities are very different places. We expect them to be inclusive places that celebrate the generations of people who created their culture, wealth, and identity – and those incomers, like myself, who choose to make it their home. But above all they are places that care for all of their citizens.
Our choice is – we build tall, or care deeply.
Mike Press,
Hyndford Place,
Dundee.
Traders deserve some cheer
Sir, – The issue of parking is a long-standing, emotive concern for businesses based in town and city centres right across Scotland but the new restrictions and charging introduced across Angus last month are not helping to boost local trade.
At the Federation of Small Businesses (FSB) we have a long-standing interest in shaping public policy in all aspects of economic development, including parking strategies, and are disappointed to learn that Angus Council reintroduced charges without firstly carrying out a full economic assessment. Over the weeks we have seen local businesses across the county highlight the impact the charges have had on their business and the detrimental impact the policy has had on struggling high streets.
This week's Scottish Government budget recognised the importance of our town centres with a new ring-fenced £50 million Town Centre Diversification Fund for 2019-20 to drive local economic activity and to stimulate and support place based economic improvements to town centres.
The business community across Angus recognises that local council budgets are tight but with an annual enforcement cost of £500,000, without consideration of maintenance costs, and a predicted income of £700,000, is this policy worth pursuing for a marginal gain for the council's budget?
Businesses through Angus Business and Retailers Association (ABRA) have not called for the full removal of the charges, but are calling for the council to reconsider the charges and meet it in the middle with a period of free parking.
Is that too much to ask in this season of goodwill?
David Groundwater,
Development Manager,
FSB.
Playing politics for laughs
Sir, – Everyone is understandably concerned about the way Brexit is being handled by our elected leaders and especially our severely weakened prime minister.
The country is looking for someone to take some decisive steps to break the seeming deadlock.
Time to call in the A-team. Anyone who watches comedy shows on the television will realise that all our comedians know exactly what is being done wrong.
Their confidence is very reassuring and it is common knowledge that celebrities are more intelligent than average.
My suggestion is that we co-opt Nish Kumar as prime minister and the cast of Mock the Week as cabinet ministers.
If we can free them from their television obligations after Christmas so they can devote all their time to the task I think Brexit would be over within a month, one way or another, made easy by the fact that they would not be bound by the democratic wishes of the people.
After we leave or stay they would, of course, be able to return to their day jobs and, if things don't turn out to be the Utopian future they planned, make lots of money criticising me for allowing them to dabble in something they didn't really know about.
I'm sure, however, that we all will happily put our trust in them. Yes?
Ken Greenaway,
Torr of Kedlock,
Cupar.
Teacher's words ring true today
Sir, – When I tune in, however briefly, to the House of Commons Brexit debate (aka shouting match) I am immediately reminded of two quotations.
One is from Venita Cravens, namely, "when small men cast long shadows the sun is going down". I assume she included women in that.
The second is from Jack Kerouac who wrote of a "constipation of the brain and a diarrhoea of words".
I should also not forget the wise words of Miss McDonald, my primary four teacher, who kept telling the class that "empty barrels make the most noise".
W M Young,
Elgin Gardens,
Dundee.
Next generation may rise again
Sir, – As a sentient octogenarian shadow from "another side" of this seemingly tragic vale my observations differ somewhat from those reported in Derek Healey's article ("Deprivation blamed for a drop in Tayside and Fife life expectancy, The Courier, December 13).
While deprivation certainly is a contributory factor in this sad state of affairs, it would do well to bear in mind the vagaries of life – Shakespeare's "slings and arrows of outrageous fortune" – together with the many negative activities of mankind in general.
However, there is a ray of hope. The up and coming generation will, hopefully, learn from the errors and misadventures of past and present generations.
Kenneth Miln,
Union Street,
Monifieth.
Plenty to spend on here at home
Sir, – I see in the latest SNP draft budget, international relations spending will increase to £23.9 million by 2019-20. Why? International relations are retained by Westminster, not devolved.
Holyrood's remit is entirely domestic. This money should be spent on the NHS, education and other vital public services.
Why doesn't Westminster take action to stop Nicola Sturgeon using British taxpayers' money to fund her self-aggrandisement?
Martin Redfern,
Woodcroft Road,
Edinburgh.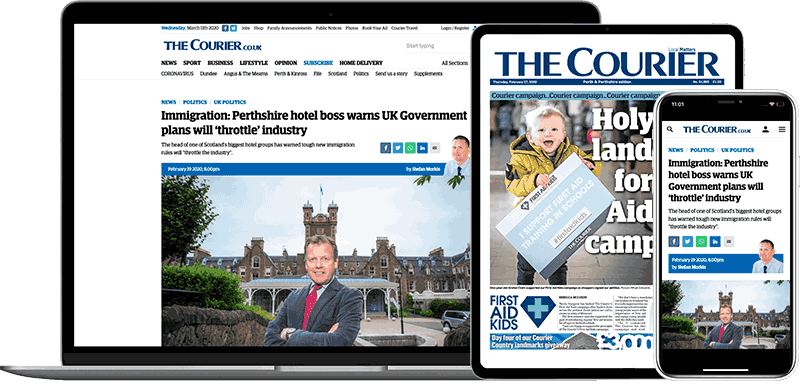 Help support quality local journalism … become a digital subscriber to The Courier
For as little as £5.99 a month you can access all of our content, including Premium articles.
Subscribe