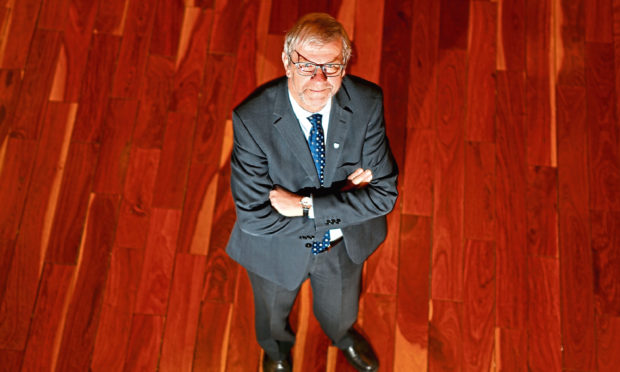 Sir, – I don't suppose students at Dundee University, from all over the world and on the same course, size each other up and wonder – are you the "cash cow" paying for my course ("Principal warns over 'cash cow' students", Courier, December 21).
We should, however, still take seriously retiring principal Professor Sir Pete Downes' remarks about student finance.
How much will learners from the EU have to pay for their courses after the UK has left that body?
Do Scottish universities charge students domiciled elsewhere in these islands too much?
Are the universities too reliant on fees from those who have come from across the world to study here?
Can we forever carry on with the policy of free tuition for Scots?
At the moment those from Perth (Scotland)and Paris are charged nothing while those from Perth in Australia and Penrith in Cumbria are subject to differing fee regimes.
Although I support the policy of free tuition for Scottish students, there must come a point when we have to review the whole system.
If it leads to an unfair rationing of places – too few places for students domiciled in Scotland and more for those who pay economic fees – then sooner or later the system will collapse.
The Scottish government needs to introduce a widespread examination of how much students should be charged.
Future generations deserve no less.
Bob Taylor,
24 Shiel Court,
Glenrothes.
Big Aid's impact has been limited
Sir, – Over the last half century most of the world's population escaped the poverty trap.
The proportion living in extreme poverty dropped from 60% in 1970 to 45% in 1980 to 10% by 2015 and is now in single figures.
It's the great story of our times but it wasn't done by Big Aid.
It was China's liberalising reformer Deng Xiaoping and the Silicon Valley buccaneers off-shoring production.
Globalisation has become a dirty word but it "made poverty history".
The income gap between all the world's citizens narrowed but income inequality increased in the likes of Britain.
Our workers had protection from foreign competition but in a free-trading, post-Brexit UK they'll be totally exposed to Asia.
Rev Dr John Cameron,
10 Howard Place,
St Andrews.
Major players not interested
Sir, – Following the COP24 Climate Conference in Poland the green brigades are demanding action but the countries which matter are not listening.
America has withdrawn from the Paris agreement and China and India with 36% of global emissions will not curb their emissions until after 2030.
China is forging ahead with new projects and investments in coal and gas which will dwarf any emission reductions that are realistically possible in western countries.
That the existing Paris commitments need to at least triple to cap the global warming increase below 2C and was left out of the COP24 report (deliberately?).
Turkey now wants to be counted as a developing nation rather than a developed one to get a slice of the $100 billion a year climate fund cake exclusively for developing nations and financed by developed nations' taxpayers.
President Trump wisely stopped the US contribution.
Clark Cross,
38 Springfield Road,
Linlithgow.
We must respect democracy
Sir, – I agree with Mr Russell's letter (Courier, December 20) regarding Brexit.
I stated in my letter that was published in September that Cameron ran when the result was know that we were leaving Europe.
And May, who was also in the remain camp, stepped in.
Also the government published a booklet that every house got about why it was good to stay in Europe and bad to leave, so what is the government trying to say now?
That 17.4 million people – the ones who voted leave – can't read?
Suppose there was a second vote and it just happened to go the same as the first vote to leave Europe, would the government then say let's make it the best of five votes?
What happens next?
Then do we have re-runs of a general election, because one side didn't win and throw their toys out of pram until they get the right result?
It seems to me that democracy is dead – and that we now run the risk of living in something more akin to a dictatorship.
David Dewar,
42 Prior Road,
Forfar.
Dangerous games on Brexit
Sir, – Nicola Sturgeon is continuing to play games over Brexit, just as she did when she included in the SNP's manifesto a provision that should Scotland be taken out of the EU against its will, this would create a pretext for another independence referendum.
Nicola Sturgeon recently pushed Jeremy Corbyn to table a no confidence motion in the government.
To have any chance of success, Labour must have the support of the DUP, the Lib Dems and the SNP; the best time to do this is undoubtedly when Theresa May's Brexit withdrawal deal has been voted down.
Following Theresa May's refusal to bring the deal to a vote before mid January, Jeremy Corbyn tabled a motion of no confidence in the prime minister, and to nobody's surprise, the effect of that was to unite the whole of the Tory party, even Jacob Rees Mogg, in supporting the PM, and the DUP gave her their support too.
The danger of all of this is that the Tory party unites, and the DUP supports them in pushing through a hard no-deal Brexit.
Which is not what is good for Scotland – but would deliver a perfect excuse for Nicola Sturgeon to campaign for a second referendum on Scottish independence.
Phil Tate,
95 Craiglockhart Road,
Edinburgh.
UK sales of arms are a disgrace
Sir, – As we are now in the season of peace and goodwill it is absolutely critical that the UK ceases arms exports to Saudi Arabia, which are being used to wage war in Yemen.
Our continued sale of arms to that nation is in direct violation of the UK's international commitments to regulate its arms exports to states acting illegally and repressively.
The UK is now on track to be one of the world's biggest arms dealers.
Over the past five years, it has sold more than two-thirds of its major arms exports to Arab states in the Gulf.
Saudi Arabia accounts for 49% of all such exports.
Additionally, the UK is part of a global trend of increasing militarisation.
It spends about £37 billion on its military, or nearly £600 per person per year – three times the amount that it spends on aid.
Exhibiting clear double standards, the UK allocates at least 50% of its development spending to conflict-affected states and regions.
Yet more than 50% of its arms exports are now sold to countries in these same regions, which use their armed forces to wage war abroad or repress their own people.
The Royal Saudi Air Force is hugely dependent on British-made aircraft and missiles – maintained and supported in-country by British military and civilian technicians for its own operations.
The UK should follow the likes of Germany, Denmark and Finland and cease arms exports to Saudi Arabia, providing the basis for a renewed focus for the UK on peace building globally.
Alex Orr,
2/3 Marchmont Road,
Edinburgh.
Reason for the season remains
Sir, – I have to take a different point of view to Neil Barber from the secular society and his opinion of Christmas.
If I understand it properly, it is called Christmas for a reason…it has the word "Christ" in it and Mr Barber himself uses the words "Winter Solstice or Christmas" as a description of the holiday.
Hence, by his own statement he is using Christ as the basis for the time of year.
Granted, the pagan time of Winter Solstice was hi-jacked by the Christian movement, but that was a long, long time ago and the word Christmas is now used constantly.
Gerard Dignan,
17E Denhead Crescent,
Dundee.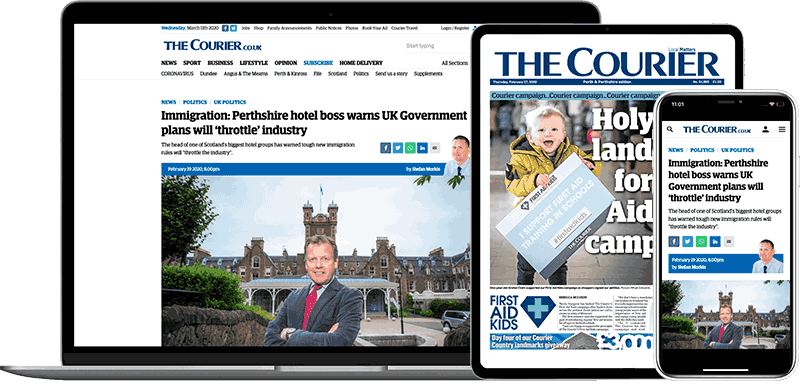 Help support quality local journalism … become a digital subscriber to The Courier
For as little as £5.99 a month you can access all of our content, including Premium articles.
Subscribe