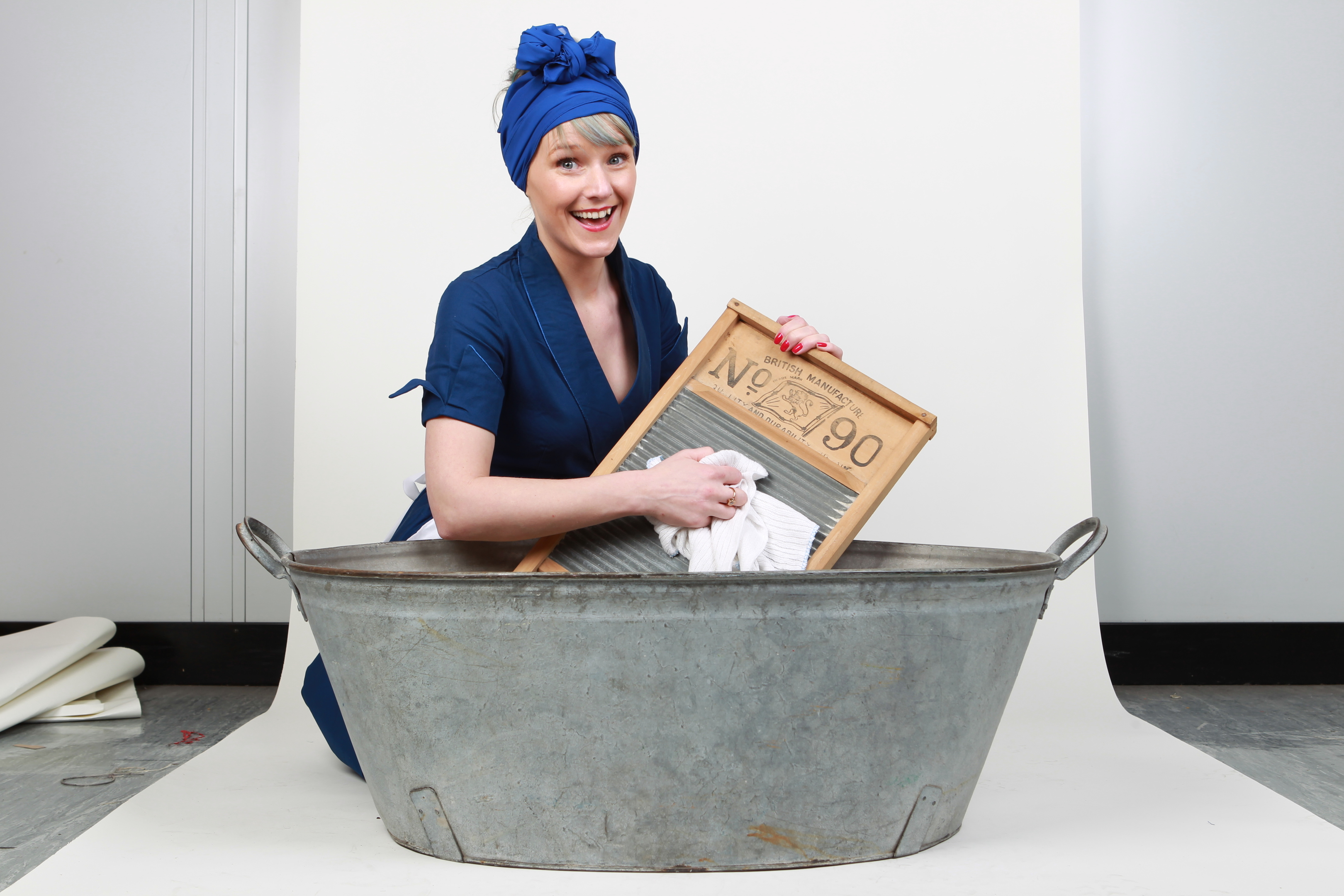 It's easy to forget what life was like before central heating and wall-to-wall carpets but a new book called Pass It On: Household Tips From The 1950s offers a trip down memory lane combined with more than 1,000 practical household tips, many of which could still come in handy today.
Stuffed full of wisdom from the Dundee, Angus and Fife areas, the tips have been gathered from 1950s' Sunday Post newspapers.
And while newspapers of the 1950s are full of Cyprus, Suez and Harold Macmillan's troubles with Hugh Gaitskell, this is a record of the problems solved and the remedies found in the lives of ordinary folk.
Steve Finan, the book's editor, says: "Possibly what sets this collection apart is the retention of the full names and addresses of the 1950s contributors. Did you know Mrs W Stewart of 56 Dudhope Street? Or Mrs LR Hill, 48 Constitution Street?
"Their wisdom earned them a place in the paper and now their tips are aired again."
Being a housewife in those days of thrift, ice on the inside of windows and make-do and mend was a competitive business.
"Keeping a scrubbed doorstep was a matter of honour, and finding an ingenious method of keeping milk fresh without a fridge was a feather in the cap," Steve explains.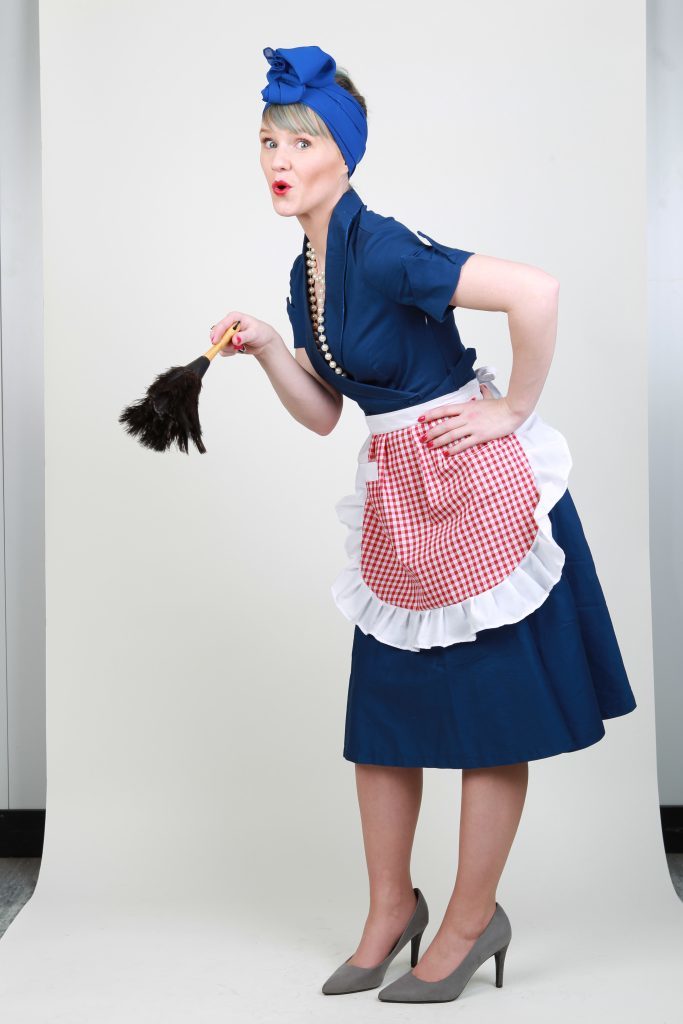 Full of fascinating advice including how to clean up dog hair (tack a strip of foam rubber to the reverse side of a sweeping brush) or prevent the toilet cistern freezing (add a teaspoon of glycerine overnight), Steve has his own favourites.
"How to get a dent out of a ping-pong ball made me smile – pour boiling water over it," he says.
"How to dust behind an immovable wardrobe struck me as simple but ingenious – simply get a dust sheet, two people draw it to and fro down the gap, then vacuum the dislodged dust.
"Making sure a skirt hem will never come down is crafty (sew lengths of three inches or so, not one continuous job)," he continues.
"Most of all, the one about warming an entire bed with one hot water bottle brought back my childhood. It only works with old stoneware bottles – instead of laying it at waist or foot level, stand it in the middle of the bed, like a tent pole so the warmth spreads through the bed.
"My mother used stoneware bottles on nights when ice formed on the inside of bedroom windows."
He has a touching tale tale about finding his own grandmother's name in the tips from 1951.
"She worked in Dundee's jute mills then became an office cleaner. But she was an amazing woman — well-read, highly articulate and an inexhaustible work ethic," he recalls.
"Towards the end of her life she developed dementia. She was strong, agile and incredibly determined, but operating in her own closed-in world. It was difficult to see.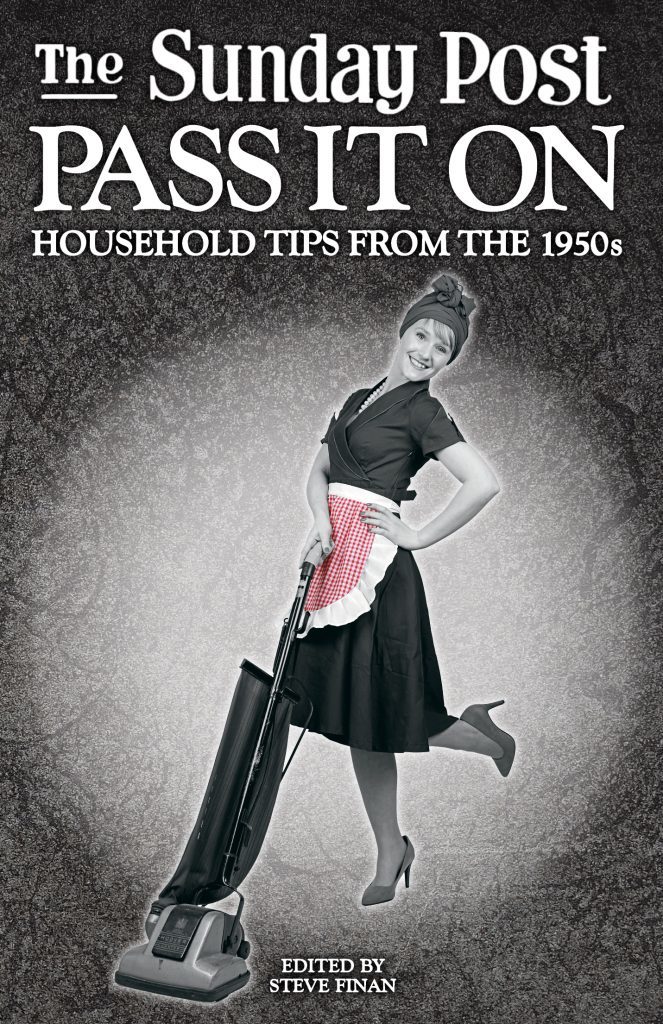 "Her tip (replace a saucepan lid with a clear Pyrex plate when cooking soup so you can keep an eye on it) reconnected me with the resourceful, house-proud, powerful woman she'd been in her prime. I shed a tear when I found it."
Although the book carries a "try at your peril" disclaimer, Steve reckons the worst that could happen is you spoil the mince.
"It's a book that measures nostalgia and your mother or grandmother would love it. In fact, she very possibly wrote it."
Pass It On: Household Tips From The 1950s is priced £11.99, available from Waterstones and www.dcthomsonshop.co.uk, Freephone 0800 318846.
Why not come and meet Steve at the book's launch at Waterstones, Commercial Street, Dundee next Tuesday March 14 from 6.30pm?
Trusted tips to try today
NO MESS NOW WHEN YOU'RE PAINTING—When painting windows, skirting boards, etc, have one clean paint brush dipped ready in turpentine. Use it to instantly clean off any paint that accidentally falls on surrounding woodwork, lino etc, it makes a tidy job.—Mrs W. Stewart, 56 Dudhope Street, Dundee, wins a pair of towels.
NEW USE FOR AN OLD SHIRT—I use the tails of old shirts made in nice materials to make cushion covers. Strips cut from sleeves are set in to make frills.—Mrs Alexander, 556 Strathmartine Road, Dundee, wins a pair of towels.
PREVENTS MOULD—Before sealing jars of jam or jelly for storing, brush over with a very little vinegar. It prevents mould and preserves keep a long time. I have done this for years with good results.—Mrs E. Keir, Rosewood, Lade Braes, St Andrews, wins a pair of towels.
A NEW IDEA FOR THE PIN-CUSHION—When making a pin-cushion, pack it with steel wool. It keeps your needles and pins always shining and free from rust.—Mrs C. Bowie, 154 New Row, Dunfermline, wins a pair of towels.
SHINY—After washing mirrors, picture-glass or even tumblers allow them to dry partly then polish with clean blotting paper. A perfect polish results with the minimum of work.—Mrs W. Young, "New Corner", 4 City Road, Brechin.
STRONG GLUE—If you want a firm fix with glue, add a teaspoonful of vinegar to a small amount of glue. This makes it extra strong.—Mrs L. R. Hill, 48 Constitution Street, Dundee.
TIDY SOCKS—Toddlers' socks tend to sag and slip, then bunch under the heel. If you draw a 'garter' round each leg with a dampened bar of soap the socks stay neatly in place all day.—Miss I. Tait, 5 Sidney Street, Arbroath.