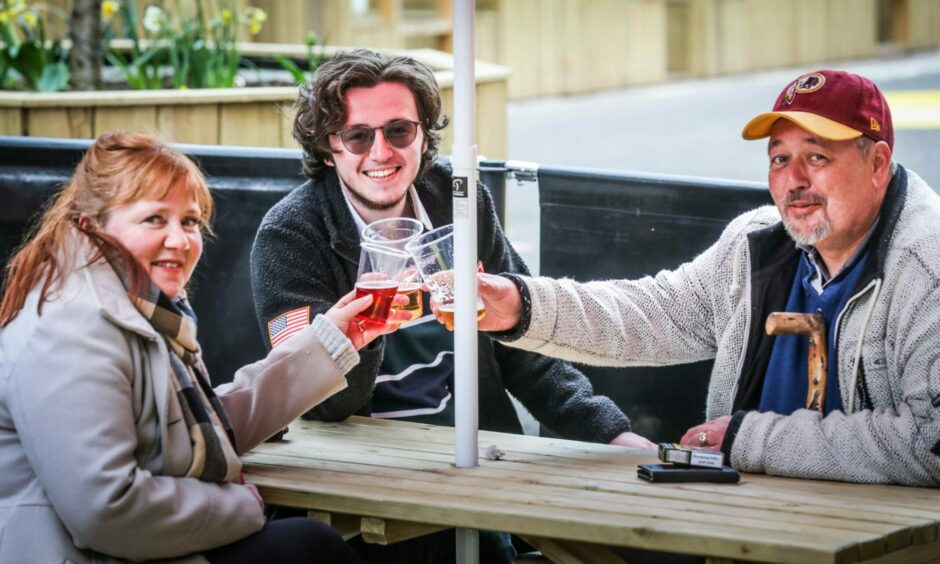 Make mine a pint!
Scores of thirsty punters flocked to beer gardens across Tayside and Fife to toast the easing of lockdown restrictions on April 26 2021.
The occasion was one that saw friends, family and colleagues reunite face-to-face after four long months where socialising was restricted to walks in the park and zoom calls.
Were we on the route back to normal or was this yet another false dawn?
Licence holders could have been forgiven for thinking they had seen it all before.
High streets fell silent and the shutters came down on hospitality businesses when the initial three-week lockdown was announced by Boris Johnson on March 23 2020.
All restaurants, cafés, pubs and cinemas had been asked to close and people were told to practise social distancing, with stricter measures for the more vulnerable.
A squirt of hand sanitiser…
People saw life return to some normality with restrictions eased at various points over summer 2020, as infection rates fell including the reopening of outdoor spaces at pubs.
Ordering through an app, checking in with your details, and being greeted with a squirt of hand sanitiser was all part of the experience that was introduced to our daily lives.
Pubs, restaurants and cafés welcomed back customers indoors on July 14 with up to eight people from three households able to gather and adhere to social distancing rules.
Despite the progress, from November a set of local lockdown rules were put in place, allowing areas to be placed under different restrictions based on the number of cases.
Fife, Dundee, Angus and Perth and Kinross moved between Level 3 and 4, with hospitality premises no longer being able to sell alcohol indoors or outdoors.
On January 4, Nicola Sturgeon updated Scots and said all of mainland Scotland would enter a second lockdown.
There would also be a new legal requirement "forbidding anyone from leaving their home except for essential purposes".
The Stay at Home guidance introduced in January was finally relaxed in April.
All parts of the country moved from Level 4 to 3, where cafés, pubs and restaurants could provide full outdoor service and serve food indoors without alcohol until 8pm.
Were better days to come?
The Courier's leader column on April 26 2021 suggested "hope on the horizon" but stressed the new freedoms would "need to be handled with care and respect".
"Even the most cheery of optimists would have to conclude the first few months of 2021 have represented something of a damp squib.
"A quiet Hogmanay spent at home heralded the end of an unprecedented year, and there has been precious little to celebrate since.
"Yet now, well over 12 months since the emergence of coronavirus led to the first national lockdown, we face a tantalising slice of freedom.
"Restrictions have previously been lifted, only to be imposed once more.
"Today, as hospitality opens for the first time in more than four months, we again face the prospect of a 'new normal'.
"Events of the last year have taken a toll on everybody and the consequences will be with us for years if not decades.
"Many people have suffered ill health. Families are grieving.
"The economy has taken a pounding. The road to recovery is a long and arduous one – there will doubtless be many more twists and turns still to come.
"New freedoms need to be handled with care and respect. There is much still at stake and it would be foolish indeed to assume all the danger is past.
"But today, there is at least a degree of optimism in the air.
"And that is something we haven't been able to say too often over the last year or so."
How good were the first drinks after Covid restrictions were relaxed?
Punters filled up the outside areas of boozers across Tayside and Fife to get their first taste of draught lager or a professional cocktail since November.
The weather didn't put them off getting their first taste of the amber nectar.
The Courier sent a team of photographers to capture images as revellers started rushing to return to their local watering hole, including the Ship Inn in Broughty Ferry.
"I was coming if it was snowing today," said Bill Sharp.
"I've been coming to this pub for years; the last time we were in must have been just before the last lockdown.
"The first pint never even touched the sides.
"It's not just about the alcohol – it's a great place to meet friends. I'm just delighted to be back out and let's hope this will be it now."
Gavin Lee from Broughty Ferry said: "Fortunately, this is one of my scheduled days off and the first pint has gone down fantastic.
"We are regular customers to the Ship and we wanted to support our local pub. We've missed just hearing the buzz of the pub.
"We had a walk around the Ferry and people just seem a bit happier being out and about."
Eoin Smith from Stobswell was enjoying a beverage with his parents outside at the Bank Bar in the pedestrianised Union Street before going on to Broughty Ferry.
He added: "The first pint is probably the best pint I've ever had. It's been great being able to socialise with the family.
"It's been fantastic seeing people out and about living their lives, going about normally, it feels special."
We'll drink to that!
Elsewhere, at the Bank Bar, sisters Sandra Phillip, Helen Burns and Veronica Thomson were able to meet up for their first "official reunion" since last November.
The ladies said it had been sad seeing Dundee like a "ghost town" in recent times.
Sandra added: "We aren't drinkers but we have been enjoying a cup of tea with our pub lunch.
"We used to do this every Monday but we haven't met up since November of last year.
"It's great to be back out."
The watering holes in St Andrews, meanwhile, had pulled out all the stops to make sure as many people as possible could enjoy a drink with their friends.
Thanks to Fife Council allowing many restaurants to site marquees and covered eating and drinking areas on pavements, the town took on a European café culture vibe, despite the disappointing weather.
Julie Dalton, managing director of The Adamson and newly opened sister restaurant Hatch, said they had been preparing for their opening for some time.
The first customers to have the champagne corks popping on the outside seating at Hatch were Steve Davis and Glenn Malloy.
Steve said: "It's great to get back to enjoying a drink outside with friends. I've really missed being able to do this.
"Hopefully this is just the start and everyone can begin to enjoy getting back to normal."
At The Saint, further along South Street, student Sophia Turner was enjoying drinks with three of her close friends, who were also returning to St Andrews University.
She said: "We all come from England and that's us all back at university now.
"This is the first time we have seen each other in five months and it's great to get back and be able to go out and have a drink and catch up."
In Perth, Craig Fraser, mine host of That Bar Lounge in the city for the past 25 years, was relieved to finally welcome his punters back.
At The Pickled Peacock in Errol, customer Aileen Morrice had travelled to the bar and restaurant for lunch – and confirmed it was great to eat out again.
From May 17, pubs would open indoors until 10.30pm.
Scotland moved beyond Level 0 on August 9 2021, which ended the legal requirement for physical distancing and limits on gatherings.