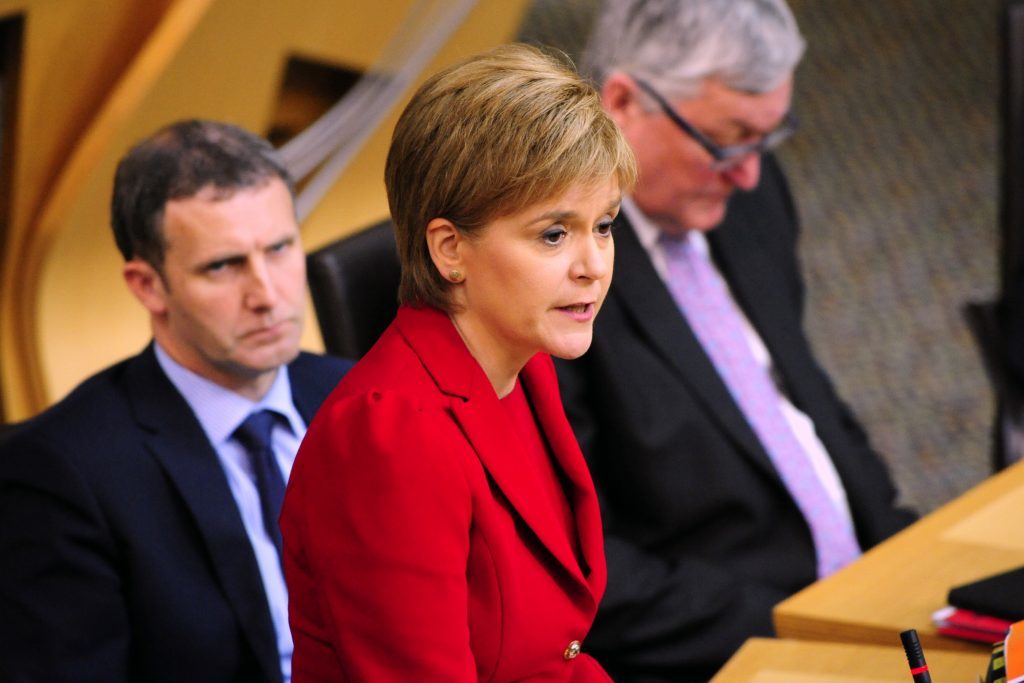 The SNP is planning a charm offensive with the aim of keeping Scotland in European Union in the event of a Leave vote next week.
Nicola Sturgeon told MSPs the Scottish Government is carrying out "appropriate planning" to prepare for the economic shock that a vote to leave the EU would cause.
Nicola Sturgeon said while she hoped next week's referendum would not result in the UK quitting the EU, it is her "duty is to seek to protect Scotland's interests in all circumstances".
She confirmed to MSPs at Holyrood she is "ensuring that appropriate planning for all eventualities is being undertaken by the Scottish Government".
The SNP leader also repeated her warning that if the vote on June 23 results in Scotland being removed from the EU "against our democratically-expressed will", this could result in a second Scottish independence referendum.
Polls in Scotland have continued to show a majority of people want the UK to remain in Europe while more recent polls across the UK have put the Leave campaign in the lead.
Ms Sturgeon said that "if Scotland faces the prospect of being taken out of the European Union against our democratically-expressed will, then all options to protect our relationship with Europe and the European Union will require to be considered".
Quizzed later on what that meant, the First Minister's official spokesman said: "In that scenario [Brexit] she would be intent on exploring all avenues and all options to try and protect Scotland's EU status."
He added that while there is no exhaustive list of possibilities, a second independence referendum, as outlined in the SNP's manifesto, is amongst them.
Pressed on whether legal action could be taken to maintain Scotland's place in EU, he said: "I think we are talking more in the realms of political, diplomatic rather than legal as I would characterise that. But all of that remains to be seen."
Ms Sturgeon spoke after being lobbed soft questions about the referendum by Scottish Labour leader Kezia Dugdale, leading to farcical scenes at Holyrood.
Pro-Brexit Conservative MSP Margaret Mitchell later raised a point of order challenging whether the exchanges had breached the Scottish Parliament's purdah rules during the referendum period, which prevent MSPs from using public resources to influence the outcome.
She then proceeded to make the case for a Leave vote.
Presiding officer Ken Macintosh said he did not think Ms Sturgeon and Ms Dugdale's exchange had breached the rules.