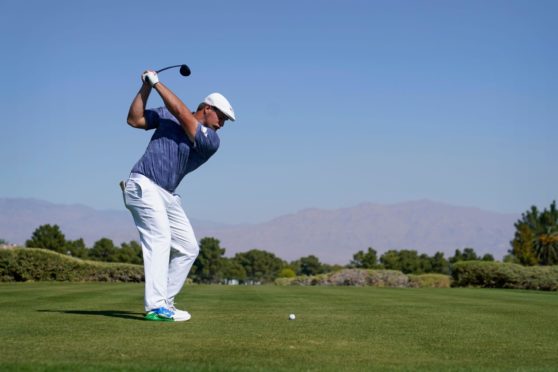 The Whacky Adventures of Bryson DeChambeau, Super Science Genius and Mega-Influencer, continue unabated.
Just before he took a month-long hiatus from the PGA Tour to prepare for the upcoming Masters, the US Open champion and self-proclaimed physics guru (reminder: Bryson went to SMU, which has the USA's 87th best college physics department, on a golf scholarship) idly compared himself to Isaac Newton and Albert Einstein. Not making that up.
Bryson's gone off to his mystery laboratory with his boffins to work out ways in which to reduce Augusta National to 18 Postage Stamps.
He's experimenting with a 48-inch shaft on his driver which will produce obvious extra torque and speed, but – wow – even without using this new tool he used social media to put up results of one range session where he hit the ball 403.1 yards on the fly.
That was with a 211 mph impact speed; Bryson's average last season was a touch under 185 mph. He's already talked about World Long Driving Championships levels, which top out at 230-240 mph.
My friends at the excellent Bunkered Magazine, who are far more familiar with Trackman technology than I am, pointed out that the iPad results Bryson put up on Instagram showed he had a 20 mph head wind for his prodigious knock, and also that he hit it 41.5 yards to the left. But hey, he's just practising.
There followed another Instagram post which showed our hero exciting his private plane into a Bentley SUV (I didn't know such a thing existed) on his way to the range to begin "the search for 215mph", checking his Rolex watch as he goes, soundtracked to the Kings of Leon's "Use Somebody".
This is""brand Bryson", who takes the `sponsor's dream' jokes of most golfers to new levels by never missing a chance to namecheck them, even in US Open winner's speeches. To think we used to be appalled when players simply wore their branded caps for trophy presentations.
It's easy to laugh at Bryson, and there will no doubt be plenty sniggering if, as many suspect, he over-torques at some point and something snaps. Every golfer who has attempted what he has achieved has ended up hurting themselves at some point, after all.
But is he going to have the last laugh? We'll know when he gets to Augusta and starts to execute his grand plan.
He's already talked about hitting THROUGH the 13th fairway to the 14th, which on the face of it seems simply a massive thumb-nose to the Augusta National club, their sacred course and strategy of founder Bobby Jones.
Indeed, it seems like Bryson is daring the authorities, ANGC, the R&A, the USGA and whatever other golfing acronym he can find, to confront him. It's almost as if he likes the challenge of baiting the boundaries of what's accepted in golf as much as actually winning tournaments.
Indeed, why wait to win 19 majors, if that's even possible in today's world? Here's a shortcut to gaining true renown and becoming truly historic in golf without having to play 25 years to do it.
There are many – and I have a certain sympathy with this view – who want Bryson to overpower everything now so that the authorities are finally moved to act for the better of the game.
Such an occurrence – moves to reduce ball flight or club speed and size – might make it actually well worth tolerating his cringe-worthy self-regard.
An admission – I'm not missing you at the golf
Eight months into the pandemic and covering spectator-less events in both of my main sports is somehow completely at odds.
I absolutely hate spectator-less rugby games. Scotland's first autumn test at Murrayfield last Friday was soulless, unatmospheric, an experience as empty as the stands were.
The roar of the crowd when Darcy Graham stutter-steps past a defender makes your heart rise in your chest; how I miss that indescribable sound when an audacious Finn Russell pass floats within reach of a defender and 67,000 people gasp at the same time.
I'll tell you how bad it was: I found myself even missing the pointless Mexican Wave that starts in the North Stand midway through the second half.
However at the golf, the absence of people, I'm almost ashamed to admit, is brilliant.
Tournaments are gloriously free of the hangers-on that flood most top level golf events. These are management people, sponsors' friends, coaches and their assistants, pure old-fashioned liggers, people hawking crazy playing aids at the putting green.
I'm sure for the players and caddies we journalists count the same as these people, but we're there and they're not, and it's great.
On the course, it's just as good. No jobsworth marshals who think they're important because they've been given a "quiet please" sign for a week. You can walk down the middle of the course and as long as we don't distract the players – as if – we can go where you like.
The peace is so pleasant. I'm not sure I'd like it to happen at a truly top event like an Open, but at the events I've been at so far, it's bliss. Sorry, folks.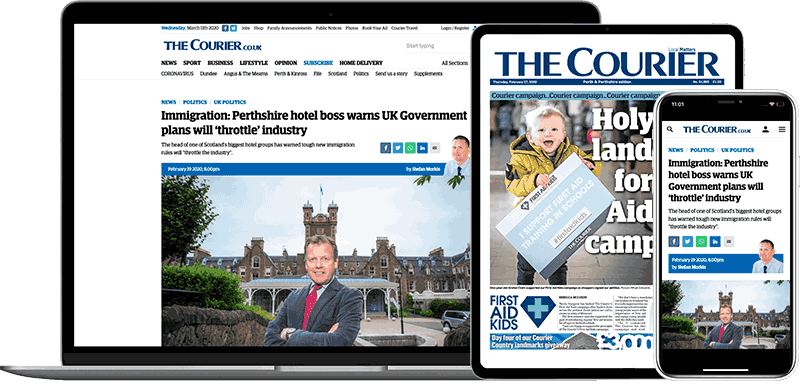 Help support quality local journalism … become a digital subscriber to The Courier
For as little as £5.99 a month you can access all of our content, including Premium articles.
Subscribe