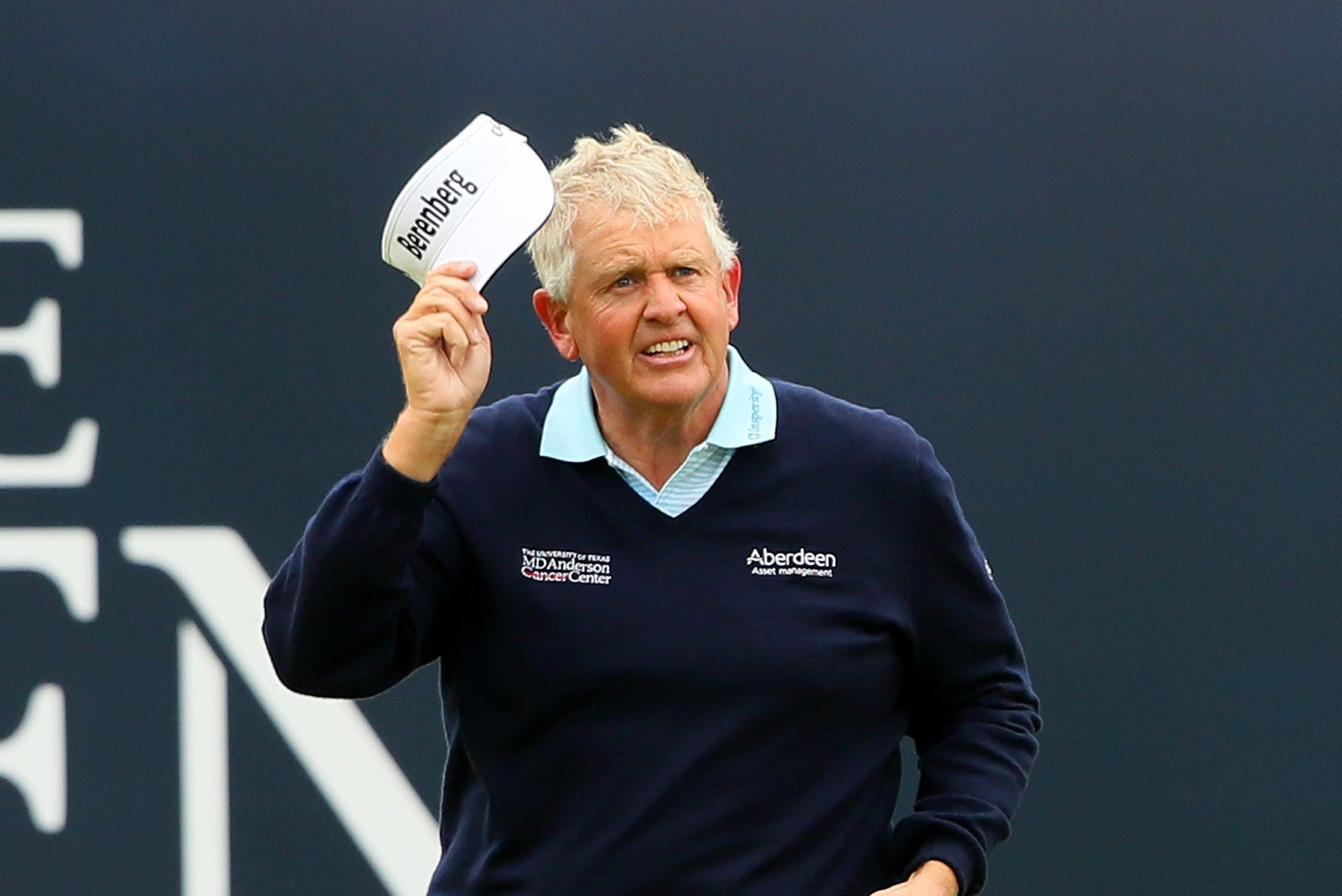 Chronicling the moods of Monty hasn't been a straightforward business at Royal Troon (is it ever?) and so it continued through to the very end of his Open championship.
Honoured to hit the first shot back on Thursday but then heartbroken at the double-bogey that the opening hole brought him.
Pretty satisfied at his first round score of level par and then pretty disappointed with it when the weather changed and it didn't look quite so clever.
Dejected at thinking he'd missed the cut then elated at discovering he had in fact made it.
Encouraged to have found his game over the last six holes that yielded six pars, but frustrated that it didn't happen a few days earlier.
And so it continued until the very end. Mission accomplished that the (probably) final walk down an 18th hole at an Open happened on a Sunday not a Friday, but underwhelmed that barely a soul was there to see it. And when his long-iron settled six feet from the hole, you just knew it wasn't going in for a birdie three.
This wasn't a black and white Open for the Troon local. Like the weather (and most of the Sunday attire) it was a grey one.
"You've got to be realistic and think that it might well be the last time I'm here at Open," Montgomerie said. "I'd love to think it won't be but, yeah, it might well be.
"It's good to finish with six pars there. Good to hit a nice four-iron into the last hole and have a chance at birdie to finish it off. Just a shame I was on my own because the stands were empty, really. And it was a pity.
"I'd love to have played in the middle of the pack where the stands are beginning to become full and that would have been more emotional, possibly. But I got a good ovation, anyway, from the crowd following the group, which was super."
One way of coming back (to Birkdale) for another Open is winning the Senior Open at Carnoustie this week.
Monty isn't under any illusion that the task of getting the ball around Carnoustie is going to be any easier, though.
He said: "I mean, of all the courses to go and have to play! But we'll do our best there and see. I've got three days to practice and we'll do our best.
"I haven't really played well to be honest. This whole year I've struggled pulling the ball. When you're aiming left, expecting a fade, it's doubly bad. I've just got to sort it out.
"I've been speaking to Ewen Murray and Butch Harmon in the Sky studio when we're not on air and been getting the odd lesson, which is something to work on.
"Hopefully I'll do well at Carnoustie and take something from this today. I found something on the 13th – it was about 66 holes late, but I found it! To play the last six holes in level – I could sell that to the leaders."
He added: "I've always loved playing in this championship.
"My Open record isn't that great really. I haven't really performed that well, but at the same time I've always enjoyed the whole theatre of the thing and hopefully this won't be my last.
"I'd love to think that I can do this again and try and qualify again."
Montgomerie's 17 over par final total wasn't the worst of those who made the cut. While speaking to the media the next group on the course was still a couple of holes from finishing and he joked: "I'm the leader in the clubhouse again, for the second time this week. So if everything goes really badly… you never know. They say it's not finished until the last putt is holed!"
The speed of Montgomerie's 18 holes – with the club professional partnering him as marker – shone a light on one of golf's biggest problems – slow play.
He said: "Two hours 50 minutes and I don't feel as though I was rushing. The old boys get round in three hours.
"Why four-and-a-half hours has become the norm, five hours in major play, I don't know. The sooner we get back to trying to play this game at a sensible pace the better."