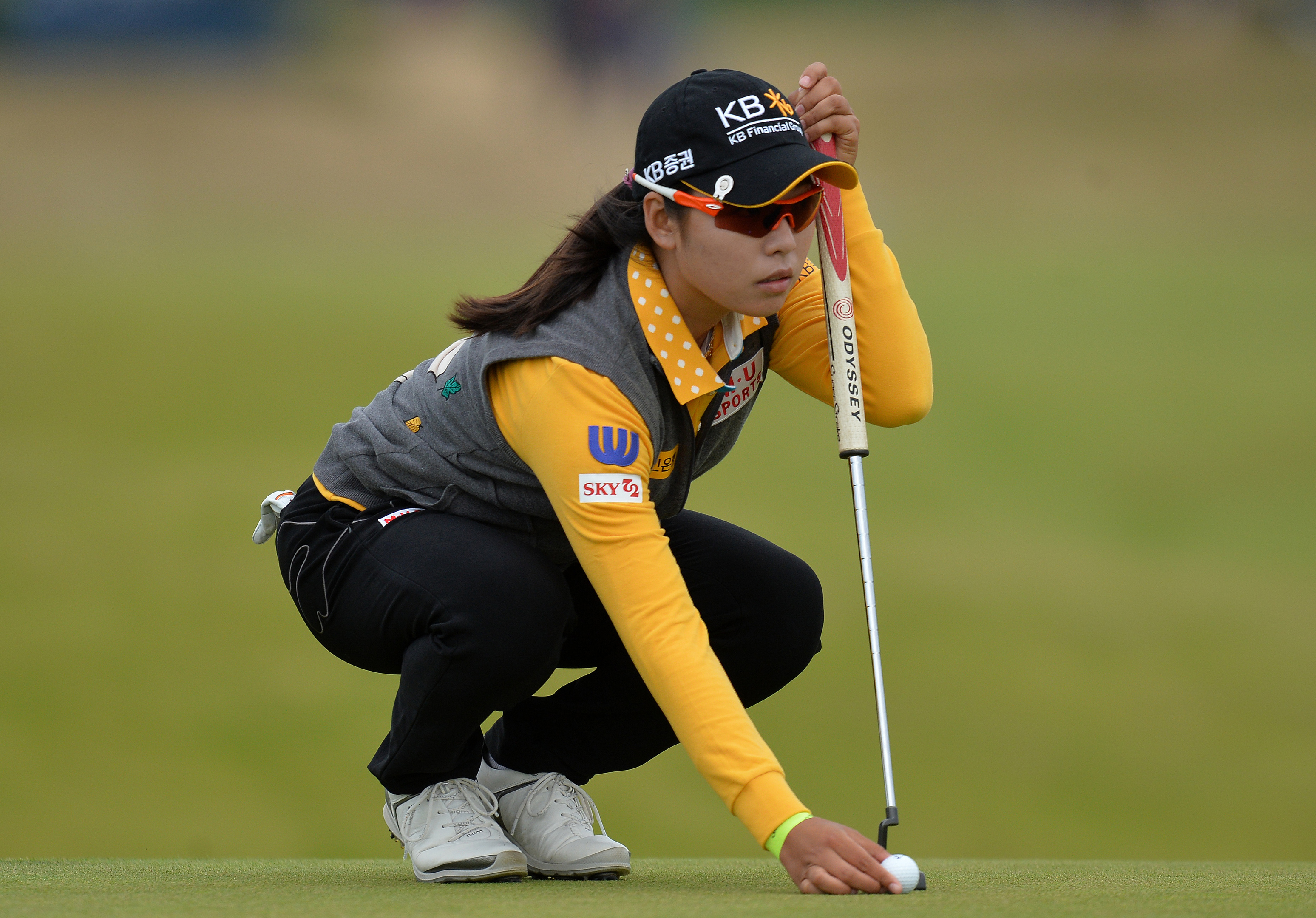 Karrie Webb's agony turned into unexpected joy for Mi Hyang Lee at the Aberdeen Asset Management Ladies Scottish Open as the 24-year-old Korean amid some dramatic confusion snatched the trophy away from the veteran Australian at the death.
Lee recorded her second-ever LPGA win with a final round 66 to complete a comeback from nine shots back of the lead at the halfway stage, but there neither she nor Webb had any idea where they stood as they played the 18th at Dundonald Links.
The Korean won by a single shot with a six-under aggregate of 282 for her first win on the LPGA tour in four years, but had missed a 40-foot eagle putt at the last thinking she needed it to make a play-off.
In fact her three-foot putt back for birdie gave her a decisive advantage over Webb, who had followed what seemed like a championship-winning eagle at the fourteenth with a bogey at 16 and a crucial double-bogey at 17.
Still the seven-time major winner from Australia had a chance to force a play-off with an eagle down the last but the lack of information on the final hole meant she had no idea of the situation.
"There was no leaderboard," said the veteran. "So I don't know how anyone would know (what they had to do).
"I didn't really know until I made my putt because it wasn't a huge cheer, so I assumed it couldn't be to tie. That's the first time I've ever seen there hasn't been a leaderboard on 18."
Webb's birdie four out of a greenside bunker only gave her a share of second place with Mi Jung Hur, who scored a brilliant 65 on the final day, but she seemed to have the championship well in hand after a brilliant bump-and-run from 50 feet at the back of the 14th gave her a two-shot advantage that seemed to negate Lee's brilliant front nine of 31
Instead after a gutsy up and down at the short 15th she dropped a shot at 16 and then saw what looked a perfect drive kick into a fairway bunker on the 17th, having to come out backwards and eventually missing a ten-footer for a double-bogey six.
"I was on a high after the eagle, and then I had a very nice up-and-down on the next. Obviously there were nerves, but there was a good calmness there," she said.
"Even on 17 tee, I absolutely nutted my 3-wood exactly how I wanted and it kicked into the bunker. I have no idea how it did that."
The group ahead, Lee had no idea what was happening behind her and thought she needed an eagle three at the last simply to force extra holes.
"At the 18th I think I have to make eagle to get a play-off, as I saw she was seven-under and in the lead," said the bubbly Korean. "No way did I think I would win.
"All I wanted today was birdie at the first, then birdie at the second, just hole-by-hole."
A 68 in Saturday's brutal weather conditions brought Lee into the picture after a trying first few days, when her clubs failed to arrive on Wednesday and she had to use a rental set from the Dundonald Links pro shop for practice.
Nine shots behind the halfway lead, and not being the fondest of the Scottish weather, she retrieved the situation with her four-under third round because of "good distance control".
She moved up towards the lead with her six birdies on the front nine and although she stalled with pars on the way back, an up and down at the 17th and the final birdie at 18 proved the key.
"I didn't expect to win," she said. "I was here because I wanted good practice and to get ready for the British Open."
At 17 caddie Chad Payne advised a six-iron for the second shot but Lee took a five and missed long and left. She however played a delicate chip to five feet and holed it to keep momentum going.
"He was right and I was wrong," she said cheerfully. "We've only been a team for ten weeks but it is working well.
"It's my biggest win because it was so unexpected. Obviously it's also a big confidence for next week, and hopefully maybe I can win again!"
Cristie Kerr, leader at the halfway stage, managed a final round 72 to share fourth place with Spain's Carlota Ciganda on four-under. The best placed UK finisher was Georgia Hall, who continued her campaign for a Solheim Cup debut with a backward nine of 31 for a tied-ninth finish on one-under.
Carly Booth had a one-over 73 to finish her week in a tie for 31st, the best home finisher but she regretted her struggles on the slopey Dundonald greens.
"I've had trouble on these greens every year we've been here," she said. "I find them hard to read, there's slopes on the slopes, not a straight putt anywhere.
"I missed short ones on 16 and 17, another bad day. I'm playing well generally, and it's just been this week.
"I'll be fine and I'm looking forward to next week. I haven't played Kingsbarns since qualifying for the British in 2013 but I've played it many times and I'm pretty familiar with it."
Catriona Matthew finished with her third 74 of the weekend and a 51st place finish going into the British Open next week.