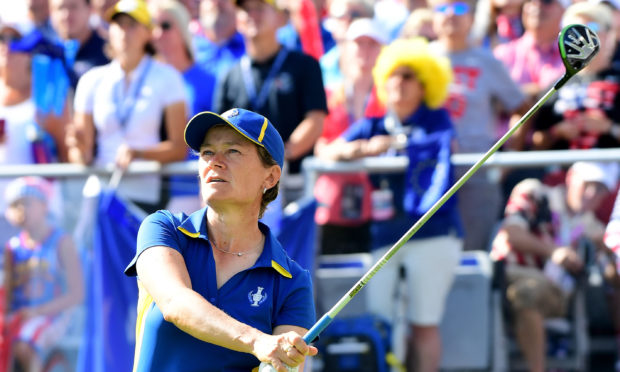 Catriona Matthew completed her remarkable Solheim Cup on the losing side, but the 47-year-old veteran received the admiration of all once again and maybe even another career boost.
Matthew came from three-down in the singles against Stacy Lewis to win her point. Her six wins in singles play is Europe's most and equals Julie Inkster's six for the USA as the best in Solheim history.
With three points from four outings after only learning on Saturday that she might be needed due to Suzann Pettersen's back problem, Matthew might have briefly considered a tenth playing appearance next time at Gleneagles, where she is widely regarded as favourite to succeed Annika Sorenstam as Team Europe's captain.
But in the aftermath she said firmly that was to be her last Solheim appearance.
"I'd decided this was the last," she said. "It's time to move on to younger players and give them a chance.
"It was one of the reasons I was so determined to come back and won today, because I knew this was my last. It was nice to get the point in those circumstances."
Yesterday she fell behind early to Lewis – like Matthew a former Women's British Open champion – as the American had four birdies in the first five holes to go out to a three-up lead.
The Scot won the sixth with a par but went back to three-down at the 11th, unable to make any dent in Lewis' control of the game until the 12th, where her first birdie for a win started to turn the tide.
She won thirteen as well, and finally pulled level at the 15th with a short birdie putt. When Lewis three-putted the 17th, Matthew had the lead for the first time in the contest.
At the last Catriona's birdie putt from 30 feet drifted wide, but Lewis was unable to convert hers from ten feet, handing Matthew a one –up victory.
"It's just another case of never giving up," she said. "Stacy threw some birdies at me early on and I just hung in there and hoped my time would come. I managed to put some pressure on her on the back nine and got ahead at the end."
The Europeans knew it was always an uphill battle to erase the Americans' handsome lead, she added,
"We knew the first ones in the draw just had to win. Ideally, we wanted blue on the board early on but I got there in the end."
European skipper Annika Sorenstam was philosophical about the loss.
"We just got outplayed, there's no doubt about it," she said. "I'm so proud how hard the team fought, and it's not easy coming out here on a Sunday with the team so far behind.
"But I'm proud of them. They were out there fighting every single match, for every single point. We can only congratulate the USA because they played some awesome golf.
"Sometimes it's not always about the results, this has been a lot about the journey. I've learned a lot the last 18 months and it's been a pleasure to represent the Ladies European Tour."
Anna Nordqvist, who played through glandular fever to an unbeaten record, admitted she was "pretty exhausted" after playing in four of five sessions.
"It's been a great week, great to be here. And the fans have been tremendous," she said.
"But I feel like we played our hearts out. It's been a pleasure to play under Annika, and just watched her grow through these last 18 months."