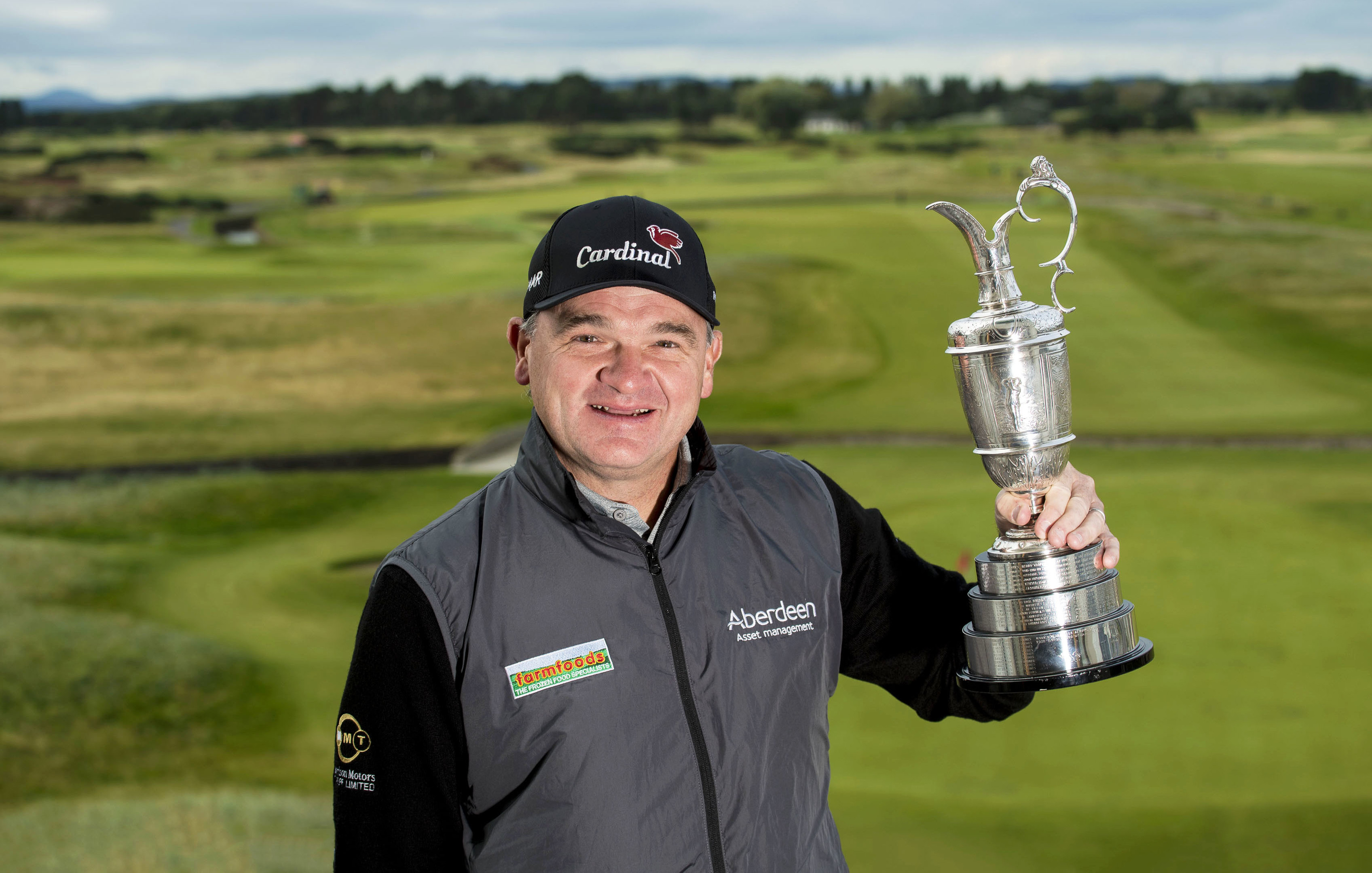 It's been 18 years and Paul Lawrie has played the 18th at Carnoustie countless times since the finest moment of his career, but never quite the same way he did this week.
Lawrie went to the spot of his famous four-iron approach that cemented his 1999 Open Championship triumph, wielding the same club from that rainswept and dramatic day, and even retrieving the putter he used to hole out for birdie.
Lawrie was back at Carnoustie marking the opening of ticket sales for the 147th Championship at the Angus links next July. Tickets for the week of the championship from July 15 to 22, returning to Carnoustie for the first time since 2007, can now be had at early season discounts.
The four-iron with which he hit his approach to five feet on the final hole has long been retired, and it usually resides in the original bag with the rest of the set in Lawrie's golf room at his Aberdeen home.
The putter went some years ago to the British Golf Museum when they requested a club from his bag on the day when he came from a record 10 shots back to win a play-off after Jean van de Velde's famous flounder in the Barry Burn.
"I'd never been back to the actual spot…221 yards to the pin," he said. "I remember my thought, left edge of the Rolex clock (on the hotel) was my line, then just slow away. That was Adam's (the late Adam Hunter, his coach) thing, slow away movement and then just let everything else happen.
"I felt really calm and in control of the situation. I think I've said that a few times before. Incredibly, I didn't feel nervous. Whereas, with the opening shot of the Ryder Cup later that year I was just totally out of control and my body was shaking!"
"I haven't used that four-iron since that season. The putter feels very light – maybe I ought to try it again and maybe that's been my problem recently!"
Every other part of the bag that day has found a home. The woods were gifted to a charity auction, and now are on the wall of Insch Golf Club in Aberdeenshire. The ball is in the coveted care of Paul's Dad, as is the cap he wore.
But as far as the round itself is concerned, much is a mystery.
"When I wrote my autobiography the first chapter was supposed to be about the whole round, but I could only remember four holes. I usually have a great memory for that stuff but I just have no recollection.
"There's not much film either. When I teed off early on I was just another guy 10 shots behind and the TV cameras didn't follow me.
"I birdied the eighth and then all of a sudden a lot of camera crews arrived as I went down nine. But I don't think there is any footage of the first seven holes."
Carnoustie will always have a special place in his heart – although Muirfield and Birkdale are his favourite courses on the rota.
"Carnoustie is way up there, there's no question about that," he said. "The way the course was set up in `99 was unbelievably tough. The rough was mega thick. But they're not going to cut it back; the course is the course and you just have to get on with it.
"Adam spoke to me at length on the two practice days about how important it would be if I hit it in the rough just to chip it sideways. He said, 'Let's take the medicine and if you can keep a double bogey off your card, you will have a chance to win'.
"That's exactly the way it turned out. There were only two of us, myself and Justin Leonard (the other man in the play-off with van de Velde) without a double bogey all week.
"As usual, the wee man got it bang on."
Lawrie was once resentful about how van de Velde's collapse got more attention than his win, but he has always been friends with the Frenchman.
"I think Jean handled the whole thing with total class," he continued. "I'm sure he must have had nights when he was in total despair about the whole thing, but he never let that show. I'm not so sure that I could have done that.
"He handled it brilliantly. And he has been to our (Foundation) dinner and a challenge match over the years. He has been unbelievably good for us. I've always got on really well with him."
Now 48, Lawrie's recurring injury problems – he has an arthritic left foot – means he will rein back on competitive golf for a while before hitting the Seniors.
"When I'm fit, which has not been very often, I still feel competitive," he said. "I still feel as though I can still compete and win. It just hasn't happened this year.
"But I'm okay with that. I've had a really good run. I've had 26 years out there, 600 events. If I'm not going to play that much then that's okay I'm not bothered about it.
"I might play 12 or 13 events next year and then come out firing as a senior. I think I will be a really good senior. These boys play shorter courses, three rounds and no cut. Hopefully, it should be easier to score. I think I could be a decent senior if I keep myself fitter."
Tickets for The 147th Open at Carnoustie go on general sale at early-season prices from 9am. Visit TheOpen.com/Tickets for full details.