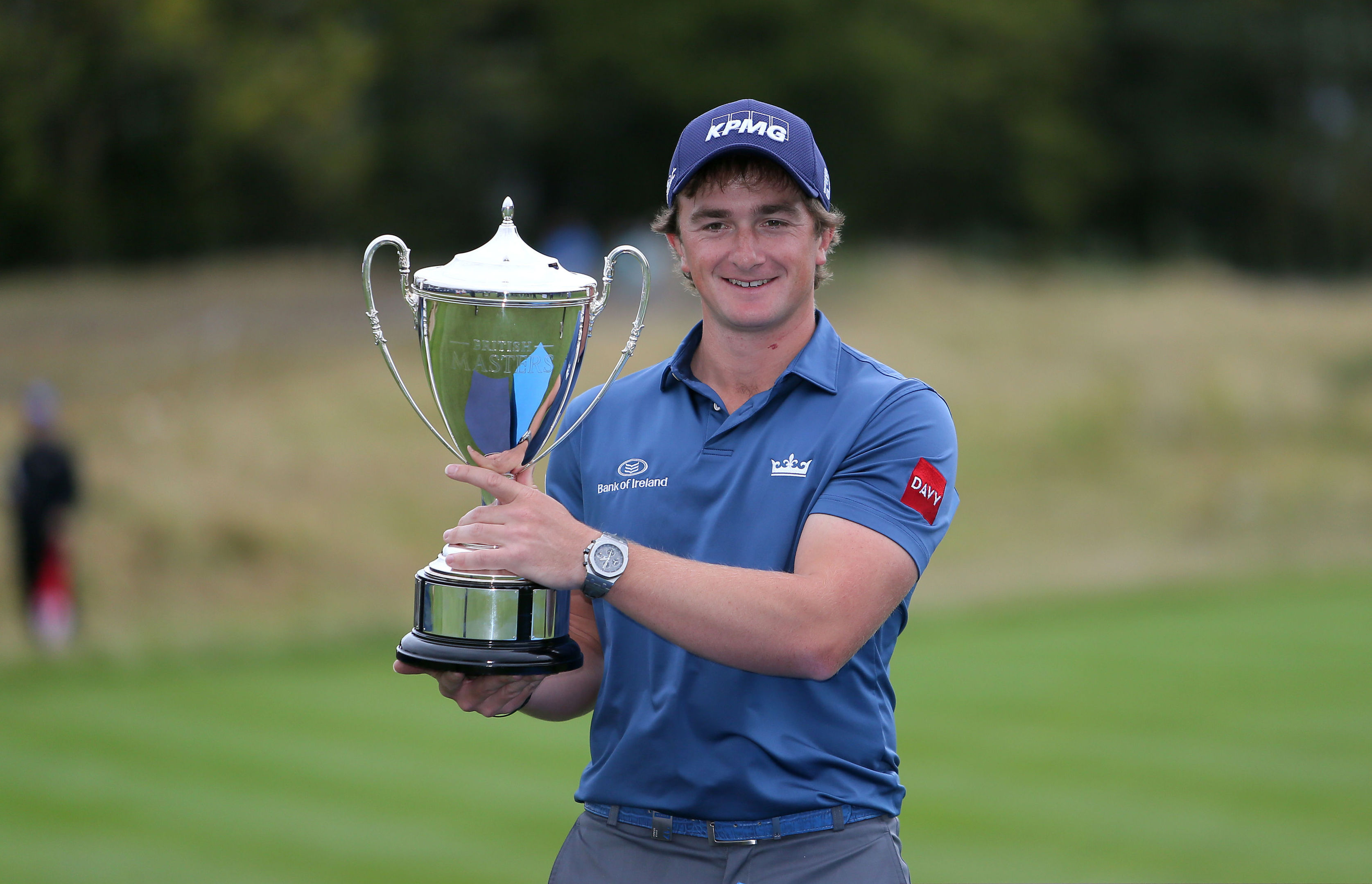 Paul Dunne didn't only manage to ignore the thundering approach of an on-fire Rory McIlroy on the final day of the British Masters yesterday but pulled away in outstanding fashion with a brilliant nine-under 61 to claim his first tour title.
The 24-year-old from Dublin, who famously led the Open at St Andrews going into the final 18 holes two years ago as an amateur, chipped in at the first and also at the last to bookend a dream round at Close House where just about everything that could go right for him did.
And he eventually won by three over a charging McIlroy, who showed that his game is actually close to being fully dialled in even as he prepares to take a three month sabbatical from the game after this week's Alfred Dunhill Links Championship.
"I don't mind whose name is behind me, if it's Rory or anybody else," said Dunne, whose 61 left him with a 20-under aggregate of 260. "I'm just trying to shoot a score that's better than theirs.
"Obviously I was aware that he had the firepower to make birdies down the last few holes and I kind of expected him to play the last three holes in two-under at least."
He'd gone out in the final group "trying to do well rather than trying not to mess it up," he added.
"Even when I eagled six I knew that I was two or three shots ahead, but I also knew if I wasn't two or three under on the back nine as well I probably wasn't going to win."
Dunne was also part of the Walker Cup team of two years ago, and is easily the quickest graduate to the winning circle of that team, but he wasn't even sure he'd make a living out of golf until his weekend at St Andrews.
"Before I played in that Open I was hopeful I would make a career out of playing golf but I wasn't sure," he said. "I'd had a decent amateur career but I wasn't one of the greatest by any means.
"But I grew a lot of confidence knowing that I could make a living playing golf and once I knew that I knew I could get through Q School playing my own game.
"I've built off that. Playing well on Sunday has taken some time but I guess I put that right today."
Dunne's eagle on the sixth – immediately preceded by two birdies – took him into a lead he wasn't to relinquish, but there was to be some odd drama coming down the stretch as McIlroy responded to a bogey five at the 11th with five birdies in his last seven holes.
There was an idea that it was going to be Dunne's day at the 11th, when he slightly pulled his approach long, but it took a remarkable bounce off a sprinkler head and ricocheted back to eight feet, which of course he holed for another birdie.
"I've never seen that happen either," said Dunne. "I thought I'd be looking at a really tough up and down when I saw it bounce sideways.
"I'll take it. I've had my share of bad breaks and good breaks and that was one in my favour."
When McIlroy parred the 18th to complete his 63 – following on from Saturday's 64 and cumulatively the best weekend of his pro career – the former World No 1 was just one shot behind Dunne with the leader having to negotiate the tricky 17th and 18th.
However having played the short par four 17th in textbook fashion for his birdie three, Dunne responded to his a tee shot at the short last that ended up between bunkers by holing the chip.
McIlroy, standing in the scorers' hut awaiting confirmation he would be second, heard the roar of the crowd as Dunne's chip zeroed in on the hole and in.
"Did he hole it?" said Rory to gathered media. "Nice! I just went from one back with a chance to losing by three," he laughed.
"It was just nice to have a chance to win a golf tournament, and I think I played better as a result, I was more mentally engaged and focused," he said later.
"I did everything that I wanted to do, but to shoot 61 to win his first tour event it's incredibly impressive from Paul. I'm happy for him as well, he's always working so hard and it's well deserved.
"I got into my routine, I did what I had to do, hit good shots, made good strokes and holed some good putts.
"64-63 over the weekend, I would have thought would have a real chance. Just shows how good Paul played."