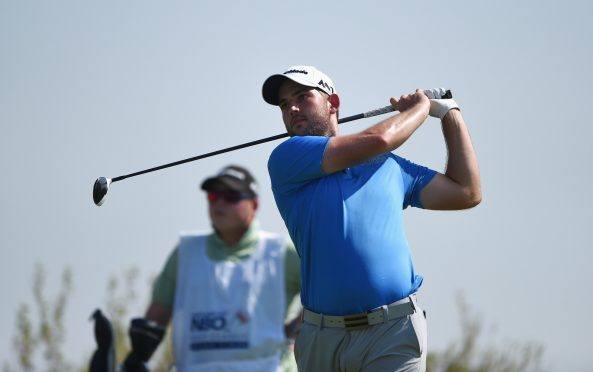 Bradley Neil has already filed the longest afternoon of his young life into his bank of experiences as he readies himself for his debut season on the European Tour.
The 21-year-old from Blairgowrie's final round 69 in the NBO Classic Grand Final was just enough to get him the 15th and final qualifying place from the Challenge Tour for the main circuit in 2018, although that "year" actually starts in only two weeks in Hong Kong.
But the afternoon in Oman will stick in his memory and is valuable fuel for the former Amateur champion, whose two and a half year journey since turning professional has hardly been super smooth.
"The end was definitely the worst part," he said of the final nine holes and the hour-long wait at the end to discover whether he had qualified. "It was very agonising, a horrible thing to have to go through, much worse than even Q School last year.
"I had absolutely no idea of the overall standings at the end. When I'd played 14 holes I looked at a leaderboard and saw that I would be close.
"At the end I kind of had a feeling. I left myself a little too much to do down the last hole, but luckily I managed to hold my nerve and hole out which at the time seemed really important."
Met by his Dad Rod and friends who came out to Oman to support him, Bradley already knew he'd done as much as he could have done on the day.
"I said to them that if I finished 16th by €1000 or €10,000 it wouldn't have been because of this week," he continued. "I had a few missed putts throughout the year, quite a few times when I was in position and didn't capitalise. It wouldn't have just come down to one shot this past week, it was a whole series of shots through the season.
"My girlfriend always says I have a knack for playing well when it really matters, and fortunately I was able to come through and keep that trend going."
But Bradley knows that many others have gone through worse using their tough experiences to make great careers, and he wants to be the same.
"These memories and experiences are things you've got to take forward," hr continued. "There will be so many situations ahead where I am in position to do well, or get into a big event, and I'll be able to draw on this past week.
"I can say to myself, you've done this before, you know you can do it again."
Back home after a month on the road – he was in China and the UAE before Oman – Bradley will have a quick turnaround as the 2018 season starts in just a fortnight.
"I hope to get into Hong Kong in two weeks, the Challenge Tour qualifiers last year all played so I'd expect the same again," he said.
"On average last year the Challenge Tour qualifiers got 27 playing opportunities, and trying to get into the Rolex Series events is huge not just for keeping the tour card but for world ranking points as well. There's so many opportunities ahead I look forward to grasping."
Having had initial struggles, however, he feels already hardened to tour life.
"You hear a lot from people who say if you're not off the mini-tours in a year then you shouldn't be there, and the same with the Challenge Tour; people can be so narrowminded like that," he said. "I'm sure there were some who thought that with the struggles I had at the start. But that's another part of my career I'll always have to draw on.
"My confidence was at an all-time low then, but I still did the things that got me there in the first place and get the continued support from everyone that helped me through.
"I know I'm only 21, but it feels like I've been out here so long. I've aged so much in the last two and a half years, the stress I've put myself through.
"But I'm where I want to be now, and really can't wait to get started."