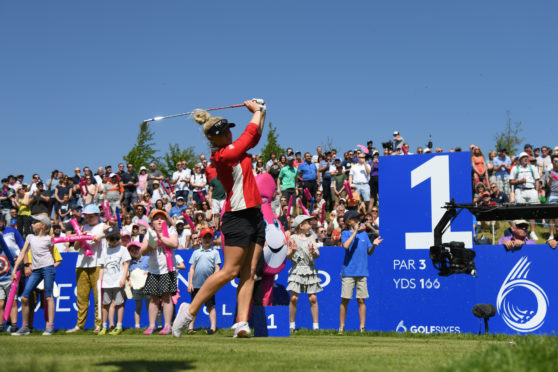 Even the endless positivity of the cheerleaders potted around the Centurion Club couldn't quite recover the enthusiasm lost in the anti-climax of the competitive element of the European Tour's GolfSixes.
The second staging of the shortened event of quick-hit, six-hole greensomes matchplay – which the Tour seems to be nudging gently towards being an annual festival of golf – all seemed to be simmering nicely in glorious weather and temperatures nearly in the 80s, in front of the same noisy and engaged crowd consisting of more women and children than you'll ever see at a regular golf tournament.
This year's device to heighten excitement for the Sixes was two teams of Ladies European Tour players and it had proved an inspired move on Saturday, with both duos – Mel Reid and Carlota Ciganda representing Team Europe, with Georgia Hall and Charley Hull in England colours – competing well on a level playing field with the men and coming through the pool play stages.
Things occasionally got slightly confusing even for practiced golf watchers, but everyone – players, spectators and obviously the cheerleaders –  was clearly having a good time.
In addition the England men's team of Matt Wallace and Eddie Pepperell, in crowd-pleasing national team soccer shirts, were also in the last eight. A bumper Sunday, with those three teams clearly the fan favourites, was the promise.
However even in this form – slightly orchestrated in many ways – matchplay golf can't help but be contrary. All three of the fan-favourite teams went out of the competition in the quarter-finals, leaving Korea taking on Australia and Ireland meeting France in the semi-finals – a proper reflection of the European Tour's international diversity, but not much in the way of parochial pull for the crowd.
Eventually Ireland – not present last year – represented by young pros Paul Dunne and Gavin Moynihan stormed to a 2-0 victory in the final against France's Mike Lorenzo-Vera and Romain Wattel.
Moynihan had missed the cut in all his ten tournaments on the European Tour this season but it was his chip-in in the sudden-death play-off hole in the semi-final that ousted Korea. The Irish duo were an impressive 21-under-par for their 35 holes played over the two days.
Overall GolfSixes – which is no attempt to replace the staple 72-hole events but could easily grow into a more inclusive entry-point into golf for people – was again a success, and the women's teams central to that.
Hall and Hull had the better of Pepperell and Wallace in their battle before it was halved, and then the English girls demolished South Africa in their second game to all but reach the quarter-finals.
However the spark had gone in the Sunday sunshine, and Dunne and Moynihan went through comfortably 2-0 in the quarter-final.
The Team Europe pairing needed a play-off hole to progress – defending champions Denmark three-putted in sudden death – but Wade Ormsby and Sam Brazel of Australia coasted to a 2-0 win in the quarter-final, Ciganda and Reid making a key bogey at the fourth hole.
"I think it's been a huge success for women's golf," said Reid. "We were unlucky today, and there's no let-up against the calibre of those guys.
"It's been great though and I've been getting texts from the US all weekend. Lydia Ko texted me to say she's absolutely desperate to get on a team for next year.
"It's really great for golf, and they can mix it up a little with mixed teams as well maybe. They can expand it even more."
The Tour certainly wants to do that – they were keen to have a seniors team as well this year but the dates didn't match up, and there's also talk of junior and elite amateur teams.
For the Scots duo of Richie Ramsay and Scott Jamieson, it was a frustrating Saturday with two-under figures in all three games but defeats to both eventual finalists and an eagle at the last only being good enough to get a share of points with Italy.
Ireland were flying from the start, Dunne and Moynihan shooting five-under figures to beat the Scots 3-0, and although Jamieson's four-iron approach to the final hole against the Italians at least kept their interest alive for the third and final pool tie, France edged that 1-0 when Mike Lorenzo-Vera made a birdie from 12 feet at the penultimate hole and the Scots burned the cup from slightly closer.
"We didn't do a whole lot wrong, and it's an odd feeling because it feels like we've played too well to miss the cut, which I suppose if effectively what this is," said Jamieson. "That's the matchplay element I suppose."
Ramsay added that the need to be aggressive and make birdies meant that even two-under figures weren't going to be good enough.
"We just couldn't get enough putts to drop and ultimately that's what matters in this format," he said.
Ramsay will play the next shortened format tournament in Belgium – where 36 holes of qualifying is followed by 64 players in knockout, nine-hole rounds – and will only return to the 72-hole staple at the BMW PGA Championship.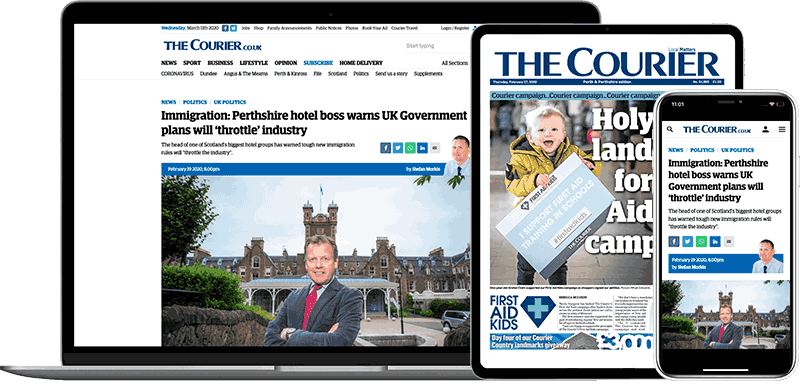 Help support quality local journalism … become a digital subscriber to The Courier
For as little as £5.99 a month you can access all of our content, including Premium articles.
Subscribe