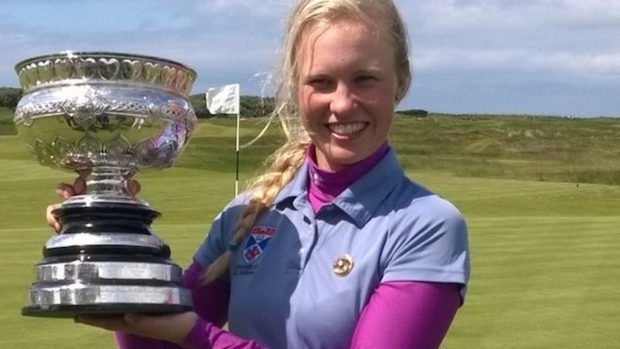 Former St Andrews University student Gabrielle MacDonald will attempt to win her second title while Gemma Batty will be going for a unique English-Scottish double in the final of Scottish Women's Chanpionship at Elie this morning.
MacDonald, winner of the title in 2014 and runner-up in 2016, needed a gruelling 44 holes to beat two of the championship favourites yesterday in Chloe Goadby and Hannah McCook while Batty, Yorkshire-born but a proud Scottish international now, ended the hopes of 2016 champion Ailsa Summers of Carnoustie in her semi-final.
Batty has already won the English Women's Matchplay title during her career down south before she came to Stirling University and waited out the three years residency period to switch allegiance from the Rose to the Thistle.
MacDonald's day in the hazy sunshine yesterday was by far the more testing of the two who won through to the final, not just because she went to five extra holes in the morning and three more in the afternoon.
The 25-year-old from Craigielaw also had to overcome possibly the two in-form players in the country in top seed Goadby and McCook, the winner of the Irish and Welsh strokeplay titles.
Never down in the morning against Goadby, her birdie at the tricky short par four fifth finally won the game after 23 holes, and the afternoon was equally a test of mettle.
"I trailed Hannah two down after seven but kept telling myself to hang in there because it's matchplay and you never know what might happen," she said.
"I don't think I've ever played 44 holes in a day ever! But I think the adrenalin kept me going all day, I actually felt more tired playing yesterday. I just had to keep concentration and focus on the enxt shot and I did that pretty well."
McCook did have a chance to win on the 18th but pushed her six foot putt for par wide of the hole, while MacDonald missed a 12-foot chance on the second extra hole.
However on the short downhill third with her ball half a yard outside her opponent's, Gabrielle judged the 17 foot putt to perfection for a birdie two and Hannah couldn't match her.
"Hannah had the same putt in regulation and made it, so I knew it could be done," she said. "I've won one final and lost one, so I'm looking forward to playing tomorrow."
Batty is in her first Scottish Women's having had to sit out championship events for three years while her change of eligibility was going through.
""I'm originally from Yorkshire before moving up to Scotland four-and-a-half years ago with my family," she said. "I was basically biding my time to play for Scotland but once I started attending Stirling, it was always my dream to play for Scotland and I got my first cap in the Home Internationals last year.
"I won the English Women's Match Play Championship (at Holme Hall in Lincolnshire) in 2016 – that's the biggest win of my career at the moment.
"(Stirling coach) Dean Robertson and I were talking last night and he mentioned the chance I had to win both the English and Scottish Women's titles. I don't think anyone will have managed that feat so that would be a pretty cool stat."
Ailsa Summer's bid for a second final in three years never got started in her semi-final against Batty, after she defeated Jasmine Mackintosh on the first extra hole in her quarter.
Losing the seventh to a bogey five – after a desperately unlucky on the edge of a front right greenside bunker – took her to three down and she was unable to bridge the gap against Batty's consistent holing-out.
Quarter-Finals: Gabrielle MacDonald bt Chloe Goadby (St Regulus) at the 23rd; Hannah McCook (Grantown-on-Spey) bt Jennifer Saxton (Muckhart) 1 hole; Gemma Batty (West Linton) bt Tara MacTaggart (Minto) 3 and 2; Ailsa Summers (Carnoustie Ladies) bt Jasmine Mackintosh (Hazlehead) at the 19th.
Semi-finals MacDonald bt McCook at the 21st; Batty bt Summers 5 and 4.
Final (8 am): MacDonald vs Batty.