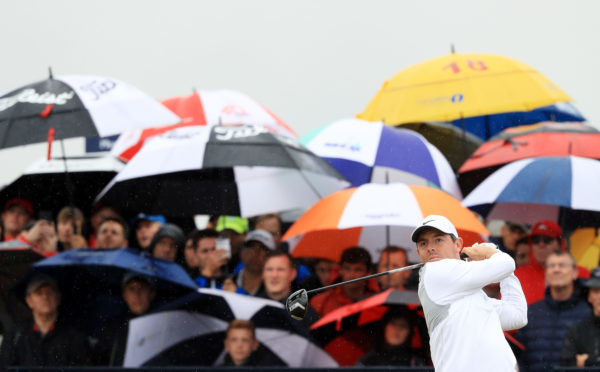 The press interview room at Carnoustie was like the galleries outside; shoulder-to-shoulder for two men, plenty of breathing space for the other. But although all three had an impressive morning in the rain, the "other" guy, Zach Johnson, came out on top.
The 2015 Open champion, even with that title, will never have the box office appeal of Rory McIlroy or Tommy Fleetwood.
He'll also get mistaken for the other Johnson; not by sight obviously, but whenever anyone sees a Johnson without an initial on a golf leaderboard, they assume it's Dustin. 18 titles to Zach's 12, but Zach has two majors to his namesake's one, and it's certainly going to stay that way after the 147th Open Championship, as DJ's off home.
Zach's 67 lifted him a shot ahead of Fleetwood, who had set the target for the day with a brilliant 65, a better round than his record 63 in the Dunhill last October, although he wasn't making comparisons. McIlroy is a shot further back after a second successive 69, but looking ominous, if he could only get a few more putts to fall.
When we woke to the rain, it should have been obvious it was Zach's kind of day. He won his Open title at St Andrews into the teeth of a rainstorm and like many other players who thrive in waterproofs, he doesn't like the cold but he can grind it.
"My worst shot of the day was off the first tee box", he said, which is maybe the best place for that to happen. A bogey followed, but was quickly erased by a birdie at the third, and he never missed a shot from then on, his fifth and final birdie coming on the last.
"I think my game lends itself to this championship because my style plays here," he said. "And I loved it from that start because more than any tournament this completely magnifies exactly what I need to work on, my strengths and my weaknesses.
"Everybody says you've got to hit it low, knock down, punch it in. Yeah, you do. You've got to use the ground, know where to land it, all of the above.
"But you've got to hit it high. You've got to hit it left, hit it right. You've got to hold it, you've got to turn it, to use the wind. You've got to (be able to) do everything.
"And once I learned that, I just gravitated towards this style of golf."
And a second Claret Jug?
"I really haven't given it a whole lot of thought because I'm so about right now," he said. "But the reverence I have for this championship and specifically that trophy…I'm not suggesting that someone doesn't have a higher reverence for it, but I'm going to argue with them."
He cherishes all links golf, even Carnoustie's final four holes.
"They're nasty good," he said with relish. "Guys yesterday that played in the morning were saying you could hit driver over the (second sweep of the) burn on 17 but when I got there, I don't even know if I could have got a driver to the burn.
"In a matter of 10 or 12 hours, it can change like that. So it's nasty good, it's really good."
McIlroy's description of the final four was somewhat less imaginative.
"A slog," he said, after his second 69. "You make four pars, you're happy. I've played it in one-over this week, and I feel pretty good about that.
"Those conditions, I would have taken that going out there," he said. "I was trying to be aggressive but I just couldn't do it, all the bunkers were in play.
"So more irons off tees and more conservative, and I end up with the same score.  I'm pretty pleased with that.
"I feel good. I hit the ball better, I hit a lot of really good iron shots today, especially short and mid-irons, and I putted well. So that combination is hopefully going to do well over the weekend."
Fleetwood, after an underwhelming start, recaptured his form from Shinnecock Hills, although he seemed unprepared for the rain, "borrowing" one of the bright yellow Open umbrellas from the merchandise tent.
Was his 65, six birdies, no bogeys, hardly a mistake and the best round of the week, better than his 63 in the Dunhill?
"I don't know," he pondered. "I was close. I think conditions-wise, yeah…it was tough. You're in The Open. It's no course record, but it will do for today. It was a spirited effort."
I'll save him the trouble: it was miles better than the Dunhill 63, where there was less rough, easier pins for pro-am golf, and six of the tees weren't back beyond the "full yardage", if such a thing exists at Carnoustie. Course records on Open courses should be saved for Opens, but that's another argument.
"We're halfway in and 36 holes to go, so there's no point thinking about the end game," he said. "36 holes is a long time, two days.
"Today's been a round where I've put myself back in the tournament, and I've just got to move on from there really. But I'll just try and keep doing the same things.
"If I can hit it like I did today, then, obviously, I'm going to have a lot of chances coming in over the weekend, and we'll see where that takes me."