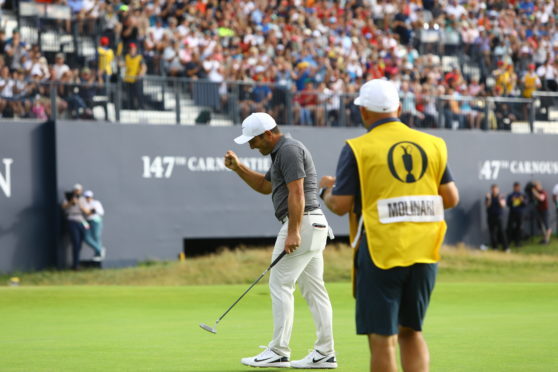 Francesco Molinari paid tribute to the Italian who almost won the Open 23 years ago as the man who inspired him to lift the Claret Jug.
Costantino Rocca famously holed form the Valley of Sin at the Old Course in the 1995 Open but lost the play-off that followed to John Daly, and the young Molinari, then only 12, was watching.
"Hopefully there were a lot of kids in Italy watching today," he said. "I guess if Ferrari had won the Grand Prix, it wouldn't have been such massive news," he joked.
"But I hope they were watching like I was watching Costantino in '95 coming so close. Hopefully, they will get as inspired as I was at the time, watching him vie for the Claret Jug."
Still he was finding it hard to believe that he'd won, the new champion golfer had believed in himself after a superb run of form that saw him with two titles – including the BMW PGA Championship at Wentworth – and have two runners-up spots in his last five events.
"My record around Carnoustie was terrible," he said. "In fact it was a big reason for me not playing the Dunhill Links so much, I got beaten up around here a few times.
"But I got here only Monday lunchtime from the States and walked a few holes, and I saw it was firm and fast and the rough wasn't too bad, and it reminded me of Muirfield in 2013, when I played the last round with Phil (Mickelson) . Obviously, that was a great experience, to see someone getting the job done on Sunday.
"So I liked the way the course was playing and I knew my form was good, but, again, it's a beast of a course. I don't think anyone ever feels too confident when they stand on that first tee at Carnoustie."
To play the weekend without dropping a shot – his double bogey at 17 on Friday were the last shots he dropped as he shot 65-69 on the weekend – was impressive, he admitted.
"I did that at Wentworth when I won earlier this year but to do it at Carnoustie, that is special," he said.
Playing with Tiger Woods was also a test but one he relished.
"I've played with him at the Ryder Cup and many events before," he said. "Clearly, in my group, the attention wasn't really on me, let's put it that way. But I've dealt with that before.
"There was very, very good sportsmanship today during the whole round (from Tiger). Obviously, he had it going on the front nine, and then, unfortunately, just hit a couple of loose shots on the back nine.
"It's really hard not to pay for missed shots around Carnoustie."
The key to the round were the up and downs during his run of 13 successive parts at the sixth, 12th and 13th, he said.
"That gave me the confidence to hit my driver on 14 in the fairway, which makes that hole a par four," he said. "I knew I'd have chances coming down the line."
He couldn't watch Xander Schauffele play the final two holes, however, escaping the holding room behind the 18th green to go to the putting green instead.
"If I'd stayed there I would have been sick," he said. "I don't know how my wife was able to watch me play today."
Schauffele got closest to Molinari in the end and did so by opting not to look at any leaderboards and shutting out everything around him.
"We got off to such a nice, easy going start, then every time I looked up at the leaderboard, there's four, five, six guys in the lead, and five, six guys one back," he said.
"So I ducked my head after I made double bogey. I figured no-one's going to run away, I can pick up some strokes and I did that to get back in the lead."
He didn't hear Molinari's putt at 18 because he was so focused on his own shot into the 17th, which went awry for the bogey that ultimately cost him his chance.
"It's just going to go in the memory bank as a positive," he said. "I had a chance to win a major championship, I was in the final group, I had to face a little bit of adversity early in the round, and I still gave myself a chance."
Rory McIlroy, who got within two shots at the end after a frustrating weekend, paid tribute to the new champion.
"He's always been a great player, there's just maybe a little more belief," said McIlroy. "I played with him the final day at Wentworth, where he won, and he didn't miss a shot.
"There's going to be a lot of European guys vying for his partnership in the foursomes at the Ryder Cup, that's for sure."
Rory was motivated by Tiger Woods presence on the leaderboard to fight back after a tough start, he admitted.
"It was great, just to be a part of it and hear the roars, Tiger being back in the mix," he said. "It was nice to be a part of it. For a while, I thought Tiger was going to win and my mindset was `go and spoil the party here'.
"I didn't get off to a great start, but I hung in there, and  I have no regrets. I played the way I wanted to play this week. It gives me a lot of encouragement going into the final major of the year."