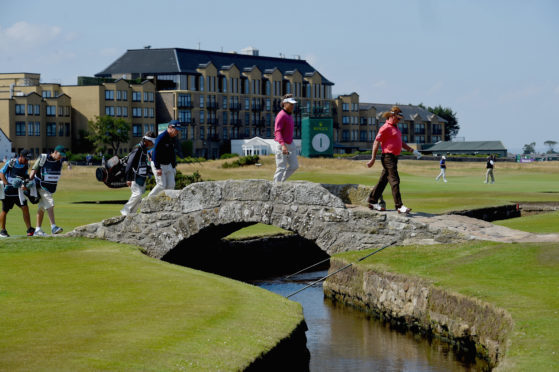 We should have guessed that a Scot would emerge out of a thick, traditional east coast haar at the Senior Open, and Sandy Lyle obliged with his best-ever round in the championship to move into contention.
Just last week the 1985 Open winner bowed out in what appeared to be his last championship at Carnoustie, his exemption for being a former champion under 60 having expired with age. He mildly disputed it would be his last time at the Open, although it was clearly said more in hope than expectation.
Well, the quickest route to Royal Portrush next July is to win the Senior Open this week and gain the automatic exemption for the Open that goes with the title, although Sandy isn't for making such bold statements at any time, certainly not at just 36 holes.
Needing a score to put himself back in with a chance, he plotted a 66 around the Old Course after a two and a half hour morning delay waiting for the haar to clear.
He's still four off the lead held by Miguel Angel Jimenez, the Spaniard making a surge as the winds surprisingly died down late in the day, apparently in preparation for the thunderstorms that had been forecast all day but lurked instead in the North Sea without moving in to disrupt play.
Jimenez was pottering along nicely until he made an eagle three at 14, followed with birdies at 15 and 16, parring 17 and 18 for a 67 and a one stroke advantage over Kirk Triplett – who also got to nine-under but bogeyed the last via the Valley of Sin, former PGA champion Jeff Sluman and Bernhard Langer.
Langer played the paced, solid, plotting round his friend Colin Montgomerie had predicted, three birdies and 15 pars, all with the forecast threat of the lightning. The news in late afternoon was that it was 30 minutes away in the sea, but it stayed there until almost everyone had finished.
Tom Watson, with a rare birdie at his old nemesis the 17th, is also well touch as he shot his age having fallen a stroke short of doing so on Thursday.
But the home hearts were lifted earlier in the sunshine by the performance of Lyle, who perhaps has not made Seniors golf and certainly the Senior Open the successful place may expected it to be for him when he reached qualification age 10 years ago.
"I knew I needed to shoot under par today to have a chance of making the cut so that's a good point momentum wise," said Sandy. "Now I can look forward to the next two days and hopefully the weather will be kind to us.
"I've had a few good rounds over the years on the Old Course and I shot four-under playing with hickories recently."
That round was with his caddie this last two weeks, James Bunch, who plays off plus three himself and is a former Scottish Boys' champion.
"James is a good back up," said Sandy. "We think along very similar lines and he's been right virtually all the time."
The shot of the day was a three-iron – really modified into more of a two-iron, for his second into a strengthening wind on the long 14th, to fifteen feet which he holed for an eagle.
"Since I've started to try and draw the ball a little bit more, especially with the irons, I've been hitting better distances and keeping the ball down in winds and a little tighter spray of shots, which is good," he said.
"Winning is only going to hit me with two or three holes to go if I am up there leading. I'm just happy to be up there in the battle, in the thick of things.
"I'll just keep a tissue in my pocket just in case…it'll be lovely if it happens, but we can't get too far ahead of ourselves at the moment. I've had one good round, there's still two more to go yet, but if conditions get tougher now it's all to the good for me."
Sluman moved into a lead on eight-under and avoided the storm, but he's not looking forward to the rain tomorrow.
"I'm not a great mudder, I can tell you," he said. "But you've just got to slug it out. We played in the worst weather you could play in last year at Porthcawl and I think if I could survive that, I could survive anything."
Triplett had nine-under in his sights but after playing the 17th well for his four, stuck his approach in the Valley of sin and missed his par putt to go back to eight-under.
Vijay Singh moved ominously into position on seven-under, adding a 69 to his opening 68.
"I bogeyed the first hole, chunked it in the water and missed a lot of putts," said the former Masters champion. "But I got myself together and I made two birdies at 13 and 14, so just hung in there.
"I had chances, but I'm very happy, very happy to be done, and hopefully the weather holds up tomorrow so we can have a good tournament."