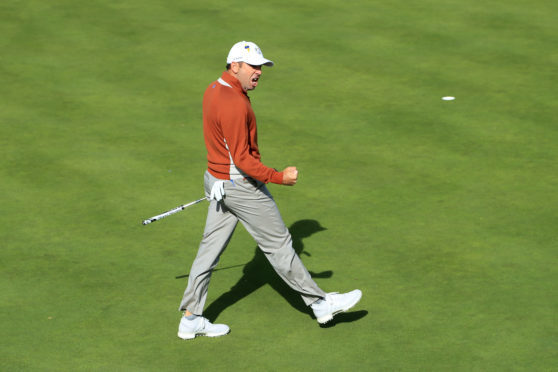 Thomas Bjorn's Team Europe didn't turn the screw so much as drive it into the heart of American hopes with another dominant session on the second morning of the Ryder Cup in Paris.
Riding the momentum of their foursomes sweep on Friday afternoon, the Europeans came out firing again in breezy and cool conditions at Le Golf National in the southern suburbs of the French capital to win the second set of fourballs 3-1 and march to an 8-4 advantage.
The "Moli-Wood" partnership of Tommy Fleetwood and Francesco Molinari delivered another point, while Rory McIlroy and Sergio Garcia re-united in style to lead the Europeans to another dominant morning.
In contrast the United States team, billed after selection as the greatest-ever to represent them in the 42 editions of the famous team event, were nearly decimated.
Tiger Woods' sorry Ryder Cup record was extended again, "Captain America" Patrick Reed was a complete liability and there was another heavy defeat for world No 1 Dustin Johnson and partner Rickie Fowler.
Tony Finau again had some inspired and lamentable play in the same game, but at least showed a little resistance. The sole positive for Jim Furyk was Jordan Spieth and Justin Thomas who came from one down after seven holes and then held on to beat Ian Poulter and Jon Rahm.
An 8-4 lead matches Europe's best-ever after the first three sessions, dating from the 2004 rout at Oakland Hills.
Rory McIlroy and Sergio Garcia beat Brooks Koepka and Tony Finau 2 and 1.
The point in the top match turned out to be a bit more of a contest than it initially appeared after McIlroy and Garcia surged to four-up after 11, the Northern Irishman's five birdies in stark contrast to his failure to register one in fourballs 24 hours earlier.
But it was a transformed Rory with Garcia coming in with five birdies of his own, and Tony Finau missing a series of short putts while Koepka's driving radar was off.
However from a hopeless position it seemed the Americans had a lifeline as they won 14 with Koepka's birdie, saw both Europeans find water at 15 while Finau finally found a putt – from 20 feet- to win 16 and reduce the deficit to one down.
The odds seemed on the US with Koepka miles up the fairway on the 17th but McIlroy made a par from the rough, Garcia followed him in with a 20 foot birdie putt from the back of the green, and the US Open and PGA champion missed his shorter birdie putt to lose it 2 and 1.
Paul Casey and Tyrrell Hatton beat Dustin Johnson and Rickie Fowler 3 and 2.
Casey and Hatton had played well in tandem despite defeat on the opening morning, and Casey was out of the blocks at a full sprint with five birdies in the first six holes to take the Europeans to two-up.
As with Friday, the world No 1 Johnson seemed slow to get going and Fowler had three birdies, but Europe went into a commanding three-up position when Hatton made a birdie putt on the eighth.
Johnson roused himself for a couple of birdies but they only got one hole back, and neither American could birdie the long 14th, where Casey took Europe three-up again.
The US rescued a half at 15 with DJ's chip-in for par but a regulation half in par threes at the 16th closed out the point for Europe, who had 11 birdies between them.
Francesco Molinari and Tommy Fleetwood beat Tiger Woods and Patrick Reed 4 and 3
The Europeans' "Moli-Wood" pairing delivered their third point in as many matches, but didn't have to be at their best until the back nine to win for the second time against the US pairing of Woods, looking less than totally at his best, and Reed, completely out of sorts.
"Captain America", the hero of the last two Ryder Cups for the USA, was simply awful, finding just one fairway and contributing a half with his sole birdie of the contest, at the ninth.
Woods battled hard single-handed and got the US back level at the 10th with a long birdie putt, but Molinari took over with three successive birdies, launched by a superb tee shot to four feet at the 11th. The Americans had nothing in response, Woods' last two putts for halves on 14 and 15 sliding by.
Woods' record in foursomes and fourballs in Ryder Cups duly dropped to barely believable 9-18-1.
Ian Poulter and Jon Rahm lost to Justin Thomas and Jordan Spieth 2 and 1.
When Poulter produced another of his trademark celebrations after a long putt drained at the seventh, Europe were up in all four matches and a second successive whitewash – there has never been two in the same Ryder Cup – seemed possible.
However Spieth and Thomas were producing for their captain, Spieth's birdie two at the eighth quickly restoring parity and then another at the enxt short hole, the 11th, getting the US duo in front again.
Thomas backed him up with birdies at 12 and 14 but Rahm's birdie three at the 13th – his first counter of the morning – set up a tight finish. Poulter holed a tester for a half in par at 15 and another for birdie and a half at 16, but a fired-up Thomas secured the point for the US at the 17th.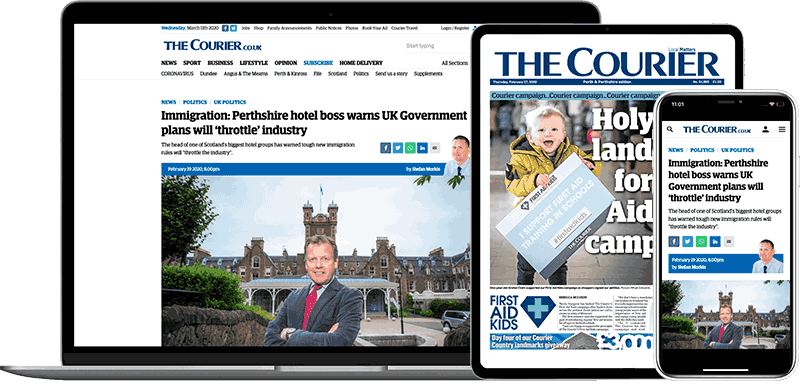 Help support quality local journalism … become a digital subscriber to The Courier
For as little as £5.99 a month you can access all of our content, including Premium articles.
Subscribe