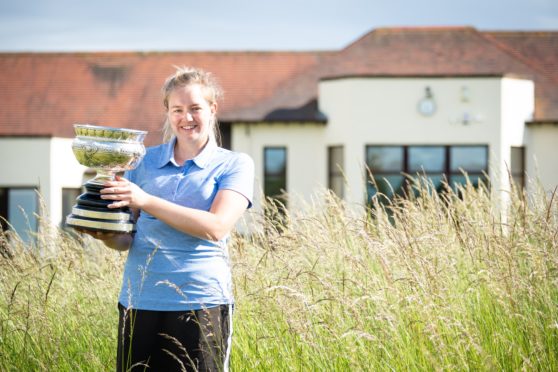 Aboyne's Kimberley Beveridge completed a week of upsets in the Scottish Womens Championship final at Kilmarnock Barassie with a brilliant birdie on the last to defeat favourite Chloe Goadby.
In a final where both players seemed to swap the momentum within the space of a few holes, Beveridge had been two-up with three to play only to see Goadby, of the St Regulus club in St Andrews, birdie both the 16th and 17th to haul herself back level again.
However the Aberdeenshire women's champion Beveridge had one bit of inspiration left with a 131-yard eight-iron to within three feet, holing out for a birdie to take the match on the final green.
It's the 24-year-old's biggest win in amateur golf by some distance, and completes a week of surprise results at Barassie.
"I'm pretty much speechless," she said. "It's easily my biggest win, and a surprise even to me because I hadn't been been playing that well this season.
"I won the county championship in April but since then it's been pretty much nothing."
Kimberley's brother is the teaching pro Keil Beveridge and he had sage words of advice for her before the final.
"Everyone knew that Chloe would hit the ball way past me because I'm so short off the tee but Keil just told me to concentrate on my own game, which is my approach shots and short game, and not try to hit it as far as she does," she said.
"I just stuck to that all the way round and although I hit some pretty odd shots early on, that approach on the last was the best shot I've ever hit given the circumstances."
The earliest shocks were the immediate last two champions, Gemma Batty and Connie Jaffrey, missing the cut on Friday and after a prolonged first day of matchplay on Saturday – including a two-hour delay for a threat of lightning – leading qualifier Jess Meek of Carnoustie surprisingly lost out in the last eight on the final green to Tara MacTaggart of the Minto club in the Borders.
MacTaggart in turn was beaten  by Beveridge in the Sunday morning semi-finals, leaving the Aboyne player a heavy underdog for the final against Scotland internationalist and third seed Goadby.
That seemed a reasonable assessment as the University of Stirling player bombed her drives 50 to 70 yards beyond her opponent, but Beveridge getting up and down from 80 yards short for a half in birdie fours at the first was an indication of what was to come.
Goadby holed a 40-foot putt for birdie on the second after wisely leaving the pin in, and even a concession on the short fourth when she found the ditch seemed like just a blip as she moved to two-up by the eighth, holding a 30-foot across the green.
But Beveridge was beginning to find her range with her approaches, and after she was gifted the ninth with a Goadby three-putt she seized her chance to take control.
Beveridge holed a six foot putt for a birdie at the 10th, missed a six foot chance for eagle to halve the 11th in fours, and then used the borrows of the short 12th green superbly to hit to two and a half feet and take the lead for the first time.
Goadby was then too long with her approach to the 13th and when she couldn't get up and down, Beveridge had gone from two down to two up in the space of five holes.
However the St Andrews-based player hit back with birdies at 16 and 17 to get back to all-square, only to see the momentum switch again on the 18th.
"If you had to pick a way to lose, at least it was to a shot as good as Kimberley's there at the last, although it doesn't make it any nicer," said Goadby.
"I thought I had the momentum going up the last after winning the two holes before but that shot was good enough to win any championship."