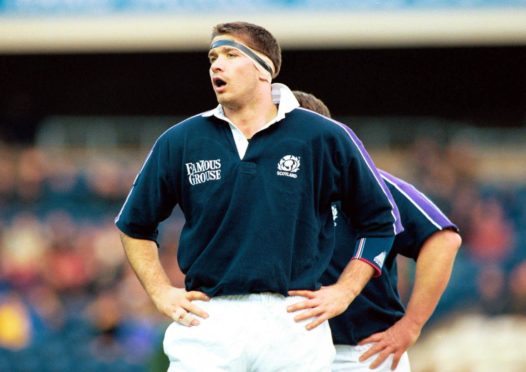 What do I remember about Scotland's last win in Wales?
Primarily, the weather was glorious, the (then) Millennium Stadium roof was open, and without the usual daft argument about it.
It was the great Bill McLaren's final commentary game, and a framed copy of his "big sheet" of numbers and pen pictures from the match, featuring all the players and officials – and even a few of his legendary metaphors and sayings scribbled up and down the margins – still adorns the press deck at Murrayfield named in his honour.
At least I think it does, due to Covid-19 restrictions we haven't been allowed in there since March.
Most people remember Gordon Bulloch scoring both of Scotland's tries in the 27-22 win, or Brendan "Chainsaw" Laney's four successful penalties. But what I remember, will never forget in fact, is the performance of Scott Murray.
18 years on since that game, 13 since he last played for Scotland, the beanpole from Prestonpans is still the leading lineout stealer in Six Nations history, and it's not even remotely close.
He pilfered 54 opposition throws during his career – next best are two Irishmen, Murray's contemporary Malcolm O'Kelly and the legendary Paul O'Connell, both with 33.
Of the most steals in a single Six Nations game, Murray has five of the top nine. This includes the four he pinched off Wales in the 2002 match, and I can still remember them in my mind's eye, all with that awful view (it's the best stadium in the 6 Nations, with the worst positioned press box in world sport).
Scotland were under considerable pressure during the game – it's always that way in Cardiff, due to the intimidating crowd as much as the team. They had to defend a lot of lineouts in their own 22, and particularly a couple just before half-time, holding a precarious 15-9 lead.
Wales had kicked a penalty to the corner and Barry Williams, the Welsh hooker, threw to the lineout, but Murray plucked it out of Welsh hands, served his scrum-half Bryan Redpath, who booted a clearance kick down towards the 22 line or thereabouts.
Williams then threw to that next lineout – on a different call one assumes – and Murray got up to get that one as well, flicked it down to Redpath, who this time belted it up near halfway.
Scotland survived with their lead intact. Murray, of course, took both catches to set up the driven mauls that resulted in Bulloch's tries.
Midway in the second half, Williams was relieved of his duties and replaced by the teak-tough Lions tourist (and now Wales coach) Robin McBryde, to general acclaim from the crowd.
At his first lineout, a defensive one this time, McBryde threw a perfect spiralling ball – and no Welshman jumped or was lifted for it. Murray rose completely unchallenged and plucked the ball from the air – his easiest take of the year, maybe his entire career.
By the end Scott had so spooked the Welsh that they didn't even jump.
Really, it takes that sort of mind-altering performance for Scotland to beat Wales away, it seems. Since then, Scotland have got properly close just once in eight attempts, the infamous and traumatic 2010 game of Dan Park's brilliance and multiple injuries ending with Wales scoring against 13 men to win deep into added time.
That day in 2010, and in most of the others, the Cardiff crowd lifted their team to a dramatic comeback they definitely wouldn't have achieved anywhere else. The faithful at the (now) Principality Stadium are exactly that, more than any other crowd in the Six Nations, they stay with their boys even in parlous circumstances.
In Paris and Twickenham, the crowd are always on a knife edge of turning against their team if they're not performing. Although the Irish have expunged the struggles of the 1980s and 1990s from their memory these days, there were occasions then even the good-natured Landsdowne crowd actually booed the boys in green.
Never in Cardiff. I think only in New Zealand does a rugby team properly represent the soul of the nation as it does in Wales, and there's really no comparison between the often-critical Kiwi crowd and the fervour of the Welsh.
This week at Llanelli – the Principality is unavailable as it's still on stand-by as an emergency Covid-19 hospital – there will be no crowd. They'll probably pipe in a few choruses of "Hymns and Arias", "Sospan Bach" and "Cwm Rhondda" but it can't possibly be the same.
Wales are also not the formidable force they have been during the 18 years Scotland have come up empty-handed on their visits. The departure of Warren Gatland might be overstated, but it seems he got out at the right time – there's a definite feeling some of Gat's great warriors, with all their Slams and their Lions Tours, are coming towards the end of the road.
They should still be clearly favoured to win at Parc Y Scarlets this weekend. But a massive additional advantage for them has been removed, and Scotland may not have as good a chance to win in Wales in a while.
But forgive me – it won't really be the same until they finally silence the crowd in Cardiff the way Scott Murray did.