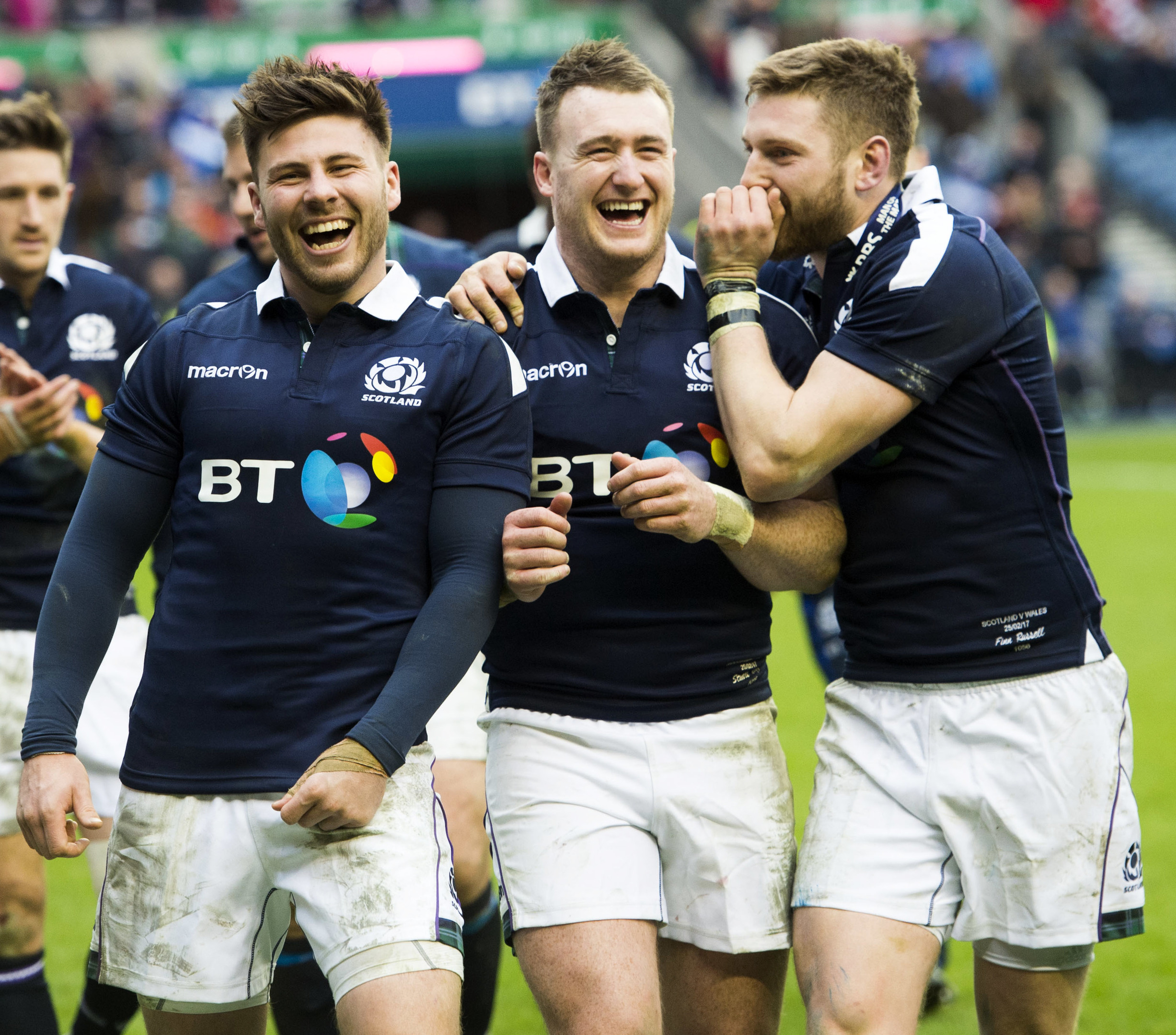 Tiny margins make big victories. Scotland's 29-13 win over Wales and the 20-0 second half domination looks like an overwhelming victory on the stat sheet.
It was not only Scotland's first over the Welsh for ten years, but their biggest since the 20-0 victory in 1993. The final 14 minutes after Tim Visser's try, which effectively ensured the win, was one of those very rare spells at BT Murrayfield in recent years where the crowd can sit back, enjoy the sweet taste of victory and go into raptures of pride at their team.
But if the impression of the scoreline and the last quarter of an hour made it feel comfortable, it was an illusion. The game hinged on a series of key moments in the middle of the match that, had they gone Wales' way, the final result might have been very different.
For many the first was Leigh Halfpenny missing what was for him an easy first-half penalty which would have put Wales 16-6 up. 10 points, more than one veteran in the stadium was saying, would have been a tough margin to claw back. Instead Scotland got width on the ball on their next attack, won a penalty and got in at half-time a manageable 13-9 behind.
Then there was the former (we can say former now with some assurance given his and Stuart Hogg's performance) Lions full-back dropping a kick under no pressure early in the second half, giving Scotland gift territory they converted into Tommy Seymour's try, a beautifully constructed set move with attack coach Jason O'Halloran's name all over it. Even then, Seymour just got the ball down a millisecond before his elbow hit the touchline.
Then there was Ali Price tracking back to snare Jonathan Davies after the Lions centre made an astonishing clean break up the middle, a try-saving tackle even if Davies should have off-loaded to Rhys Webb in support.
Then there was Tim Visser, thought to be a defensive liability, tackling the irritant Webb into touch – a mirror image of the Seymour try, the Scots wing hauling the scrum-half's legs to the touchline just before he got the ball down one-handed.
The Scots saved themselves on those occasions but then there was the scrum in their half where referee John Lacey whistled against Wales for some malfeasance that wasn't readily apparent to anyone else. The Welsh were livid as they thought they were turning the screw there; instead there was a lineout, some power runs, Finn Russell's flat pass and Hogg's exquisite give and take for Visser to finish the contest.
Plenty of tipping points then. But the fact is that in ten years of contests between Scotland and Wales these points have previously tipped to the men in red on almost every occasion. This time it was Rob Howley's team that left Murrayfield cursing their missed chances and bad luck and a Scottish team being praised for their killer instinct and ruthlessness when their scoring chances came.
The second half surge – too often have we seen Scottish teams tentative after half-time waiting for the game to come to them, but this time they seized it – is more evidence of a seachange in Scottish attitudes. The way they came back at the death to beat Ireland was obviously another.
But the biggest has been the way they have shrugged off injuries to continue to build during this season. The stature of props WP Nel and Ali Dickinson has been well-documented, Duncan Taylor was arguably the best back in Scotland's 6 Nations last year and David Denton is a key ball carrier. None of them have played for Scotland this season.
Furthermore there was the loss of Greig Laidlaw, as central a figure as there is within the squad. Every team needs their half-backs to thrive to win, but this was even more true for Scotland on Saturday.
Finn Russell answered his too-premature critics from Paris. He also kicked seven from seven, a Laidlaw-esque return, while controlling the game with rare assurance. An obvious man of the match, even given Visser's astonishing and unexpected second half influence.
But Ali Price eventually filled the boots of the captain with distinction. Early on, he seemed to be playing by numbers, too conscious of looking where his runners were and slowing down Scotland's phase play.
But when the Scots adjusted to hitting the deck earlier and bringing clearout men in quicker in the last 50 minutes, negating the pilfering of Sam Warburton, Price started to play the instinctive game he's excelled at in his breakout season, and it was no coincidence the Scots looked more purposeful after that.
The other change was that Hamish Watson, somewhat controversially left out of the starting XV for John Hardie, came on after 25 minutes for his injured Edinburgh team mate and played out of his skin in proving the coaches wrong. He negated the threat of the Welsh jackals and pilfered plenty ball of his own.
In attack, Russell pulled the strings but Hogg pulled it all together. What we're seeing from the full-back right now is simply stuff to match any of the all-time greats in a Scottish shirt; he's a thrill and a pleasure to watch with ball in hand.
No tries this time, but he had a huge influence on both scores and might have even had a hand (and foot with a neat grubber kick) in a third had Jones pinned his ears back just before half-time.
Two wins achieved, three in the championship – and therefore a positive record – for the first time since 2006 seems eminently achieveable.
Twickenham and 34 years of burdensome history is something else entirely. But at least Scotland go there with a puncher's chance, and they seem to land more of them effectively than at any time in recent memory.