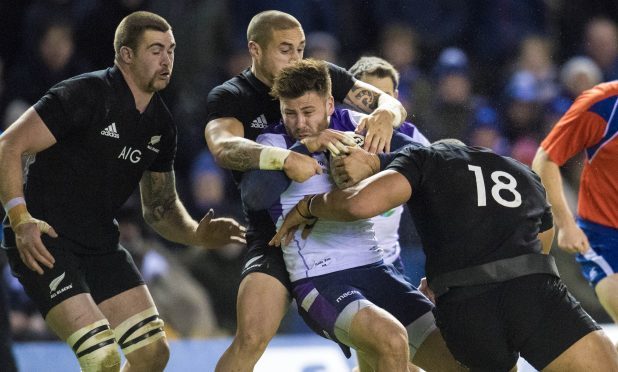 It will be "easy" to replicate the atmosphere inside Murrayfield as Scotland look to close their Autumn Test series with victory over Australia, believes scrum-half Ali Price.
The livewire 9 got on the wrong side of referee Matt Carley as he wound up the Murrayfield crowd but his only regret is that the performance didn't produce a win over the New Zealand.
"The atmosphere out there was unbelievable," he said. "Running out, the anthems, the haka, everything. When you grow up playing rugby it is nights like this that you want to be involved in.
"It's easy (to repeat that). The last time we played Australia in Sydney we put in a good performance and we won.
"Come Monday, when we come back in, we will be geared up to win next Saturday. It's a huge challenge because they are on a bit of a roll, barring the result against England. We won the last game against them and we will be looking to continue that."
Price sees it as one of his jobs to wind everyone up, on and off the field.
"There's not much I can do in the frontline, I'm a little guy," he said. "I'm there to bring energy. If we have 67,000 people behind us, which we did for the whole game, you don't understand the buzz that creates on the field.
"I'm not going to be smashing guys. But I can get a bit of energy from the crowd and on the field, to our big men especially. When they think they're tired, (tell them) they're not tired. They can still get off the line and put those hits in."
The referee took him to task for waving his arms as New Zealand delayed a lineout, and he admitred "I was a bit over enthusiastic, I get caught up in the moment."
"If they can't hear the lineout calls because it's too noisy then, you know, we still want the ball in," he argued. "But I gave the ref my puppy eyes and said sorry. He was all right after that."
One aspect that definitely inspired the Scots was the presence of former international Doddie Weir, who had talked to the team in training last week as he launched his foundation to find a cure for Motor Neurone Disease, with which he has been diagnosed.
"All our strips have Doddie's name and his cap number on them," he said. "All the match jerseys are presented to him to auction off for his charity.
"The team leaders came up with it and we are all behind Doddie. I think it's a good gesture from us."
Head coach Gregor Townsend admitted there were strained emotions in the coach's box as his old team-mate came out.
"Doddie's message and the way Scottish Rugby had put all that together, and then Doddie coming out with his family was great and tough to see at the same time," he said.
"Doddie was with us in the week and just having him in a calm way speaking to the guys was fantastic. It helped with the anticipation but I felt it was there anyway.
"We got a lot of energy from our crowd and I'm sure by the way the players played they're very proud of their team."
The Wallabies offered a different challenge, and one the Scots know better, he continued.
"We've played them twice in the last 12 months and in the summer so it'll be fresh in the memories of the players, going into that game with a game plan and finding a way to win.
"But we've got to be better next week, every game we want to take what we've learned and be a better team. I watched a lot of the Australia game today and it was much closer than the scoreline suggested.
"They'll be hurting, for the defeat to England and against us in the summer. We've got arguably an even bigger challenge next week. We'll have to be better."
Scotland have a host of injury issues for the Test against the Wallabies next week, losing Hamish Watson, Luke Hamilton and Zander Fagerson on Saturday to add to their already lengthy casualty list.
Watson went off midway through the first half, and while Hamilton showed up well on as his replacement, he suffered an ankle injury which required him to be stretchered from the field.
Townsend reported later that the ankle was not broken, but it would be scanned today. It seems unlikely the Leicester, who was winning his first cap, will feature on Saturday.
Fagerson suffered concussion just before half-time and did not return. Scotland now have six props on their injured list, four loose heads and two tight heads.
In addition, Huw Jones seemed to tweak a hamstring in the act of scoring Scotland's second try even though he stayed on.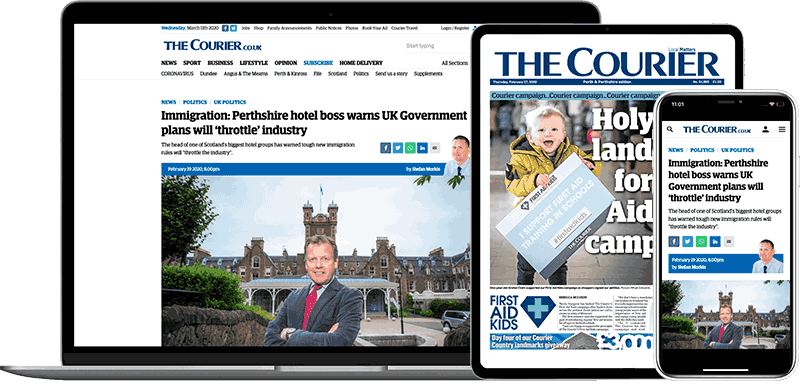 Help support quality local journalism … become a digital subscriber to The Courier
For as little as £5.99 a month you can access all of our content, including Premium articles.
Subscribe