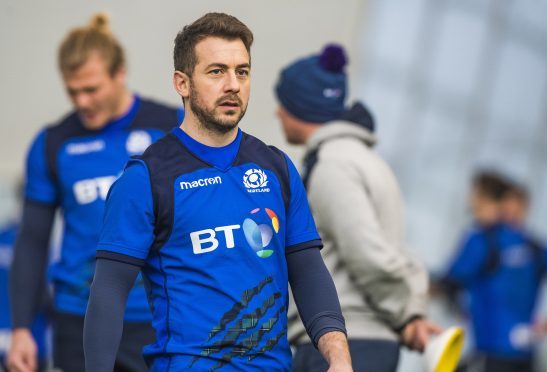 Mike Blair believes Ali Price or Greig Laidlaw will be effective starting or coming off the bench for Scotland as the former captain upped the pressure on the selection team ahead of the NatWest Six Nations opener against Wales in Cardiff on Saturday.
Price is the man in possession at scrum-half having started eight of the nine tests since Laidlaw went down injured against France in Paris just under a year ago, but the veteran signalled his return to action after a series of injuries by playing all of Clermont-Auvergne's Top 14 game against Vern Cotter's Montpellier on Sunday.
And the ex-skipper caught two flights after that game to be at the Oriam training camp for the start of training yesterday, with assistant coach Blair reporting he was firing on all cylinders.
"I think Greig will be ready," said Blair. "Had his game (on Sunday) been just 15 minutes off the bench we wouldn't be able to see what his fitness was like, and that might have been a different discussion.
"But I think he's shown that he's match fit and hasn't picked up any extra injuries, so he'll be available for selection.
"Greig's one of the most competitive guys you'd meet. He loves to be playing, loves to be organising things and if there's a challenge out there he'll attack it head on."
But Price has been a sparkplug for the team in the last 10 months, added Blair.
"Ali has been great.  When I first went to Glasgow summer two and a half years ago he played a couple of games off the bench for Glasgow but had not played a huge amount.
"The speed of pass is something he has worked hard on. His kicking game is something that has improved the most. His pace is great and he brings a running threat around the breakdown and has genuine speed."
Laidlaw has almost always started when he's been fit – with one notable exception – but Blair thinks that either scrum-half could fill either role effectively.
"They can be interchangeable. Greig has done it (off the bench), maybe not as regularly in his career but the way he can manage a game obviously it is excellent when he starts because you can see how the game unfolds.
"But Ali has strengthened his game management side and you would feel bringing him on in different situations as well.
"They are very confident in their own abilities. We have a way that we want to play and that fits with us and I think the players we have can fit into those roles. Greig has the goalkicking and that game management, whereas with Al you have the speed and tempo, but both can do each others' jobs as well."
Laidlaw's one notable appearance off the bench was the second test in Japan two years ago, when he was a significant factor in turning the tide of a game Scotland were losing but Blair was giving nothing away about the coaches' thinking.
"There is no strict law in what we do in selection," he said. "Form is important, but so is how guys fitted into the environment and how they played in autumn, showing they could play at that level. I don't think you can have one rule for all.
"There are players you want in there and you know will perform at Test match level who might not be at the top of their game. And vice-versa – you might have inexperienced players for whom an away game at the start of the Six Nations might not be the time."
Blair said it would be interesting to see how a Wales team with a majority of Scarlets players would play.
"There will be a backbone of Scarlets players in there," he predicted. "Wales have expanded their game, with more passes by forwards and trying to manipulate the defence, which is something Scarlets do very well.
"Scarlets are renowned for playing from deep, trying a lot of offloads, a higher risk game, which isn't something (head coach) Warren Gatland would usually buy into.
"But there were times in the Lions series where there were a lot of offloads and playing from deep, so I'm not sure what his approach will be. We have to prepare for both eventualities."
Scarlets and Scotland captain John Barclay was being plumbed for as much information as possible, he added.
"Definitely," said Blair. "A lot of the players come up against Scarlets a couple of times a year and will know the players anyway, but it would be silly not to get extra information from him.
"There are some things you know already and some things won't matter. But there might be one or two nuggets from him that might make a difference on Saturday."