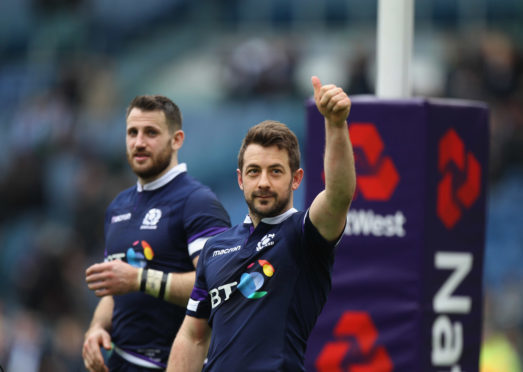 Not even an unwelcome intervention from the stadium announcer midway through his run-up could bother ice-cool Greig Laidlaw as he kicked Scotland back from the brink in Rome.
The Scots had cause to lean on Laidlaw's ever-accurate boot twice in the final five minutes to lift them to a 29-27 victory, and that after he had switched for the second time in the championship to stand-off with the Italians 24-12 and one score from breaking the game open.
Instead, the assured play of Laidlaw at 10, the speed of Ali Price's delivery as replacement scrum-half, and a devastating mauling game brought two converted tries and Laidlaw's last gasp winner.
The jeering and whistling from the Italian fans to try and put Laidlaw off was expected, but not the Stadio Olimpico announcer – easily the loudest of his ilk in the 6 Nations – making a fruitless plea to silence the supporters just as Laidlaw moved to kick the ball.
"It went between the posts and over the bar so I was happy," he said. "You have to just try and block everything else out and rely on your technique.
"Thankfully it held up again today although i have said to the boys don't be putting me in that position too many more times."
Playing in France with Clermont-Auvergne, where noise to distract the kicker is taken for granted, has helped more, he said.
"It is something you get used to as a kicker. It does not matter what kind of noise it is, if it's the crowd or even the announcer. You don't even notice it."
Laidlaw felt the entire team kept their heads, refusing to panic even when they were down by 12 points.
"Credit to us for that, I don't think we panicked," he said. "We were always saying if we got a hold of the ball we could score points. We played for full 80 minutes and came away with an ugly win.
"It says a lot about the team. We have worked on our character in both defence and attack, we don't want to win games ugly but we can do it.
"A couple years ago we might not have been able to come back like that. Today was really impressive. Everybody took a couple of deep breaths , listening to the leaders. The plan was there and we stuck to it and we pulled ourselves out of a hole."
The real credit had to go to the forward, who "drove us back into the game" with a series of mauls, continued Laidlaw.
"It really sucked the life out of them near the end of the game," he added. "You could see the Italian forwards were gasping for air and we were pushing them back through the drive. That is what probably turned the game for us.
"They were starting to give us quicker ball and were on top, so it is always easier as half-backs when you get quicker ball. We put our foot on their throat a little bit and grabbed a hold of the game."
Laidlaw still wants to play a big part in the summer tour as Scotland continue their development.
"I am pretty competitive and I love playing for my country so it is something I don't take lightly," he said.
"We are still evolving. We would like to be further down the track and still look at the Welsh result and the performance and the Irish result but we are quite far down the track, playing some good rugby and winning some big games."