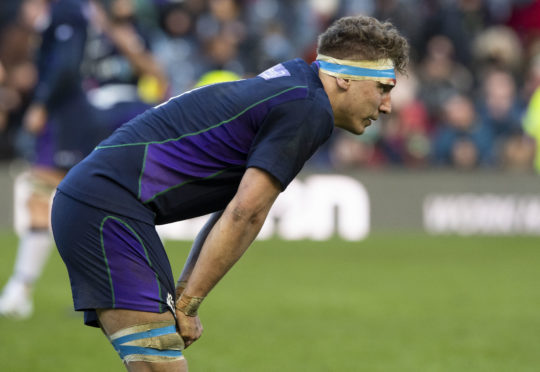 The 12 stitches in a gash just above his eyebrow made it look like Jamie Ritchie had been pummelled by Anthony Joshua, but the 22-year-old remains more concerned with the mistakes than the scars of battle in international rugby.
Ritchie, definitely Scotland's most consistent performer during this international season, put in another outstanding shift in the loss to Ireland, but the manner of the 22-13 defeat left a bitter taste.
"You can make mistakes, they happen," he said. "It's when you compound those errors that you find yourself in real difficulty.
"We were compounding mistakes after the break. We couldn't execute and we were under pressure in the game.
"It was people making poor decision and I was guilty of it myself. It's international rugby and this is the highest pressure you can face. Defensive pressure also comes into it.
"We hold ourselves to higher standards and we will look at ourselves over the coming days."
Ritchie has been in international rugby less than a year but felt Saturday's game was the most intense experience he's had yet.
"That is definitely the hardest 80 minutes I have played for Scotland," he said. "You are under pressure and you have to handle that situation better. We need to eradicate the mistakes ahead of the next game against France.
"We started the game really well and I thought we played well in the first half, but again, we gifted them two tries and you can't do that.
"We put ourselves into some decent positions in the second half but our execution undoubtedly let us down."
And although he might be a little scarier for his two young children with his new scars, the back rower can't wait for another shot in two weeks in Paris.
"If Gregor keeps selecting me then I will be happy. I feel settled in the team, I will always back my own ability. I thought I did okay against Ireland although I did make some mistakes.
"I love playing for Scotland, especially here at Murrayfield in front of a packed house. Hopefully I get the opportunity to do it again."
Head coach Gregor Townsend didn't think there were many defensive errors, praising Ireland's set play that led to Jacob Stockdale running through a huge hole in the Scottish line and saying that collision of Allan Dell and Rob Harley that allowed Joey Carbery to set up the third try was " a bit of bad luck".
"For the other 95 per cent we were really good in defence, put them under pressure and tackled (Ireland) behind the gainline," he said. "That's a team that can go through multi, multi phases and are very good in contact, and we forced a few turnovers there."
"The second half was really about our execution. If we get our setpiece play into the game then we can build so many things off it.
"It's a learning that you have to cover every part of your game to beat the best teams in the world. Last week our setpiece execution and strike plays were very good, this week we just couldn't get them into play.
"I put it on myself as attack coach that the plays can be run smoothly, and we have the right bodies in the right positions. Four out of five areas we did very well, but that one out of five is the thing we have to do much better in Paris."
Scotland have more injury worries from the game, not least Stuart Hogg landing on the point of his shoulder and being withdrawn in the first quarter. His injury was being assessed yesterday.
Ryan Wilson also stayed inside at half-time with a knee injury, and any addition to the number of Scots back rowers on the sidelines – Hamish Watson, John Barclay, Sam Skinner, Magnus Bradbury and John Hardie were all unavailable this week – puts a serious strain on limited resources.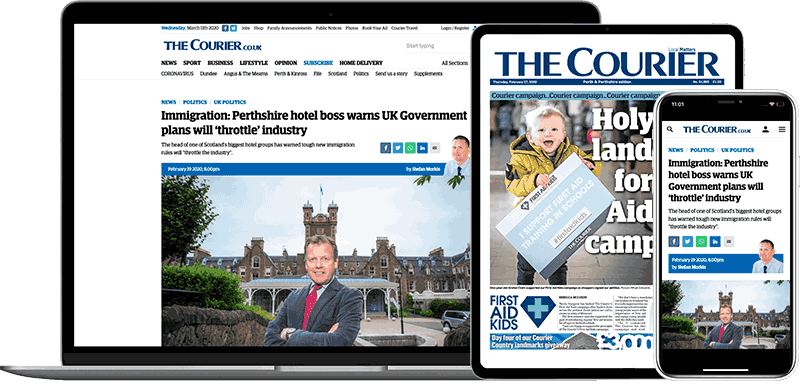 Help support quality local journalism … become a digital subscriber to The Courier
For as little as £5.99 a month you can access all of our content, including Premium articles.
Subscribe