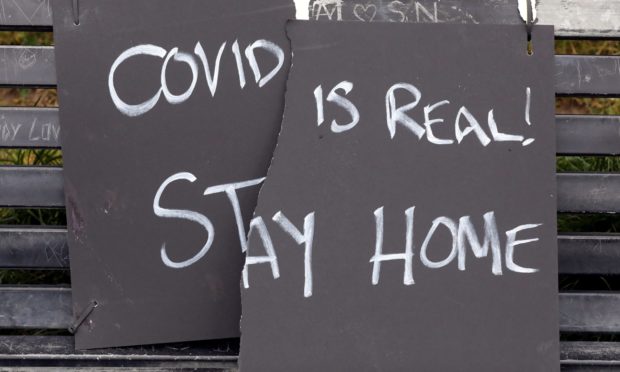 Sir, – The government is still behaving as though battling the Black Death.
Fear and isolation will be killing people or making them ill.
Then despair yet to come over the many subsequent years in our wrecked economy will eventually kill more than the influenza has done.
But no account of that is ever considered.
Homes given as security for business loans will be taken by banks, to ruin lives and break families.
The stress of unemployment will kill others, and ruin the health of the nation.
Already our health has declined, as GPs and hospitals ignore the usual level of help needed.
Treatable symptoms will become inoperable cancers. Teeth have been rotting as hair has been growing.
All to keep hospitals empty against the inaccurate projections of a few scientists, and to save people with a short life remaining anyway, including my own.
Nonsense from start to horrible finish.
Malcolm Parkin.
Gamekeepers Road,
Kinnesswood.
Carnegie's contribution outweighed faults
Sir, – I thought one of the greatest absurdities of the recent racial tensions in this country was the African student studying at Oxford University on a Rhodes scholarship who wanted the statue of his benefactor destroyed.
I won my Blue in St Andrews on the fabulous playing fields Andrew Carnegie gave the university.
I gained my Ph.D. in Physics via a generous Carnegie scholarship.
However emigrant members of my extended family were caught up in the infamous Homestead Strike in Carnegie's steel works in 1892 and one was killed.
Whatever my ambivalence about the way Carnegie made his money, he was simply better at it than most and a man of his time.
His later philanthropy helped my three medic brothers and me out of the west-central coalfields. He also played a decisive part in the rise of a modern America in which my cousins were astonishingly successful.
It would be not only mean and ungrateful but beyond absurdity for me to riot in the streets and call for his name to be expunged. Weighed in the balance, Carnegie's contribution to human advancement far outweighed his faults – and this was true of Rhodes as well.
I wonder how history will judge the politically correct who today mutilate our heritage of buildings and statues.
Rev Dr John Cameron.
10 Howard Place,
St Andrews.
Treat animals more humanely
Sir, – The Wuhan wet market, where animals were kept in appalling conditions, is thought to have played a major role in the spread of coronavirus.
In the past few days there have been a series of virus ' spikes ' at meat processing plants in Wales, West Yorkshire, Germany and several US states and a number of 'experts' are now investigating the link between the barbaric treatment of animals bred for factory farming and the coronavirus pandemic.
Michael Greger, author of Bird Flu – A Virus Of Our Own Hatching, asserts that ' When we overcrowd animals by the thousands in cramped, football field-size-sheds to lie beak to beak or snout to snout there is stress crippling their immune systems and ammonia from their decomposing waste burning their lungs'.
Combine this with the lack of fresh air and sunlight and you have the ' perfect storm ' environment for the emergence and spread of disease and viruses
In a 2013 report, the Food and Agriculture Organisation of the United Nations warned 'livestock health is the weakest link in our global health chain'.
If we are to look at ways of reducing the likelihood of future pandemics much more humane treatment of animals is surely an essential first step.
Alan Woodcock.
23 Osborne Place,
Dundee.
No lowering of food standards
Sir, – The second round of US-UK trade talks have just started and, by the end of them, the Westminster government could well have signed up to allow the US to flood our supermarket shelves with chlorinated chicken.
Leaked documents have revealed the government is backtracking on their promise to ban chlorinated chicken during these talks.
It means they are leaving the door open to food from the US that violates our high food or animal welfare standards.
In the US, thousands of chickens live in "mega-sheds", surrounded by their own faeces, and even blinded by noxious gases. In order to make them safe to eat, the chickens have to be sprayed with chlorine.
Chlorinated chicken is just one example of the food that could be flooding our supermarkets if Westminster signs a trade deal with Trump.
Scotland could avoid this and keep our already strict standards for food quality and safety and animal welfare.
But only if Scotland becomes independent.
Peter Swain.
Tyme Cottage,
Innerwick, Dunbar.
Has two-metre rule ever existed?
Sir, – Over the last three months, shops that have been open have been full of notices encouraging customers to maintain a two metre distance, with helpful marks on the floor.
I was in a supermarket queue when it occurred to me the tape marks on the floor did not look two metres apart.
When I got home, I measured out two metres on the floor and discovered it took me five steps to walk that distance, so each of my steps is about 0.4 metres.
A week later in the same shop, I discovered that all the tape marks I checked were about four steps apart, only about 1.6 metres.
After checking marker distances at two other supermarkets and one DIY store that I also use, I discovered that most of the markers are four steps apart – 1.6 metres – and some only three steps apart – 1.2 metres.
To be fair to the four shops, none of them actually say that their floor marks are two metres apart and I suppose it is just possible that I have been unlucky and visit the only shops in the country that have got the distance wrong.
Readers may wish to measure their own step lengths and check the social distance floor markers in the shops and other establishments that they visit.
Maybe the two metre rule has never really existed, at least on the shop floor.
Stewart Gardner.
Station Road,
Invergowrie.
Universal income is stupid
Sir, – There are many words in the English language which refer to something regarded as stupid.
However I doubt if any of them is suitable to describe the proposed plan to give everyone a government pay packet whether they need it or not.
Is this a demonstration of one or more politicians being unfit for office ?
A A Bullions.
6 Glencairn Crescent,
Leven.
Complete waste of money
Sir, – Why do we need to give an RAF plane a paint make-over costing £1 million?
If this was any other project the accountants would be asking how long it will take for this paint job to repay itself.
This is a complete waste of money when the country is going through a pandemic and businesses are being squeezed till their pips squeak.
Alistair Ballantyne.
Birkhill, Angus.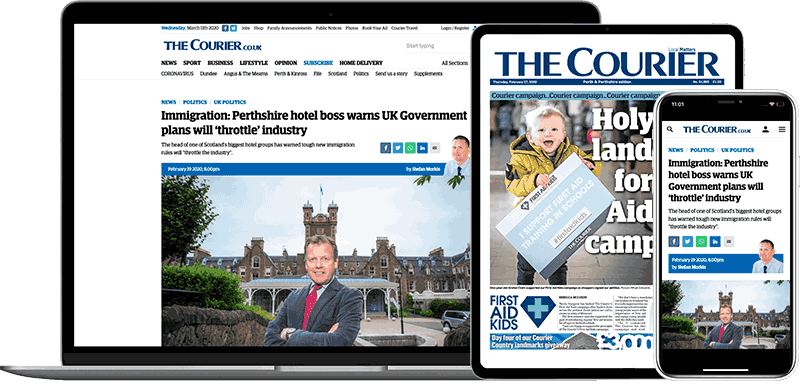 Support The Courier today.
The Courier is committed to delivering quality content to our communities and right now that's more important than ever — which is why our key content is free. However, you can support us and access premium content by subscribing to The Courier from just £5.99 a month. Because Local Matters.
Subscribe