 Jim Furyk's concession to the Europeans was strangely familiar to many that were at the last, infamous press conference for a losing USA Ryder Cup team four years ago at Gleneagles…but Phil  Mickelson was strictly on-message this time.
The US captain credited Thomas Bjorn and the European team saying "they played better and did a better job", pretty much as Tom Watson did four years ago, when the US actually got closer to Paul McGinley's Europe than they did in Paris.
But there was no mutiny this time from Mickelson, who conceded that he might be playing his last Ryder Cup, certainly his last in Europe.
"This is an awesome team and we had phenomenal leadership," said Mickelson, who after going 0-2 has the most losses of any US Ryder Cup player."We were put as players in a position to succeed, and these guys up here are such great players; that if you do that, they most often will succeed.
"Unfortunately it didn't happen this week. We'll continue to build on it, and improve in a couple of years, and this is a very meaningful, special team for me, personally, too, because our captain is one of the best people in golf, and somebody that I've always looked up to and cherished our friendship."
Mickelson even used the same terms as Watson had in 2014 – "they flat-out beat us".
"The European side played some exquisite golf, they beat us on the course. "There have been two years, this year and 2006 with Tom Lehman, where it break my heart a little bit more than others, because those two, we didn't execute while we were given every opportunity to succeed."
He added that "I did not play well this year and this could very well, realistically, be my last one.
"I'm motivated now to work hard, to not go out on this note, to get back at Whistling Straits and to show what I can do in these events, because this week was not my best.
"I spent more time hitting balls throughout the week than I have all year trying to find something that would click, and it's just been a struggle."
Furyk paid tribute to Bjorn's preparation as the difference between the teams.
"Hats off to what (the European team) accomplished this week, they are class acts, and gritty," said the captain. "When we put some heat on them early this afternoon, they responded.
"Thomas was a better captain, and their team out-played us. When a team is successful, as they were and as well as they played, that shows to me they had great leadership.
"I know everyone on this table wishes they had played better, and I wish I probably would have done some things differently. But you know, they played better and they did a better job. I'm the first to say it."
Tiger Woods said that the US "didn't execute like we had planned and wanted to."
"For me personally, I went 0-4 which is obviously very disappointing," he continued. "Those are four points that aren't going towards our side and towards their side.
"To have a Ryder Cup end that way, for me personally, it doesn't feel very good because I didn't help my teammates earn any points. At the end of the day, we came here as a team and we win or lose, and unfortunately we lost this one."
He admitted that his furious schedule in the last few weeks may have taken its toll when he got to France.
"I played seven out of nine weeks," he said. "Starting with The Open Championship, then you've got a World Golf Championships, you've got another major championship, you've got the Playoffs and then you have The Ryder Cup on the back side.
"A lot of focus, a lot of energy goes into it. I was fortunate enough to have won one, and we were all coming here on a high and feeling great about our games, about what we were doing, and excited about playing this week.
"It's been a lot of golf for a short period of time. I'll have a better understanding of what my training needs to be for next year so that I certainly can endure the entire season because this year was very much up in the air of how much I would play or if I would play at all."
Many pundits were questioning Furyk's decision to split the winning partnership of Patrick Reed and Jordan Spieth, which the former Open and Masters champion said was "player-led".
"We were totally involved with every decision that was made," he said. "Jim allowed it to be a player-friendly environment, and we were fully involved and we thought we had two potentially fantastic teams."
Furyk added that some called it "a gutsy call" for him as captain.
"Jordan and Patrick have been great in the past, but I felt like we had two great pairings out of it.
"So it was totally my decision and my call, and one I thought it was the right thing to do. It was my call."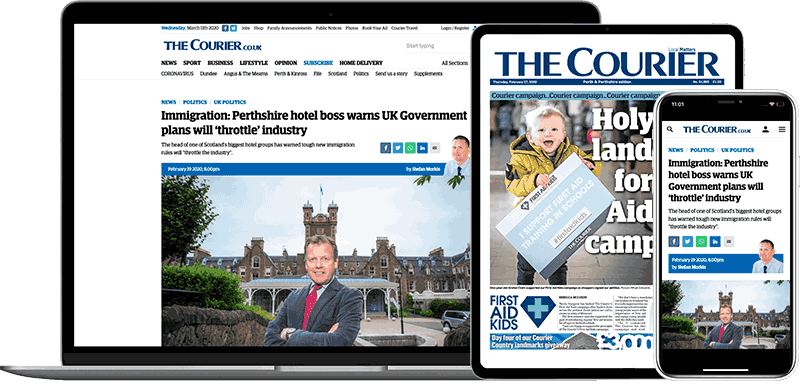 Support The Courier today.
The Courier is committed to delivering quality content to our communities and right now that's more important than ever — which is why our key content is free. However, you can support us and access premium content by subscribing to The Courier from just £5.99 a month. Because Local Matters.
Subscribe