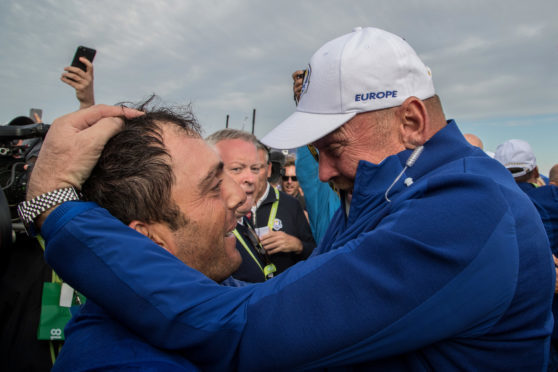 Francesco Molinari completed his perfect summer by clinching the point that most mattered, but like all the Europeans, he was all about the team that won the cup in Paris.
Molinari was 5-0 – the first European to play all five sessions and win every one – but as he pointed out, the first one of those points was his first outright win in his third Ryder Cup.
"My summer has been great, but I have been on two winning teams doing a little bit, but not a lot and my record was pretty shocking, coming into this week.
"So statistically, there was a good chance of me winning some points!"
Adrenaline and the need to help the team kept him going, he said.
"It's not about individuals, it's about the other guys on the team and the atmosphere that we created," he said. "I honestly don't feel any difference bringing five points or one point or half a point like I did in Wales (in 2010) or in Medinah (2012).
"I said it yesterday when people were asking me and Tommy about winning four out of four, it doesn't mean anything if you don't win the Cup.
"I'm just so proud of every one of these guys. You could see on Monday when we got together, it wasn't ending up any other way.
"I'm glad after I've been carried on the shoulders by some of these guys to give something back. But it's about every one of these guys, the vice captains, it's just the best team I've ever been part of by miles."
Justin Rose said that the focus of the entire team had not let up until the moment the cup had been clinched.
"What you see right now is a bunch of guys who are elated, enjoying the win and having drinks to celebrate," said the World No 2. "But this team did not drop their guard until this moment right here.
"This team was relentless in its pursuit of excellence. We ticked every box we could control all week long, whether it be recovery, nutrition, practise rounds. Our focus was unbelievable this week.
"Thomas (Bjorn) trusted us to be 12 players that would come together, and today trusted us to be 12 individuals working towards the same common goal. And that was his strength this week.
"We stayed on point as a group, and the discipline that we showed got us to this point where we can now let our hair down and now really drop our guard hard!"
Rory McIlroy said that the friendship built over years together on the European Tour had mean it had been easy to gel.
"I just think we all get along so well," said McIlroy. "We've all known each other for a long time and there's a continuity in our group that maybe the other side don't quite have.
"Even the rookies in our team, we've all known for a long time; I first played with Thorbjørn in the Egyptian Open in 2010.
"The togetherness of the team, the great camaraderie we have, that's built up on The European Tour, and obviously we all have our separate lives going on, but once we get together for The Ryder Cup, we all come together as one."
Sergio Garcia, who passed the record of most wins by a European Ryder Cup player with his singles win over Rickie Fowler, couldn't resist a little dig at the man who accused him of not showing up in 2008 at Valhalla.
"I'm so proud to have passed the record of so many of my heroes – and Nick Faldo," he said with a well-timed pause aimed at the 2008 captain.
"I promised you three points, I delivered you three points," said the Spaniard to captain Thomas Bjorn as the celebrations continued.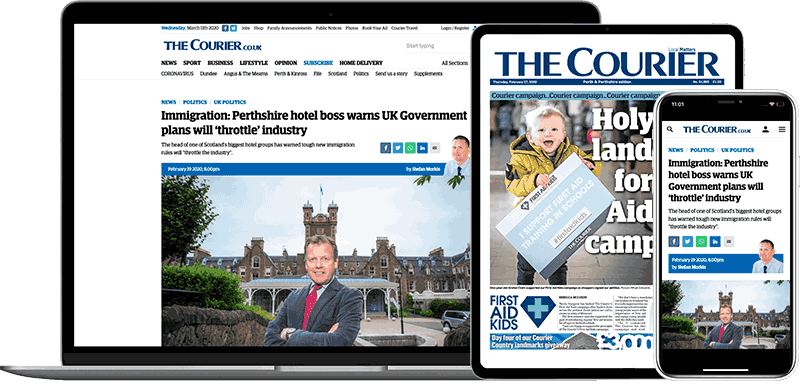 Help support quality local journalism … become a digital subscriber to The Courier
For as little as £5.99 a month you can access all of our content, including Premium articles.
Subscribe