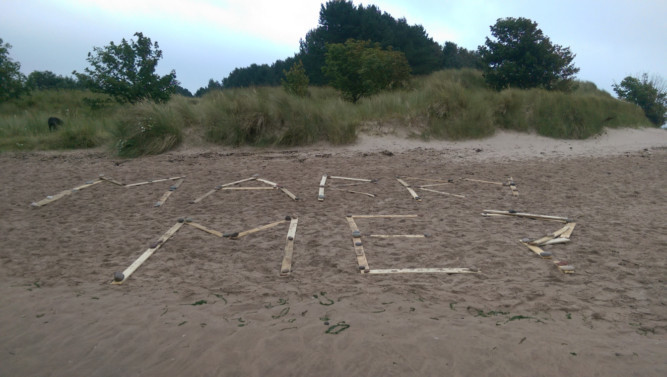 The spirit of romance was alive and well in Angus at the weekend in one young man's grand gesture to his sweetheart.
Danyle Ferguson decided to pop the question to girlfriend Hannah Munro in style, laying out his proposal in the sand at one of their favourite beauty spots.
In a secret operation, the automotive technician painstakingly placed the message 'Marry Me?' in planks and pebbles on the sand at Lunan Bay near the river inlet at the popular beach between Arbroath and Montrose.
Danyle's romantic plan then fell perfectly into place on Saturday morning when he took Hannah for a walk around the ruins of Red Castle, perched high over the Lunan from where he pointed her to the love letters in the sand before going down on bended knee.
To Danyle's delight, the answer was a massive yes.
After popping on her engagement ring and managing to capture a photo of it with the proposal way down on the beach below, Hannah revealed on Facebook that there was another surprise waiting for her when she and her fianc got home.
"So this happened this morning," she wrote. "Down Lunan Bay, then came home and mine and Danyle's family were all sitting in the front room, which was a crazy surprise.
"I am the luckiest person alive and I couldn't be happier."
The pair, from Arbroath, have been going out for around two years and Danyle's unusual proposal caught the eye of other visitors to what is one of the area's best-loved beauty spots.
One dog walker said: "It wasn't there on Friday night so I was interested to know who had put it there and whether the answer was yes."