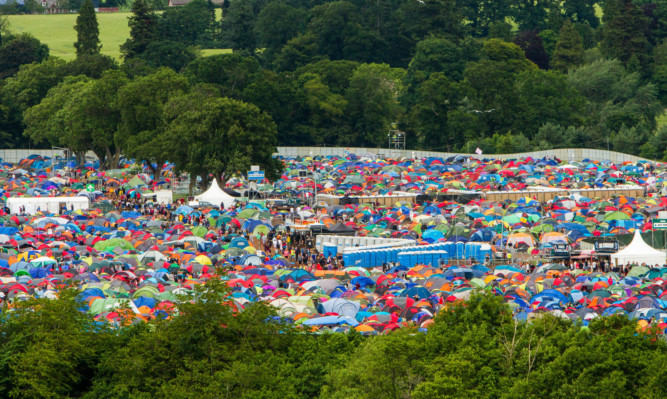 A festival-goer who left a teenage reveller scarred for life after biting a chunk out of his cheek has been jailed for almost three years.
Ross Porter attacked his victim at T in the Park music festival earlier this year.
Perth Sheriff Court heard that the 30-year-old, of Fernie Place, Dunfermline, began chatting with the victim and his friends after becoming separated from his own group.
However, the atmosphere turned sour after he was branded a "teuchter" and he launched an assault on the 17-year-old, biting his face and finger.
Porter's defence agent Stephen Morrison told the court that his client had been drunk at the time of the offence.
He said: "Mr Porter arrived at the locus of T in the Park and he was, by his own admission, highly inebriated.
"He lost touch with the people he had arrived with as they were looking for a location for their tents.
"He moved on and encountered the group containing the complainer. I understand from Mr Porter and others that it's not uncommon to mingle with strangers (at T in the Park)."
He said the group had been wary of Porter due to his drunken state and eventually asked him to leave using "street language".
Mr Morrison said: "They were calling him a teuchter and making fun of his accent and he responded by calling them 'weegies'. This resulted in matters getting out of hand from that point onwards.
"Mr Porter launched himself at the complainer and behaved in the manner outlined in the indictment."
In his client's defence, he said Porter suffered from mental health problems.
He said: "He suffers from low mood, anxiety and depression and it seems that when he has been binge drinking that will erupt and result in violent conduct.
"He has accepted responsibility and had expressed remorse and regret."
Mr Morrison added that Porter had had a difficult childhood as both parents were heavy drinkers and two brothers had died suddenly, with one being stabbed to death and the other being considered suspicious.
However, he said Porter intended to give up drinking altogether when he was released.
Sheriff Lindsay Foulis told Porter jail was the only option.
He said: "You are realistic enough to realise that custody is inevitable in this matter.
"The injury to the young man, who is 17, to his face, I suspect it will be with him for the rest of his life. Bearing in mind his age, it will be a significant factor for him.
"For someone to behave the way you did is really difficult to comprehend. In this particular incident the injuries to the victim's face is very significant, the finger less so.
"You didn't just bite him once, you came back for another strike."
Porter had earlier admitted attacking the teenager at T in the Park on July 10 by biting him on the face and finger to his severe injury, permanent disfigurement and impairment.
Sheriff Foulis jailed Porter for two years and 10 months and ordered that he be supervised for a year following his release.