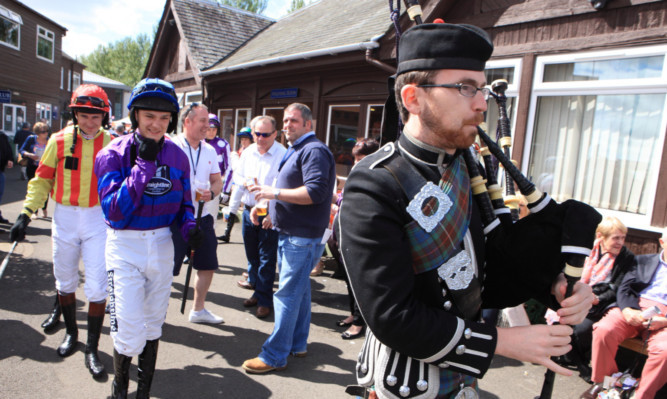 Thousands of horse racing fans flocked to Perth racecourse on Sunday for the biggest event of the year.
The sun split the sky over Scone as revellers placed their bets on Gold Cup day.
Among those gathered were newlyweds Lauren Clelland and Scott Stewart.
The pair had tied the knot in the owners and trainers' suite ahead of the afternoon's racing and also struck lucky on the day, winning £1,500.
Lauren said they had chosen the venue because it was "different".
The 33-year-old and her husband, 39, were joined by Scott's six-year-old son Travis and 10 guests.
Lauren, who has been with Scott for almost four years, said: "It seemed fun and relaxed (to get married at the racecourse).
"We enjoy going to the races for fun."
Lorraine Clelland, mother of the bride, praised the racecourse staff for making it a day to remember.
She said: "Today has been fantastic from start to finish everyone has been so nice. Scott is a darling I'm proud to have him as a son-in-law."
The couple and their guests retired to a box for their reception, from which they were able to watch the racing.
Before racing began crowds were entertained by a dog display from Tayside Roadrunners flyball team. Soon after the excitement moved trackside, with the first race kicking off shortly after 2pm.
The first race of the day saw Irish-trained favourite Antilope Du Seuil gain an easy win while ridden by jockey Richard Johnson.
Among those having a flutter was Lauren Gray, who was attending with nine friends to celebrate her 30th birthday. Ahead of the second race, she said: "We are having a lovely day. I'm betting on Mister First the name seems like a good sign."
Fiona Mathers and her husband Alan had travelled from Aberdeen.
She said: "This is my first time, but Alan's been before. It's not until you put a bet on that you start to get excited about the racing."