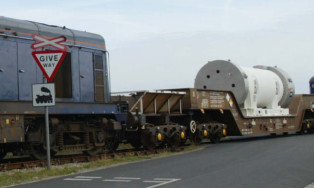 Trainloads of radioactive material could be transported through Central Scotland and Perthshire on a rail service that has already been involved in accidents.
Discussions are ongoing about how to move 26 tonnes of "exotic fuel", which includes plutonium and highly-enriched uranium, from Dounreay in Caithness to Sellafield in Cumbria.
This type of material is so dangerous that it can be used in nuclear weapons.
Serious concerns have been raised over the proposals, as the freight trains will pass through densely populated areas.
Although the Nuclear Decommissioning Authority has given assurances that the trailers are "virtually indestructible", environmental campaigners believe there is still a significant risk to public safety.
Just two days ago, a train operated by Direct Rail Services Ltd, the transport partner of Dounreay, was involved in a collision with a car at a level crossing in Cumbria. It was empty at the time, but the director of Friends of the Earth Scotland, Dr Richard Dixon, said this highlighted the risks involved.
He said: "I think people are right to be concerned. There are a couple of things to be worried about one is the fact that a train full of nuclear waste is a good terrorist target. The other thing is the possibility of accidents. These trains are well constructed and rigorously tested, but nothing is infallible."
For more on this story, see Friday's Courier or try our digital edition.