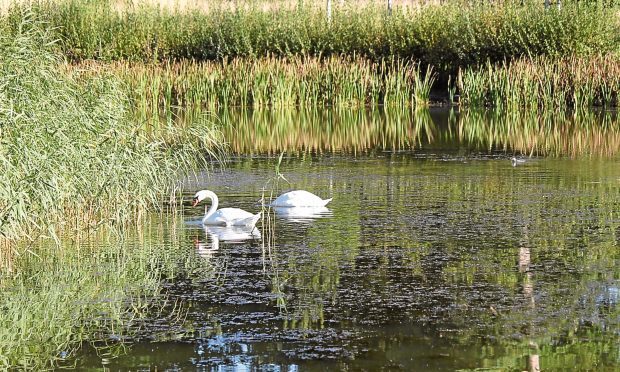 This week I revisited Murton Farm Nature Reserve, which is two miles outside Forfar, on the A932 Forfar-Friockheim road.
The reserve was created from 80 acres of worked-out sand and gravel quarries. Over 12 years, what was derelict wasteland has been brought back into proper balance and transformed into an asset that is of value to nature, wildlife, the environment and the community.
I met up again with Al Borland, the estate manager, and we realised we hadn't seen each other for eight years. What a difference eight years makes. Saplings have matured into trees, altogether changing the landscape, which I didn't recognise from what I remembered. Alison Elliott, the executive manager, and her team know they are getting things right when visitors comment how well established the woodlands look.
There have been successes that the team are particularly proud of. In the early days little ringed plovers were attracted to the old gravel pits and stayed to nest. When the banks became overgrown the birds deserted but after several years' restoration work, these incredibly rare visitors to Scotland returned to nest again this year.
Four ponds have been developed from the old quarry workings, attracting a variety of waterfowl throughout the course of the year. Migrant visitors include godwits and purple sandpipers; in spring redshank, lapwings and snipe which have overwintered on the coast fly inland to the reserve to breed.
There is a resident population of mallard duck as well as seasonal shoveller, gadwall, teal and widgeon. Of added interest are the little grebes or dabchicks, coots and waterhens. I watched swans with their cygnets and several of the resident pack of greylag geese which nest on the reserve.
A confident cock pheasant stepped grandly across our path, paying not a blind bit of notice to Al and me sitting in the buggy. A hunting cormorant dived busily in one of the ponds, evidence that fish have established themselves.
There don't appear to be any resident raptors but kestrels and buzzards are sighted regularly. In the summer an osprey, believed to be nesting on neighbouring Balgavies Loch, dropped in on the off chance of a meal. Last year members of Angus & Dundee Bird Club were very excited by the appearance of a white tailed or sea eagle, thought to be a juvenile from Tentsmuir in Fife.
New arrivals
As the woodlands and the natural woodland floor established themselves, roe deer and red squirrels moved in. New hedges provide cover for warblers and attract our native grey partridge. Partridge have suffered a serious decline in numbers and are on the RSPB red list of endangered species. They need all the breeding help they can get.
The flying bugs and gnats that sand martins feed on breed in the ponds. To encourage these smallest members of the swallow family to nest on-site, artificial nesting banks have been created. Until now I have believed sand martins returned each year to their previous year's nest but evidence from leg rings over several years' trapping with mist nets has shown only a small proportion return. Instead, birds ringed in such wide-ranging places as Stevenage, Southampton, Wales and France have been identified at Murton.
There's a wealth of varied wildlife to be seen in this small reserve, including the possibility of seeing otters. It's an inspiring spot for wildlife photographers. In summer the grassland areas are transformed into wildflower meadows.
Learning
Three hides overlook the ponds and, since I last visited, signage has been improved and seated shelters have been placed throughout the reserve, with wide arcs of vision, to help visitors watch the wildlife. Access and the path network have been laid out to accommodate visitors of all abilities, including wheelchair users.
Attractions for young visitors which were at the planning stage eight years ago are completed. Murton Farm has donkeys and horses, two eagle owls and a range of other rare breeds and youngsters are encouraged to get up close to them. Tots groups, to introduce the youngest visitors up to three years old to the outdoors and the countryside, are held every Thursday.
Education and personal development were two of the founding principles of Murton Reserve when it was originally conceived. The reserve is an accredited SQA centre delivering vocational education to secondary school pupils and school leavers in first aid, machinery handling, rural skills and animal care. The work experience can help guide a young person to his or her path in life. Volunteering will count towards the volunteering section of the Duke of Edinburgh Award.
Entry to the nature reserve is free but there is a charge for entry to the farm and the play area, as a contribution towards animal feeding costs. It's a wonderful asset to have on our doorstep. Visit www.murtontrust.org.uk for more details of the reserve, the education centre, activities for youngsters, Murton Farm and the tearoom.
With ground-nesting birds and vulnerable wildlife, dogs, understandably, must be left at home. But I made sure Inka got his usual afternoon walk.
Don't Miss The Whitsons' Kitchen – Angus and the Doyenne's take on the final of The Great British Bake Off – this Wednesday in The Courier.