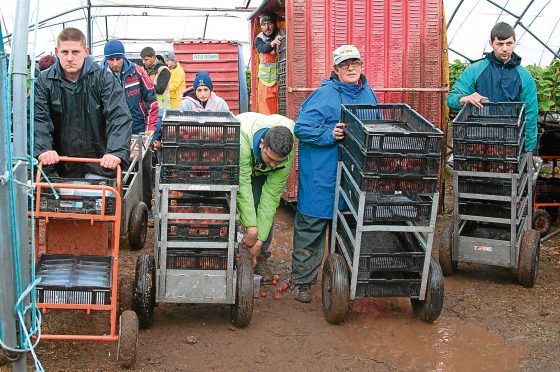 Sir, – I refer to George Sangster's letter (November 6) in which he advises that it costs the council £300 to get its waste oil container emptied.
Might I suggest Angus Council gets a research team over to Holland?
When I worked over there a few years ago I generated commercial quantities of waste engine, transmission, hydraulic and lubricating oils.
These were stored on-site in an underground sump.
Two or three times a year a tanker would visit all the local garages, pumping out these tanks, and paying for the privilege.
The waste oil was then taken to a central storage depot whence it was sold to provide cheap heating for Holland's vast tomato and cucumber crops.
Now I'm not saying that Angus can compare with Holland's immense acreage of greenhouses, but there must surely be the odd fruit farmer who wouldn't mind a bit of cheap heat.
Laurie Richards.
100 Crail Road,
Cellardyke.
Society's roots in Scotland
Sir, – Your account of the Royal Scottish Country Dance Society Conference and annual general meeting was interesting, and I especially enjoyed the pictures of the dancing flashmob in the St John's Centre in Perth.
However, I must point out that your report of the society having been founded by two American ladies was quite erroneous.
As archivist of the Dundee branch of the society, I think I can say with confidence that Dr Jean Milligan and Mrs Ysabel Stewart of Fasnacloich are revolving in their graves at the American epithet.
While being proud of the society's membership in the Americas, both ladies were also proud Scots.
Dr Milligan was born in Glasgow and taught physical education for many years at what was then Jordanhill College.
Mrs Stewart, who belonged to a distinguished Highland family in Argyll, was in charge of Girl Guide training in Scotland.
These two Scots ladies met over a shared interest in traditional dance, and as your article says, they jointly formed the Scottish Country Dance Society, later the Royal Scottish Country Dance Society, in 1923.
(Mrs) Helen Lawrenson.
51 Bay Road,
Wormit.
Compassion of miners' trust
Sir, – The Scottish Miners' Convalescent Trust deserves thanks for its compassion and community spirit.
It made its rooms and facilities at its home at Blair Castle, Culross, available to the residents of Kincardine Bay Care Home who had to be relocated after the fire there. This is appreciated by residents and their relatives.
Thomas Michie.
83 Main Street,
Kinglassie.
Churches need revival
Sir, – David Robertson is absolutely right (November 4) that we do indeed reap what we sow.
However, we are unlikely to see much in the way of repentance, because society in general doesn't even know that it is doing anything wrong.
Yes, repentance is an old-fashioned word. So is sin and it is not a word you will hear in many church sermons nowadays.
The leaders of the present-day Church of Scotland bear a heavy responsibility for this state of affairs, and I would not like to be in their shoes when they individually come face to face with the God that they say they worship.
They are perpetuating the myth that God is purely about love and peace, that he is too nice to judge people or send them to hell, and that we don't actually need to obey his commandments.
They are editing or in some cases rewriting scripture because they want to be popular with their fellow man, rather than popular with God.
I've even heard it said that there are churches which want to get rid of the Bible altogether, because it is putting people off coming to church.
The famous 18th Century preacher Jonathan Edwards caused a furore when he decided not to sugar-coat the subject of our sinfulness.
He stood up and preached a blazing sermon entitled, Sinners in the hands of an angry God.
That sermon is credited with bringing about a revival and undoubtedly it led many people to make their peace with God.
I wonder whether Mr Robertson would agree that a similar wake-up call in Scottish churches today would be no bad thing?
Sheena Leszke.
23 Tayside Crescent,
Aberfeldy.
It takes two to tango
Sir, – Like most people who have a sense of fair play and decency, I salute those brave enough to come forward and tell their stories of being harassed, often by those in positions of privilege, power and public office.
I also feel that an inquiry at the highest level should be conducted and this time, unlike the Yewtree fiasco of a few years ago, no files should be lost or misplaced to spare the blushes of the rich and the famous.
However, I do find it troubling that the accepted assertion is that men and men alone are the culprits of this harassment.
First Minister Nicola Sturgeon, that self-appointed champion of equality, said only the other day that all SNP males should examine their consciences.
Would it not have been better and non-prejudicial to have just urged all in her party, male and female, to reflect on their practices and dealings with the opposite sex?
I recall working in a parliamentary role a couple of decades ago when one of the worst-kept media secrets concerned a female government minister strongly suspected of making sexual demands of both her male researcher and male secretary. Now, I know that the human condition more often than not casts the male in the role of the pursuer, however, this is not exclusively so.
Lest this current trend of accusation turns into a witch-hunt against men, we should remember that it takes two to tango, and it is not always the man showing the woman the way to the dance floor.
Jamie Buchan.
Grove Road,
Broughty Ferry.
European Union facing crisis
Sir, – Events in Barcelona make our Brexit negotiations look like a passenger paying billions of pounds for an upgrade on the Titanic.
Malcolm Parkin.
Gamekeepers Road,
Kinnesswood,
Kinross.