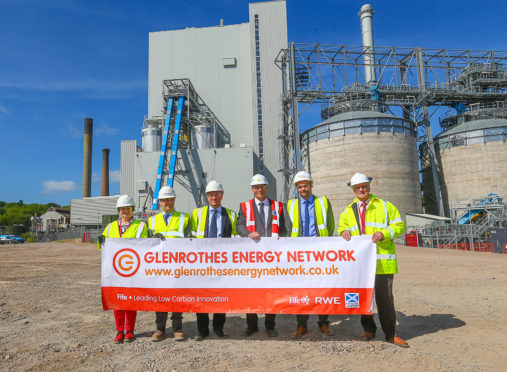 Work has started on Glenrothes' £24 million district heating scheme.
Construction of a new energy centre at RWE's Markinch CHP biomass plant is under way.
The plant will provide heat to homes and businesses across the town, as well as to the council's headquarters at Fife House.
The local authority's environment spokesman, SNP councillor Ross Vettraino, hailed the project, which has been in the pipeline for a number of years.
"Fife is once again leading the way in tackling climate change," he said.
"Bringing a district heating scheme to Glenrothes will help us reach our goal of reducing carbon emissions by 42% by 2020."
Energy giant RWE awarded the contract for the design and development of the centre to Vital Energi.
Balfour Beatty has been appointed the main contractor.
Glenrothes Energy Network is a partnership between Fife Council, RWE and the Scottish Government.
It will provide low-carbon heat to a mix of industrial, commercial, community and residential properties in the town, as well as to the Fife House complex.
Project leaders say there will also be an opportunity to expand the network to supply further homes across Glenrothes.
RWE will provide the heat from its biomass plant while the council will act as service provider.
The Scottish Government is supporting the development through its low carbon infrastructure transition programme, with match funding from the European Regional Development Fund.
The aim is to have it up and running by the end of January.
Steve Hicks, RWE project director, said: "This project is important in providing low carbon heat to support national environmental ambitions.
"District heating schemes are key to providing local communities and businesses with access to cheaper heat from efficient local sources, thereby cutting CO2 emissions."
Energy Minister Paul Wheelhouse said the scheme would help to tackle fuel poverty, by providing lower cost local energy.
Vital Energi regional director Mike Cooke added: "Vital Energi are delighted to have been appointed as RWE's design and construction partner on this unique district energy project which will utilise renewable heat to serve the community of Glenrothes."