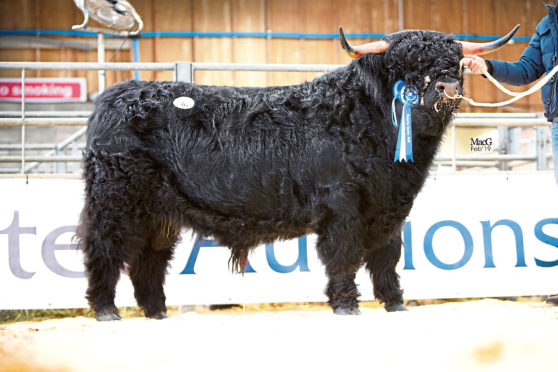 A top price of 11,000gn was paid at the Highland Cattle Society's annual spring show and sale in Oban on Monday, where buyers were selective in their bidding and only prepared to fork out the cash for animals oozing quality.
Breed president Gordon McConachie said that although many vendors would be returning home disappointed, it was particularly good to still see a strong presence of buyers forward from Germany and other European countries.
He added: "With uncertainty surrounding the industry, some breeders have possibly decided to make do with the current stock bull they have rather than buy a new one.
"Despite that, there was a strong demand for females, so it's promising to see that breeders are expanding, or new folds are being established."
Selling for the top price of 11,000gn was Muran Erchie of Ardbhan, a second prize senior bull from the MacDonald family of the 80-cow Ardbhan fold on North Uist.
This April 2016-born bull is the first son of Gilleaspuig of Tiretigan to be sold at auction – a stock bull bred by Archie McArthur, which the MacDonalds paid 1,200gn for eight years ago.
The dam is Muran Uibhist of Ardbhan and her sire has produced more than 500 calves.
He heads to work in Bjoern Bedurftig's 55-cow fold near Bremen, Germany.
Next best at 6,500gn was Angie Beag of Miungairigh, a two-year-old bull bred by the late Angus MacColl and brought out by Tom Nelson of Glengorm and Alexander Craig.
He is by Craigowl 7 of Glamis Castle – bought privately as a bull calf and which has sold previous sons to 5,500gn.
Bred out of Clara Beg 1 of Miungairigh, he sold to the Applecross Trust, Applecross Estate.
Bulls also sold to 3,500gn for the first prize aged bull, Donnachadh Ruadh Vom Sunderberg, from Michael Poland's Mottistone fold at Upham, Southampton.
Bought privately from a breeder in Germany in 2015, he is by Donald of Tordarroch, which was the German national champion in 2013. He sold to Ormsary Farmers, Lochgilphead.
The last bull to sell above the 3,000gn bracket was Philip of Richmondhill from Craig Finnie's fold near Peterhead.
Breed champion at Black Isle and New Deer, he is an April 2016 son of Charles of Richmondhill and sold to the Glengorm fold, Tobermory, Isle of Mull, for 3,400gn.
Mottistone was back in the money when the fold topped the heifer trade at 4,200gn for the senior heifer champion.
Selling to Cannon Hall Farms, Barnsley, was Fern 2 of Mottistone, a February 2015-born heifer by Eoin Mhor 8 of Mottistone.
Just behind at 4,000gn was the overall female champion, Capleadh 14 of Craigowmill from Ken and Eva Brown's fold near Kinross.
This April 2016-born heifer is by Eilean Dubh 2 of Craigowmill. She sold to R Tylden-Wright, Uvie Farm, Laggan.