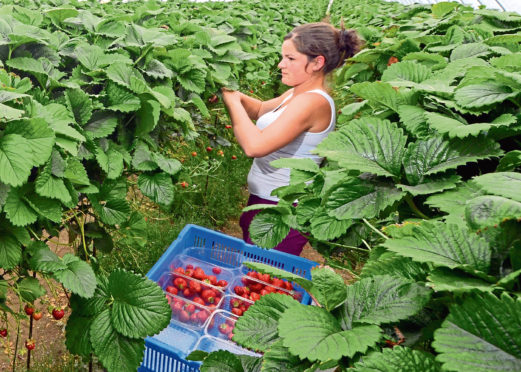 NFU Scotland (NFUS) has launched a survey to find out the permanent and seasonal staff needs of Scottish farm businesses.
The union's survey seeks to establish an evidence base on the role of non-seasonal and seasonal workers from outwith the UK.
"We are absolutely convinced that without non-UK workers, many farm-based businesses and the agri-food supply chain will be unproductive and unable to maintain the provision of food to UK consumers," said NFUS president Andrew McCornick. "But we need facts and figures to back up our lobbying effort on this and I urge anyone affected to complete this short survey."
He said the union wrote to Home Secretary Priti Patel asking that 80,000 permits be made available through the UK Government's pilot seasonal agricultural workers scheme (Saws).
"Whilst the Saws pilot scheme is certainly a step in the right direction, it will not provide nearly enough permits if shortages such as those experienced in 2017 and 2018 arise," said Mr McCornick.
"Should the Home Office end free movement in the event of a no deal on October 31 then the government must act with urgency now to ensure up to 80,000 seasonal permits are available for a non-UK workforce to undertake work next season."
He said proposals which would require all permanent staff coming into the UK to be working in a job that pays upwards of £30,000 were unworkable.
Mr McCornick added: "If the proposed immigration scheme is not amended to provide access to lower-paid workers then the shortage occupation list must be expanded. Gaining facts through this survey will allow us to submit the strongest evidence for a differentiated proposal for workers in Scottish farming and agri-food."
The survey – at
surveymonkey.co.uk/r/NFUSNonUKLabourUse
– runs until September 23.