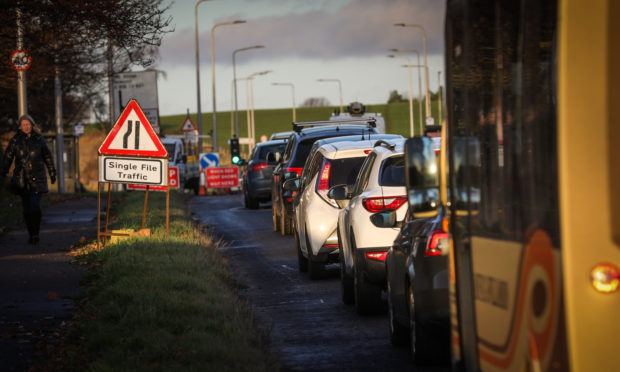 Buses have been cancelled after roadworks caused traffic problems on a busy road connecting Dundee and St Andrews.
Temporary roadworks are in place as Fife Council carries out resurfacing work on the A919 between Leuchars and Guardbridge.
The section of the route affected stretches from Toll Road, Guardbridge, to the 30mph speed limit on Station Road, Leuchars.
The two-way temporary traffic lights are only operating between 9.30am and 3.30pm.
However on Wednesday morning, Stagecoach East Scotland's services between Dundee and St Andrews were badly affected by the roadworks.
The bus firm had to cancel all of its 99 services – however the 99A, 99B, 99C and 99D are said to be running as normal.
⛔ Service Cancellations ⛔

All 99 services from St Andrews to Dundee and return are now not operating in order to maintain on time A/B/C and D's

Thank you for your understanding ?

— Stagecoach East Scot (@StagecoachEScot) December 11, 2019
The roadworks on the A919 started on Monday, December 2 and are expected to take five weeks to complete.
⛔ Service Cancellation ⛔

The 11:20 99 St Andrews to Dundee and the 11:45 99 return to St Andrews are not operating due to delays in Leuchars.

— Stagecoach East Scot (@StagecoachEScot) December 11, 2019
⚠ Service Delay ⚠

The 11:03 42 service from St Andrews to Dundee will operate approx 10 minutes late due to the temp lights in Leuchars.

— Stagecoach East Scot (@StagecoachEScot) December 11, 2019
⚠? Service Delay ?⚠

The convoy is now in operation at the temp lights at Leuchars Rail Station so delays expected to all services.

It is very likely that the 99 service may be cancelled in order to maintain all A/B/C & D's around St Andrews town.

— Stagecoach East Scot (@StagecoachEScot) December 11, 2019