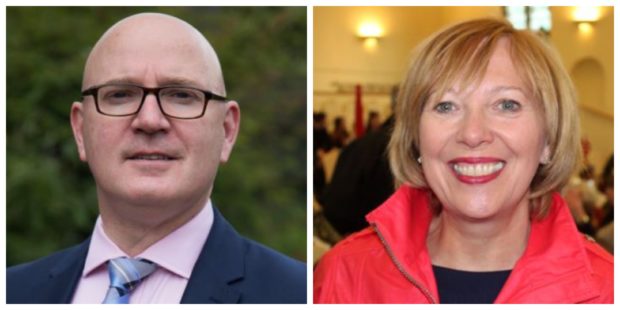 Labour's candidate for Kirkaldy and Cowdenbeath has denied her team has breached electoral law.
Lesley Laird said a claim her campaigners told people a vote for rival Neale Hanvey would be a spoilt ballot was "nonsense" and accused him of a smear campaign.
Mr Hanvey, who was dropped by the SNP as its candidate for the general election over alleged anti-Semitism, said several people had made the allegation.
He said: "My concern is that people are subverting democracy with dishonesty."
Now standing as an independent, Mr Hanvey said he received no response when he raised the issue with Mrs Laird.
He said: "I would have hoped I would have had a prompt response reassuring me that that this is not happening and if any of her supporters were doing this that she would take action."
Mr Hanvey took his concerns to the Electoral Commission and said any suggestion that voting for him on Thursday was a spoilt ballot, he said, was "simply untrue".
Mrs Laird responded: "This is complete and utter nonsense and smacks of desperation from a candidate who is suspended by the SNP for posting anti-Semitic material.
"He is now desperate to launch a smear campaign to try and derail Labour in the final days of the election.
"I'd suggest Mr Hanvey take Nicola Sturgeon's advice and make better use of his time by removing all SNP photos and videos from his Facebook page, rather than orchestrating untruths about my campaign."
Mr Hanvey's name will still appear on ballot papers with the SNP logo as he was removed as the party's candidate after the nomination deadline passed.
His suspension is in relation to comments he made on social media more than two years ago. He is to be subject to a disciplinary process by the party.