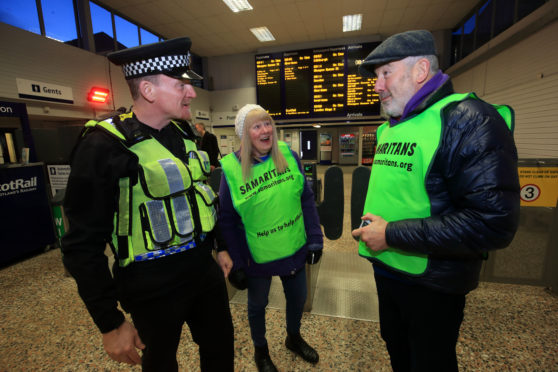 The Perth branch of the Samaritans has distributed information on its services as it announces it will be open on Christmas Day.
Volunteers were stationed at Perth's railway on Monday to share information on the help they provide to those who need it.
Director of the Perth branch of the Samaritans, Maggie Taylor said: "We are working in conjunction with the British Transport Police to raise awareness of the Samaritans.
"We were wanting to catch that main rush of commuters in the morning to give out details about our services.
"It could be anything that people have going on that they can call us about."
A British Transport Police spokesperson highlighted the importance of the Samaritans' presence at the train station.
He said: "We place a lot of importance on assisting people at risk on the railway and work very closely with the Samaritans."
The Perth Samaritans have also confirmed their doors will be open on Christmas Day between 9am and 11.30am. The branch is based on Kings Place.
Anyone struggling with any issue can contact the Samaritans on 116 123. The service is open 24/7 and free to use.