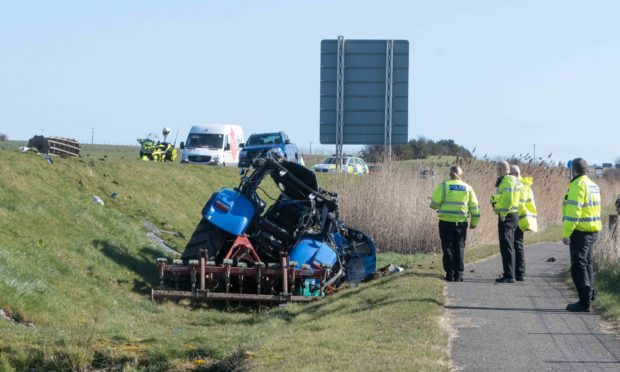 A tractor has been left a wreck after a crash on one of the busiest roads in Angus on Friday morning.
The Ford New Holland was involved in a collision with a white Mercedes Sprinter on the A92 Dundee to Arbroath road near Carnoustie at about 9.15am.
The tractor, which was towing a piece of farming machinery, careered off the road and slipped down an embankment following the crash.
The drivers were both treated at the scene for minor injuries.
A police spokeswoman said: "The road traffic crash happened at 9.15am (and) involved a tractor and a van. Both drivers suffered minor injuries."
The incident happened near the Barry Buddon Training Camp turn-off.
The tractor came to a stop just feet away from a footpath.
Its bonnet was torn off, exposing its engine, with its roof caved in and windows smashed.
Debris was strewn across the bank.