Three people have been confirmed dead after a train derailment sparked a massive emergency response on the line between Dundee and Aberdeen.
A support centre has been set up for the families and friends of those affected after police, firefighters and ambulance crews were called to the tracks south of Stonehaven following the incident at about 9.45am.
Police have confirmed three people, including the driver, were pronounced dead at the scene.
Six others have been taken to hospital. Their injuries are not believed to be serious.
A police chief said all the train's passengers are believed to be accounted for but that a major will be taking place as a precaution.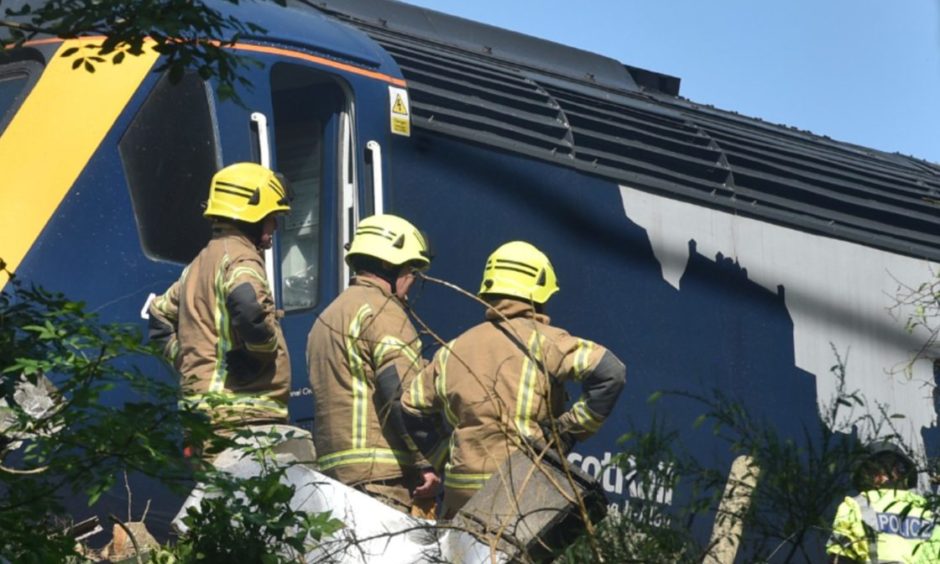 The train involved was travelling from Aberdeen to Glasgow Queen Street and is said to have been made of up six vehicles. A landslip is reported to have caused the incident.
A major incident was declared at Aberdeen Royal Infirmary in response to the tragedy.
The Rail Accident Investigation Branch (RAIB) has launched a probe into the cause of the accident. A team of inspectors have been sent to the scene.
Police say the driver's family have been informed and are being cared for by liaison officers. They are working to update the relatives of the other two who lost their lives.
Chief Superintendent Eddie Wylie said: "This is a tragic incident and first and foremost our thoughts are with the families and friends of those who have very sadly died this morning.
"We remain on scene alongside our emergency service colleagues, and a major incident operation has been underway.
Major search to be carried out around scene of Stonehaven derailment which left three dead
"I would like to reassure the public that this was not a busy service, and from CCTV inquiries and witness statements we believe all passengers have been accounted for.
"However, once the area has been made safe then a full and thorough search will be conducted, which is likely to take some time.
"I know many people will understandably have questions, and we will be working closely alongside the Rail Accident Investigation Branch (RAIB) and the Office of Rail and Road (ORR) to establish the full circumstances of how the train came to derail."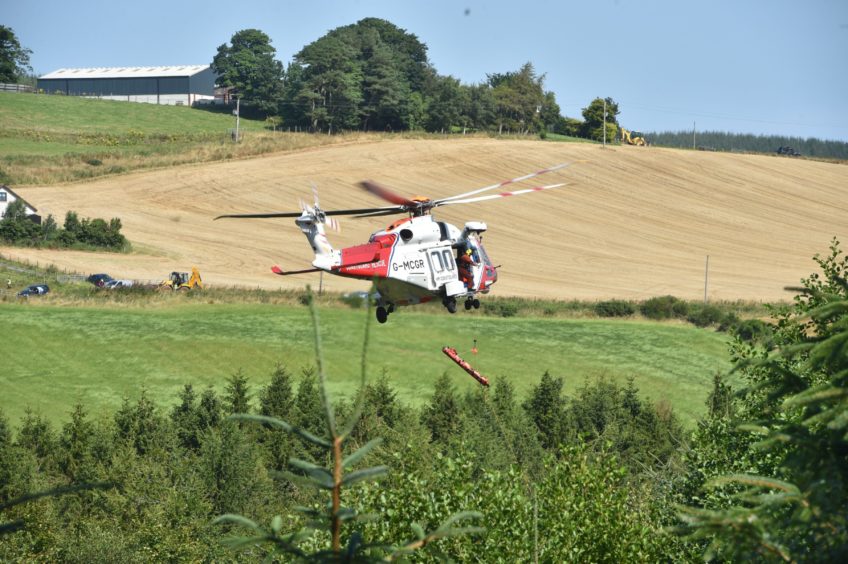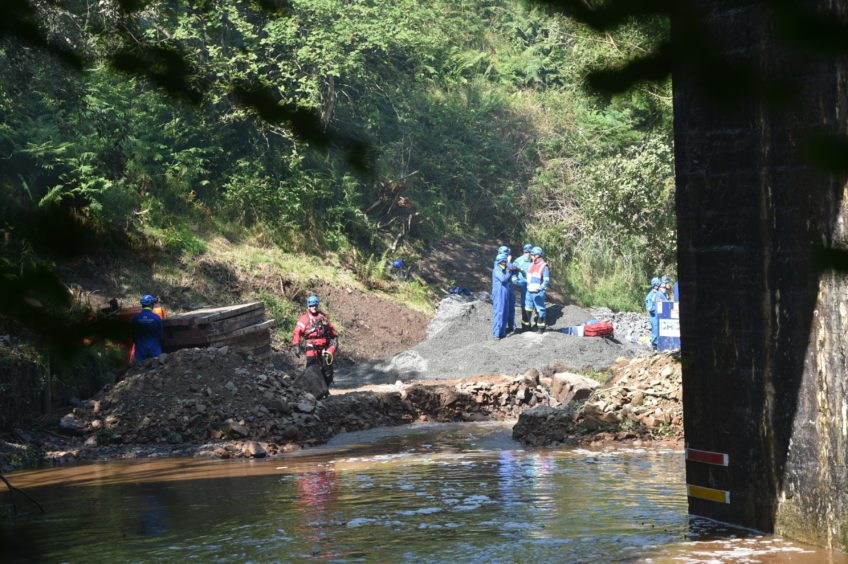 Our thoughts are with colleagues @ScotRail and those involved in the incident near #Stonehaven today

— London North Eastern Railway (@LNER) August 12, 2020
There was a huge emergency response from the Scottish Ambulance Service at the scene with several helicopters called, along with a number of road vehicles and a Special Operations Response team.
Scotland's Charity Air Ambulance helicopters from Perth and Aberdeen both attended.
We're assisting the emergency services with an incident near Stonehaven and will provide more information when available.

— ScotRail (@ScotRail) August 12, 2020
UK Coastguard crews were also assisting.
A Scottish Ambulance Service statement reads: "We attended a major incident at Stonehaven today involving multiple resources as part of a multi-agency response.
"Our sympathies are with the families of those who have sadly lost their lives in this tragic incident.
"We would like to thank all our staff today for their work in helping to treat patients at the scene and transfer them safely to hospital and for those supporting other patients across the country.
"We would also like to thank our colleagues in the Police, the Scottish Fire and Rescue Service, Network Rail, the Coastguard and the Scottish Charity Air Ambulance for their help and assistance."
@ChaplainGraham is on his way and other @RailChaplains are on standby. Our thoughts and prayers are with all involved

— Railway Chaplains (Still here for you) (@RailChaplains) August 12, 2020
An earlier statement from the British Transport Police read: "We're currently responding to an incident on the line in Stonehaven, Aberdeenshire, where a train has derailed.
"Officers were called to the scene at 9.43am and remain there alongside paramedics and the fire brigade. All further updates will be shared here."
A Network Rail spokesman said: "We are working alongside the emergency services to respond to an incident involving a train near Stonehaven.
"It is too early to confirm the exact nature and severity of the incident and more details will be made available once known."
Smoke could be seen coming from the area on Wednesday morning.
The railway line was completely closed between Aberdeen and Dundee.
A Scottish Fire and Rescue Service spokeswoman said 12 appliances and "specialist resources" were sent to the scene.
We have been notified of a derailment in the Stonehaven area of Aberdeenshire where a five car passenger train has derailed. A team of RAIB inspectors are on their way to the site to conduct a preliminary examination https://t.co/tBZlKZD2NB

— RAIB (@raibgovuk) August 12, 2020
A RAIB statement reads: "The Rail Accident Investigation Branch has sent a team of inspectors to the site of a derailment near Stonehaven.
"We have launched an investigation and will provide an update in the coming days."
A spokeswoman for the Maritime and Coastguard Agency said: "HM Coastguard was called at around 10.33am today to assist Police Scotland and the Scottish Ambulance Service with an incident near Stonehaven.
"We are currently assisting as part of a multi-agency response and have sent coastguard rescue teams from Aberdeen, Stonehaven, Cruden Bay, Banff and Montrose along with a coastguard search and rescue helicopter from Prestwick.
Anyone worried about friends or family involved in the Stonehaven rail incident can call 01224 319519 for advice and support. Details of a welcome centre being established by @NHSGrampian are in the tweet below. https://t.co/XjWq4dxgMB

— Nicola Sturgeon (@NicolaSturgeon) August 12, 2020
"Two coastal operations area commanders and four senior coastal operations officers are also at the scene. This is an ongoing incident."
Emergency services have based themselves in a field near the railway line.
'The railway family is hurting today'
Alex Hynes, managing director of ScotRail, said: "We are working closely and quickly with the emergency services on the incident near Stonehaven.
"Our thoughts are with those who have been affected by this tragic event, particularly the families of those who have lost their lives.
"The railway in Scotland is often referred to as a family, and it's one that is hurting today.
"We have teams on site and we will do all we can to support everyone affected. We are working closely with all the relevant authorities to establish the cause of this incident."
HM Chief Inspector of Railways Ian Prosser CBE added: "We are saddened by today's incident and our thoughts are with the families and friends of those affected.
"ORR inspectors are on site at Stonehaven assisting in the preliminary investigation.
"We will work with other agencies, including the emergency services, to find out exactly what happened and identify the causes of this tragic incident."
At the Scottish Government's daily briefing in Edinburgh earlier, First Minister Nicola Sturgeon said: "I have just come off a call with Network Rail and the emergency services, and although details are still emerging, I am afraid to say there are early reports of serious injuries.
"The Scottish Government resilience room is operational and I will be convening a SCORE meeting with partner organisations as soon as possible this afternoon.
"Updates will be provided as they become available.
"Of course, my immediate thoughts are with all those involved in this incident."
Support centre established for relatives
NHS Grampian has set up a support centre in Aberdeen for relatives and friends of those involved in the derailment.
It will be established in Midstocket Church, staffed by chaplains and provide a direct link to the emergency department of the city's hospital.
A post from the health board reads: "A welcome centre for family and friends affected by the incident has been opened by NHS Grampian, in Aberdeen, at Midstocket Church, Mid Stocket Road.
"It is being staffed by the health board's chaplains, who will provide help and support and a direct link with the emergency department at Aberdeen Royal Infirmary.
"This should be the first point of contact for friends and family by either attending at the church or phoning 01224 319519.
"Due to current Covid-19 restrictions, visitors are not currently allowed at Aberdeen Royal Infirmary."
West Aberdeenshire and Kincardine MP Andrew Bowie said Aberdeen Royal Infirmary has declared a major incident.
He said: "It's obviously a terrible situation, a train derailment, the emergency services are on the scene.
"I've already spoken to Grant Shapps, who has spoken to Network Rail and the British Transport Police who are obviously investigating and assisting.
"I am aware that Aberdeen Royal Infirmary has declared a major incident."
Following the incident, Prime Minister Boris Johnson said: "I am saddened to learn of the very serious incident in Aberdeenshire and my thoughts are with all of those affected. My thanks to the emergency services at the scene."
Earlier on Wednesday, Network Rail had posted footage of the flooding on the line at Carmont, near to where the incident took place, showing a landslip.
It is not clear if it was related to the derailment.
At Carmont, we've had reports of a landslip, which means services can't operate between Dundee & Aberdeen. /2 pic.twitter.com/1E29tKHFhy

— Network Rail Scotland (@NetworkRailSCOT) August 12, 2020
It comes on a morning of weather chaos for Tayside, Fife and Aberdeenshire.