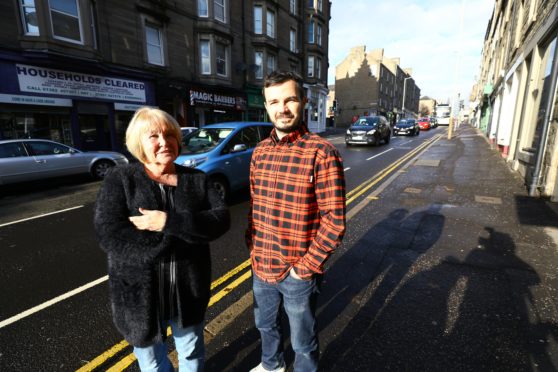 Businesses in one of Dundee's busiest areas feel they have been forgotten about after months of roadworks and disruption outside their premises.
Shop owners in Stobswell say they feel "encircled" by traffic chaos after months of works in surrounding streets.
Managers say footfall has fallen significantly recently, with customers finding it difficult to get parked close to their shops.
Premises on Albert Street, in particular those close to Lyon Street and Raglan Street, fear their area is becoming a "ghost town" due to the "never-ending" traffic works in place.
Currently, Lyon Street is affected by work undertaken by SGN, which started on Monday and is due to finish "within 10 working days".
This will be compounded, according to Dundee City Council's road report, with OpenReach cabling works beginning in earnest on Monday, affecting Victoria Street, Crescent Street, Dens Road, Lyon Street, Dura Street and Ogilvie Street.
Scottish Water will also be carrying out work for two days, starting on Sunday, on Arbroath Road, to the immediate south of the shopping area.
The works have been designated as high impact by the Scottish Road Works Commissioner.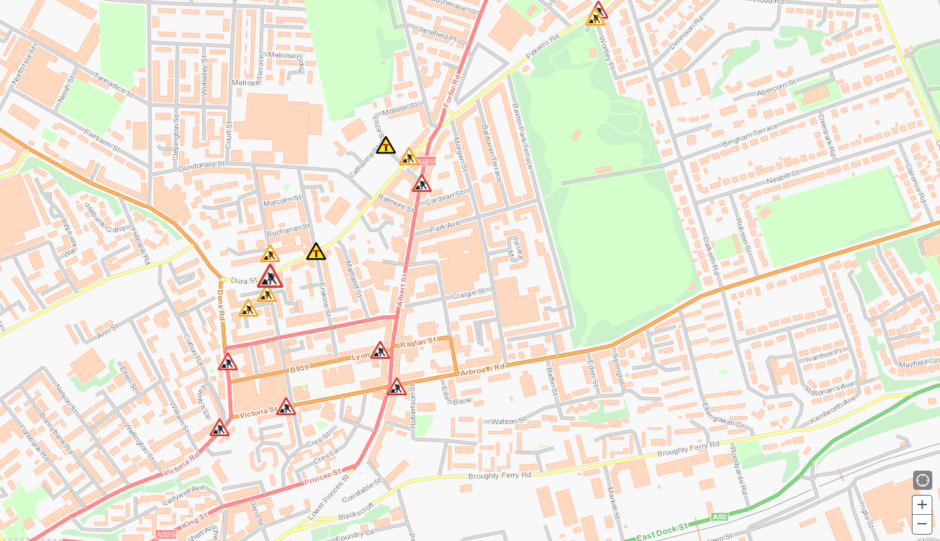 Sandra Small, who manages Evolution tanning studio on Albert Street, said she had not received so much as a letter informing her of the expected disruption.
She said: "I can sometimes expect 40 or 50 customers in a day and at the moment we are lucky to get two or three people through the door.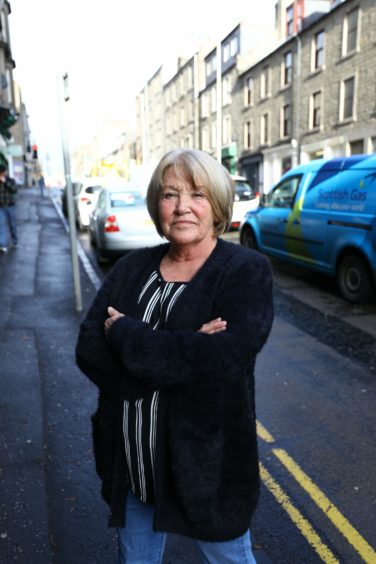 "The pub across the road has had to have their deliveries brought over from a fair distance and other shops and businesses are feeling the effects.
"I haven't had a single letter or been consulted in any way by any of the companies carrying out the roadworks, or the council.
"I have had to ask vans to move quite a bit, where they have parked on Lyon Street and blocked access for delivery vans for other businesses.
"This would never have happened to owners in the Ferry or the West End, but because it is Stobswell we have just been ignored."
David Evan is the manager of children's wear shop Forever Young.
He said he had not had a single customer in his store by Wednesday lunchtime, something which had not happened before.
"We didn't get told these works were going to start, not a letter or a peep from anyone.
"Customers can't get close to the shop. Even if someone is getting dropped off, they are getting dropped off at the top of Albert Street, which is a fair walk for some."
Other businesses nearby, including a newsagent and second hand store, agreed the road works were having a major impact on footfall.
Consultation does not need to be carried out between businesses and the council, with the bodies carrying out the work being responsible for any notices.
Dan Brown, a spokesperson for SGN, said: "We're carrying out a new connection to a single property in Lyon Street. Our engineers started this work on Monday 29 October and we expect to clear our site by Friday 9 November.
"While our engineers complete this work, we've needed to close a lane on Lyon Street around our site to ensure everyone's safety.
"This is an individual connection and we don't have any plans to carry out additional work in the Albert Street area currently."
A Scottish Water spokesman said: "Our customers are our top priority at Scottish Water and before any roadworks that may have an impact on the local community get underway we consult with local customers and stakeholders to ensure they are aware of any traffic management that may be in place and any likely disruption it may have."