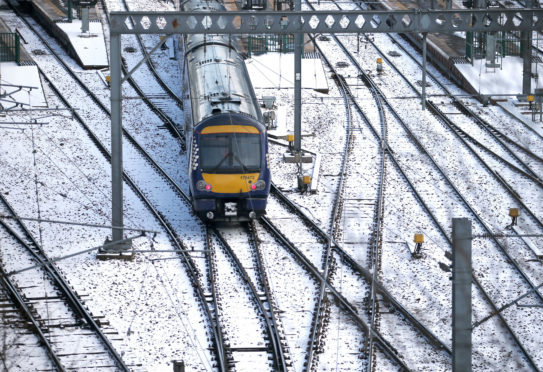 More than 60 trains across Scotland have been called off due to staff shortages as the country's rail service returned to "normal" service.
Journeys through Angus, Dundee, Perth and Fife have once again been called off as ScotRail workers continue to undergo urgent training throughout the Christmas period.
Of the 71 cancelled trains listed on the firm's website on Thursday morning, 64 were put down to "a shortage of train crew".
ScotRail says things will improve in the coming weeks after staff were made to take part in "compressed" training, deemed necessary as a result of the late delivery of new Hitachi and Wabtec trains.
On Thursday morning, ScotRail came under fire on social media for reporting that its "normal timetable" had resumed despite the long list of cancelled services.
? A normal timetable will be in operation on all routes today.

More info here: https://t.co/UAibQ9aG8a

— ScotRail (@ScotRail) December 27, 2018
83 train cancellations. Normal service…

— 5-1jambomh (@mgh1215) December 27, 2018
103 trains cancelled or part cancelled. "a normal timetable" You couldn't run a piss up in a brewery let alone a railway.

— Dylan Siddle (@ArbroathJambo) December 27, 2018
On Monday, December 17, at least 57 of more than 70 cancelled services were put down to a shortage of crew. On Christmas Eve, 30 were called off for the same reason.
On Thursday morning a ScotRail spokeswoman said the firm is sticking to a statement on the staffing issues released on December 17, adding that things things "will improve over the coming weeks".
She also confirmed that the training will continue throughout the Christmas and New Year period.
It comes after ScotRail was told it "must improve" its performance by the Scottish Government as it was issued with a 'remedial plan notice'.
ScotRail Alliance managing director Alex Hynes said: "We're sorry to customers for the disruption to services in recent weeks. We know the impact this has on your day, and are working flat out to get things back to normal.
'We know this isn't acceptable': ScotRail explains the reason behind crew shortages causing so many cancelled trains
"The disruption has been caused by two key factors:
"1. Late delivery of new trains by Hitachi and Wabtec means the training that is required for our train crew, on new trains and new routes, has had to be compressed into a very short space of time.
"Day-to-day services have had to be cancelled to allow our people to take part in training.
"2. RMT industrial action meant there was an overtime ban for some of our people, which lasted for several weeks.
"This is now resolved but made the problem of train crew training worse.
"Training is ongoing so that we can get services back to normal and we can expect an improvement in the coming weeks.
"But while we continue to train our conductors and drivers some disruption will remain."
He added: "We know this isn't acceptable, and are sorry to customers about this. Every single person at the ScotRail Alliance is working hard to improve things for our customers as soon as possible.
"Customers should check @ScotRail on Twitter and visit JourneyCheck.com/scotrail before travelling."